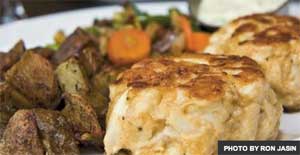 Arbor Ridge's crab cakes
LEO's Eats with LouisvilleHotBytes
Arbor Ridge's menu is extensive and, management attests, "serves a fresh, flavorful and healthy cuisine with Californian and Mediterranean flair." It is certainly a giant step beyond boring, although I wouldn't rate it adventurous.

The stars shine brighter out in Oldham County's wide-open spaces, and our suburban neighbor's country roads call for sharp eyes and a clean windshield to navigate at night. Get far enough away from the towns, and a GPS isn't a bad idea, either.
In other words, it took some looking to find our way to Arbor Ridge Vine & Grill. All went well as Mary and I and our friend Sarah packed into our car and headed out I-71, reaching Exit 14 in Crestwood a while after sunset.
That's when things started to get a little dicey. Arbor Ridge's website offers clear instructions — go two miles down the road past Farmer Brown's old place and turn left where the big oak tree used to be. Still, I managed in the dark to shoot right past the place on the Crestwood Bypass.
This error required me to wind through downtown Crestwood, back up Highway 329, and, cursing, to trace my way back through Arbor Ridge subdivision with Sarah working my iPhone's mini-GPS in the back seat.
Once we got there, though, the cool, earth-toned ambiance, artful lighting and vineyard paintings elevated the classy shopping center space, as well as my mood. Friendly service and an attractively chosen wine list (hence the "Vine" in the restaurant's name) provided quick relaxation while we talked, sipped and waited for our food.
The menu is extensive and, management attests, "serves a fresh, flavorful and healthy cuisine with Californian and Mediterranean flair." It is certainly a giant step beyond boring, although I wouldn't rate it adventurous on the other extreme. Call it a good, serviceable wine bistro menu that would make a pleasant addition to any neighborhood.
It's a particularly welcome arrival in Oldham County, where until voters overturned "dry" alcohol regulations in favor of "moist" restaurant sales a few years ago, quality dining spots like Arbor Ridge and Westport General Store weren't a possibility.
The dinner menu offers a broad selection of appetizers, soups, salads and sandwiches, with a few creatively offbeat starters ranging from $4.95 to $7.95.
More than a dozen main-course options range in price from $9.95 (for roasted spaghetti squash topped like veggie pasta with Roma tomatoes, leeks, yellow peppers and green onions in a wine sauce with garlic and butter) to $18.95 (for mixed grill, literally a "one from column A and one from Column B" selection that offers the choice of various pairs of meat, poultry or fish, grilled and served with mashed potatoes and gravy and grilled asparagus).
We picked two of the more offbeat appetizers and scored on both. Fried Kalamata olives "sinfully stuffed" with blue cheese ($6.50) were just as described: a dozen salty bites, small black Greek olives with a dab of blue cheese, an unexpected flavor explosion, batter-fried in a thin, crisp and brown coat.
Large white mushroom caps ($5.95) were stuffed to the gills (yes, mushrooms have gills) with feta cheese and rosemary-scented olive oil, topped with seasoned breadcrumbs and baked until the cheese was molten and creamy. It made a great combination with our wine choice, Dry Creek 2008 Chenin Blanc ($28), a crisp, dry and aromatic white from California's Clarksburg region.
Mary chose the aforementioned "mixed grill," ordering a surf-and-turf combination of grilled cod and a "petit filet" of beef. The beef was a big winner, more "grand" than "petit," perfectly prepared as ordered to a bright-pink medium-rare all the way through, seared dark brown and lightly painted with a balsamic reduction. Sustainable New Zealand cod, not the more threatened North Atlantic species, was nicely grilled and boasted great flavor, although it was a bit on the mushy side.
Sarah chose the crab cakes ($19.95), which were just OK, with plenty of clean, fresh crabmeat, but with a lot of creamy filler and less crabby flavor. Neither Sarah nor I cared much for the dark-brown, chewy home-fried potatoes, but Mary loved them, so go figure.
My main dish, shrimp and grits ($14.95), was a decent version: Creamy white grits were topped with a spicy Creole-style sauce with diced andouille sausage, onions and piquant bits of jalapeño. A half-dozen well-cooked, shelled medium shrimp were perched on top. It was a fair addition to the galaxy of variations on this Low Country Carolinas dish that has become popular in Louisville-area bistros.
We split three ways a very good key lime pie ($5.95) and an excellent, dense and tart New York-style cheesecake ($5.50) the size of a wedge of cheddar. Both desserts were good enough that Sarah's mother did not get the take-home box we had planned to send home.
Arbor Ridge is open for dinner Tuesday through Saturday and brunch on Sunday. A current discount offer gives you the choice of a free appetizer, a free dessert, or 30 percent off wine. We took the wine deal, which brought the total for three to a reasonable $103.19, plus a $25 tip.
Arbor Ridge Vine & Grill
6402 Westwind Way
Crestwood, Ky.
241-5544
www.arborridgevineandgrill.com
Robin Garr's rating: 82 points