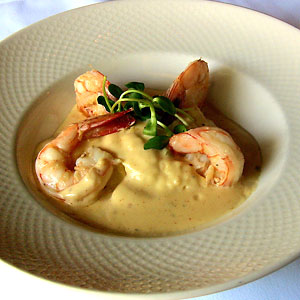 Shrimp and grits: This Italian-accented variation on the Low Country standard is a brunch standby at Volare. Photo by Robin Garr
(Voice-Tribune, May 31, 2007)
It's hard to believe that Volare has been around for only three years.
In those short years, this classy Italian dining room has shed its original Chicago-based connection; brought in the savvy Majid Ghavami as general manager, and hung on to Chef Dallas McGarrity, who cooks Italian as if he had a vowel on the end of his name (and hey, he does!)
With a recent expansion increasing the seating area and kitchen, there's more of Volare to love than ever. It's a personal favorite, my No. 1 choice among Louisville's Italian restaurants for food, mood and service.

It's not the most expensive restaurant in town, but appropriately pricey, with main courses ranging from $18 to $32, and pasta dinners from $17 to $21.
Here's a canny option: Next time you're in a Volare mood but watching your budget, treat yourself to Volare's indulgent Sunday brunch.
Not an all-you-can-eat buffet but a menu brunch, it offers a short selection of smaller-portion choices from the dinner menu along with some brunch-only goodies. Starters range in price from $4 (for a basket of warm Italian breads) to $7 (for eggplant rolls or a caprese salad of tomatoes, mozzarella and basil). Brunch entrees are $9 (for a scrambled-egg bruschetta or Italian-style French toast with Frangelico hazelnut liqueur) to $16 for piccolo bistecca ("little steak"), a luxurious variation on eggs Benedict featuring a small filet mignon and sauteed spinach stacked with a fried egg and Hollandaise.
Bellinis – the fizzy, fun sparkling wine and peach cocktail that Harry's Bar in Venice made famous – are available after the bar opens at 1 p.m.
Volare's comfortable porch offers popular fresh-air dining in season, but the dining area dominated by an oversize mural of Venice's Piazza San Marco also offers an alfresco feel on pretty days when they push back a wall of window doors to let the sun and breeze waft in.
Italian breakfast breads ($4) were fresh-baked and fine. One was eggy, fluffy and sweet, reminiscent of Italian panettone; the other was sliced from a flat, dark loaf studded with pistachio and dried fruit, a lot like biscotti before it's toasted.
Rotolini di melanzane (eggplant rolls, $7) consist of tender thin sheets of eggplant rolled around creamy ricotta cheese and grilled crisp, neatly plated on an artful base of dark-red, buttery marinara sauce decorated with dark balsamic reduction in a webby design that's oddly reminiscent of Spiderman's outfit. The textures and flavors are right on and make me want more.
Shrimp and grits ($13) is an Italian-accented variation on the Low Country standard. Four perfectly grilled jumbo shrimp are neatly arranged atop a mound of course, yellow polenta under a rich, garlicky mornay-style sauce dotted with bits of bacon and roasted red bell pepper, garnished with a few crisp sunflower sprouts.
Pollo Saltimbocca ($14) consists of two tender, juicy boneless chicken breasts, each draped with a thin slice of prosciutto and a coating of melted mozzarella cheese, drizzled with melted butter scented with finely snipped bits of fresh sage. It's accompanied by textured yellow polenta and sauteed spring spinach, perfect in its simplicity, redolent of olive oil, lemon and garlic with a piquant dash of red-pepper flakes. I'd love to see this dish made with the traditional veal scaloppine pounded paper-thin, but this is nitpicking. It's outstanding with the chicken option.
Who can eat dessert after a brunch like this? Not me, at least not if I plan to get anything accomplished for the rest of the day. The dessert list is seductively tempting, though, with Italian-style choices including gelato or sorbet ($6), vanilla bean panna cotta ($7), cannoli ($7) and tiramisu with Kahlua ($8).
A filling brunch for two came to $44.52 plus a $10.48 tip for attentive service. Bellinis or a glass of wine would have hiked the price a bit, but it's still about half the toll for a full dinner.
Volare
2300 Frankfort Ave.
(502) 894-4446
Volare-Restaurant.com