I'm not enough of an architect to describe the design of the expanded and improved Speed Museum and the way it seamlessly blends the old and the new, the traditional and the modern. In fact, I'm not an architect at all. But I know what I like, and I like the looks of the museum. I like the art within. And as a certified foodie, I really like what Chef Reed Johnson has done with its stunning cafe, Wiltshire at the Speed, the museum's outpost of Susan Hershberg's Wiltshire restaurant group.
Tucked into a corner of the tall glass first floor of the museum's new section, the open, airy dining room takes full advantage of its view of the adjacent University of Louisville campus and the museum's plazas, which also offer an al fresco dining option when weather permits.
The two inner walls, as museum walls should, fill the lofty cubical space with forms of art to engage the mind and imagination. One wall bears a huge installation made up of shades of blues and grays. A repetitive, silvery metallic pattern that shimmers in the light fills the other wall. It's good food for the eyes, but Chef Reed's dishes please the eye and the palate too.
This is not a high-end dining room with table service. It's a quick-service, order-at-the-counter eatery, open only for lunch (11 a.m.-4 p.m.) Wednesdays through Sundays. It reopens one evening each month, with a special, elevated menu, during Evenings at the Speed on the third Friday of the month.
Place your order at the entrance to the dining area, where pastries, cookies and other treats from Wiltshire Bakery are on display behind glass.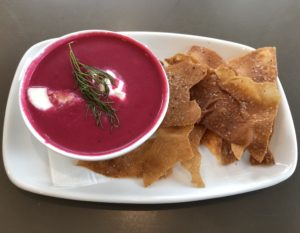 The seasonally changing menu is posted in a frame on the counter top. Currently it features eight main dishes, affordably priced from $9 (for a hot ham-and-cheese sandwich or a tofu banh mi) to $12 (for four of the dishes). An additional child-friendly option, grilled cheese and fruit, is $7. Soups, including caviar ramen and Polish chlodnik, are $6 for a cup, $8 for a bowl. Coffee and espresso drinks are also available for those who'd rather snack. Iced and hot teas and gourmet sodas are also available, along with a short list of cocktails based on liquors from major Speed Museum sponsor Brown-Forman.
All the entrees are interesting enough that it took a while to make up our minds. That tofu banh mi features not just tofu but bruléed compressed tofu, along with fresno chiles, pickled carrots and more. A grilled peach salad ($11) with aged Manchego cheese, and watermelon salad ($12) with compressed watermelon (there's that word again) were both sufficient to tickle one's fancy; so were bison burger sliders ($12) with ground Kentucky bison and pimento cheese.
First up was a bowl of pretty, bright fuchsia chlodnik, pictured above, Poland's summer sibling to borscht. Cool, rich and tangy, this red beet and sour cream puree was topped with aromatic fresh dill and filled with chunks of undissolved sour cream. It came with positively addictive, paper-thin crisp-toasted lavash.
Cacio e pepe pasta ($12), pictured at the top of the page, was excellent. Thin spaghettini pasta, broken into short pieces, was dressed with earthy pecorino cheese and lots of black pepper, molded into a warm ball. It was plated next to a cool, fresh caprese salad fashioned with reddish-purple heirloom tomato slices topped with basil leaves and creamy burrata. It was dressed with a vinaigrette of grape saba, a sweet-tart reduced wine grape-juice condiment.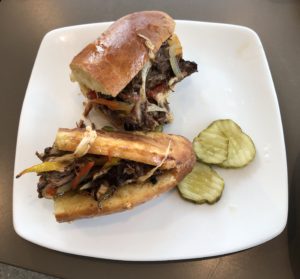 A brisket Philly cheesesteak ($10) looked tempting, but it left us disappointed because the meat was stringy, tough, and loaded with gristle. Purportedly prime grade beef roasted with hot and mild peppers and onions, it had a good flavor reminiscent of Cuban ropa vieja, but it was tough, impossible to chew or even to cut with the supplied butter knife, and was accompanied by only a small amount of provolone on an otherwise admirable challah hoagie bun.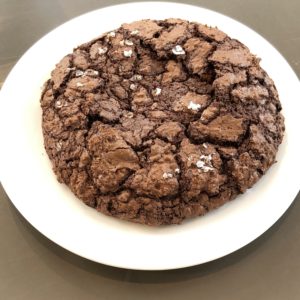 A huge chocolate rye cookie ($2), big enough for two, made up for the unhappy steak experience. It was soft and chewy, like a brownie, with an intense chocolate flavor. Rye flavor wasn't obvious, but I'm sure it added complexity and interest to the cookie.
With a $4 latte, lunch for two was $36.04, plus a 20 percent tip. Bear in mind that admission to the Speed is $15 for adults, $10 for seniors, military, or those under 18, so if you don't want to defer your visit until you come for a museum visit or a free-admission Sunday, here's a tip: A separate entrance off the museum plaza offers access to the café with no admission charge.
Wiltshire at the Speed
Speed Art Museum
2035 S. Third St.
224-9588
wiltshirepantry.com/wiltshire-at-the-speed
facebook.com/wiltshireatthespeed
instagram.com/wiltpantry1
Robin Garr's rating: 85 points.
Noise level: Glass walls, undraped tables, and hard surfaces can rev up a steady sound when the room is filled, but perhaps thanks to the high ceilings, conversation remained possible. (Average sound was 72dB, the level of normal conversation, rising to 81dB, similar to the sound level of your kitchen garbage disposal.)
Accessibility: All the facilities in the recently renovated museum are fully accessible to wheelchair users, with the caveat that the cafe's ordering counter, menus, and pastry case are situated for the convenience of walk-through customers.