It came as no real surprise when I discovered that Las Margaritas Mexican Cuisine features margaritas at its well stocked bar. After all, lots of Mexican restaurants do. But this place takes it to the next level, offering a choice of a dozen house margaritas, from traditional models built with tequila or mezcal to hibiscus, prickly pear or jalapeño models and – wait for it – a bourbon margarita.
I'm going to have to tell you that my instinctive response to the idea of a bourbon margarita was, well, not positive.
But don't take a negative message from this. My visceral reaction to a bourbon-laced margarita to the contrary, I rate this new Middletown shopping center eatery in the top tier of the city's large and growing galaxy of Mexican restaurants.
What do I love about Las Margaritas? Its extensive menu features regional Mexican dishes, many of them from Southern Mexico's Gulf Coast, from Veracruz to Yucatan. Everything we tried was good. Pricing is reasonable, service is attentive, and it's a good-looking, comfortable dining room.
The long, spacious and bright room boasts bold purple and tomato-soup red walls bearing a gallery of Mexican-influenced art that includes paintings of Frida Kahlo and Dia de los Muertos skulls. Attractive wooden tables and chairs and black booths afford comfortable seating, and big-screen televisions offered a choice of soccer and American football the other day.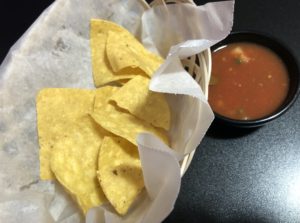 Allow a little time to look over the extensive eight-page menu, which includes some regional dishes that may not be familiar. The first page-and-a-half devoted to a dozen margaritas (priced from $5.99 to $9.75) plus mojitos, caipirinhas, a bourbon tea, and a short wine list.
About 10 appetizers and salads are all $7.99 or below, unless you splurge on nacho toppings like grilled steak ($12.99) or shrimp ($13.99). About four dozen entrees fill out the dinner menu, including pork, chicken, steak, and vegetarian dishes, enchiladas, quesadillas, burritos and soups, a half-dozen house specials, and a children's menu. Most options are $10.99 to $14.99, with only a few steaks, seafood items and house specials crossing the $15 border. The top-tier item is a 9-ounce rib eye and shrimp combo ($19.99) with garlic and adobo red sauces and Oaxaca cheese.
A lunch menu, available from 11 a.m.-3 p.m. weekdays only, offers 20 items – many of them smaller portions of dishes on the full menu – all $7.99 or $8.99
Complimentary chips and salsa were first-rate. It was difficult – oh, hell, it was impossible – not to eat all of the thin, crisp and fresh yellow corn chips and the fresh, gently spicy house-made tomato and green-chile salsa.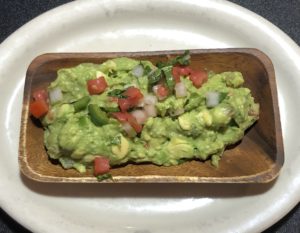 An order of Veracruz-style guacamole ($5.99) was excellent, too. Demonstrating that it's a gift to be simple, it was a delicious blend of coarsely mashed avocado, fresh cilantro, and a splash of serrano-pepper sauce, topped with neatly cut tomato and onion dice, spread out on a rectangular wooden dish.
Tlayollos, pictured at the top of the page, trace their ancestry to the Aztecs and may be the ancestor of tamales. Las Margaritas' version is available with pork or chicken or as a vegetarian choice (all $12.99). The meatless option consisted of two small packets of tamale-like masa corn flour rolled around a delicious porridge of black beans and cilantro plated on the unfurled banana leaf in which they were steamed. It was topped with tender green beans, carrot dice and yellow corn niblets, drizzled with a savory yellow almond-based sauce, and topped with sour cream, Oaxaca cheese, and pickled red onions. It was accompanied with simple yellow rice and three fried plantains.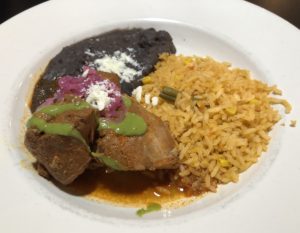 Cochinita pibil, an iconic Mayan pork dish that originated in Merida, Yucatan, is $13.99 on the dinner menu, $8.99 for lunch. We went for the lunch portion and were rewarded with a still-generous portion. The Mayan original involves a baby suckling pig roasted in a fire pit, but the almost-as-good restaurant dish uses pork shoulder marinated in citrus. ancho chiles, and the yellow Mexican spice achiote, then roasted low and slow until it's delicious and tender. Two large, juicy chunks of pork were topped with a piquant green guajillo pepper sauce and crumbled Oaxaca cheese, and served with yellow rice and refried black beans so good that they almost overshadowed the pork.
Ahh, those beans. They were thick and textured, with an intriguing rich complexity of flavor with hints of smoke and a distant impression of dark chocolate. I'd have been glad to take home a quart or two.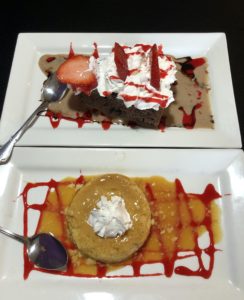 Desserts made a pleasant finish. Corn flan ($5.99) added yellow niblets to the traditional creamy Mexican custard, and their subtle flavor addition made a great Mexican dessert even better. Chocolate tres leches cake ($5.99), light but rich, was an airy, subtly cocoa-flavored treat topped with whipped cream.
A hearty lunch for two came to $42.35, plus a $9 tip.
Las Margaritas Mexican Cuisine
12220 Shelbyville Road
963-5503
lasmargaritasmx.com
facebook.com/lasmargaritasmx
Robin Garr's rating: 87 points.
Noise level: We had the place almost to ourselves for an early weekday lunch, and only our conversation and soft background music like Maná's Soledad broke the silence. (Average sound was 71dB, the level of normal conversation.)
Accessibility: This shopping-center space is fully accessible to wheelchair users.