Some say that the art of soul, in music or in food, can never be mastered by white folks, and I can buy this hypothesis: Lacking a history of slavery and oppression, we just don't have the tools born of heritage. But we can certainly enjoy soul, and honor it, whether we're listening to Aretha or dining at someplace like Shirley Mae's.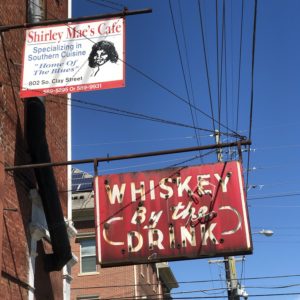 Soul food, and soul music too, go back to the '50s and '60s, when the civil-rights movement burst into the national conscience and with it Black power and Black pride. Shirley Mae's came along a bit later, in 1988, but this Smoketown landmark remains as one of the best places in Louisville for humans of all colors to come together and enjoy seriously good soul food in a seriously soulful setting.
The full name of the place is Shirley Mae's Cafe & Bar, and there's no denying the bar component. A long black bar with a row of a dozen stools lines one side of the long, narrow room. There's a row of tables along a banquette on the other side. You'll probably get a happy wave from Shirley Mae cooking in the open kitchen, sitting on her Rollator walker at the flat-top grill; and you'll definitely get a warm welcome from the friendly service folks.
The menu nicely covers the soul food genre; and its pricing falls on the low side of affordable: in other words, cheap. Seven of the nine entrees are $5, and that's for a generous portion of such soul-food goodies as pan-fried tilapia, meatloaf, even a ham hock or a pig foot; only spare ribs ($6) and chitterlings ($9) break the five-dollar barrier, and that's fair: Ribs need long smoking, and have you ever tried to clean a chitlin'?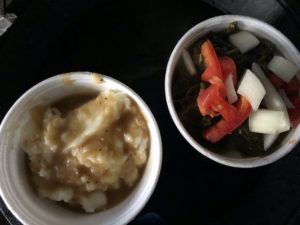 Ten sides go for a thrifty $3 each; two pieces of Shirley Mae's "world famous hot water cornbread" go for just $1, and I can tell you that you're going to want more than two.
Come for lunch before 3:30 p.m. and grab an even better deal: $10 gets you an entree, two sides and cornbread.
Shirley Mae's popular baked chicken with cornbread dressing ($7) is available Sundays only. Classic soul food desserts range in price from $3 (for banana pudding) to $6 (for pecan pie). Even the bar is among the most affordable around, with domestic and imported beers for $2 to $3, everything on a short wine list for $3, and mixed drinks from $5 to $7.
Joined by our friend Ann so we could try more goodies, we came for Saturday lunch and had no trouble claiming a table, but the room filled up as we enjoyed our meal.
Among us we tried a pork chop, a brace of chicken wings, an order of smoked pork ribs, and a bunch of sides. We'd have gladly added some banana pudding, lemon pie and pecan pie, but it was too early in the day for Shirley Mae, who said she was worn out after a very busy Friday night at the cafe.
The meats were all prepared simply and well in soul-food style.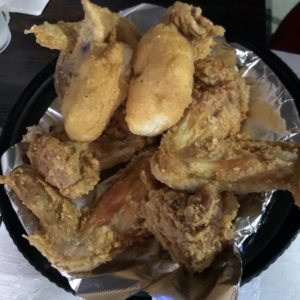 Four wings were jumbo indeed – our server told us we'd probably take two home, and he was right. They were naturally tender and not only large, but generously cut to include a chunk of white breast meat at the joint. They were fried crisp in a flour-based breading and not at all greasy, still on the light side of golden brown.
The pork chop, pictured at the top of the page, was chicken-fried in the same kind of coating as the wings, adding crunchy texture to flavorful, pale-color pork with a good firm texture.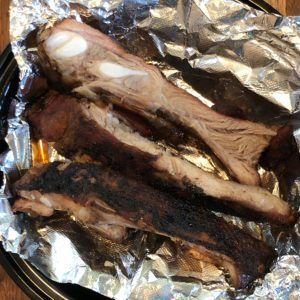 An order of ribs yielded three large, meaty bones, grilled to a crisp browned edge and firm, meaty texture. We ordered sauce on the side because you never know, but it proved to be a good, spicy and smoky tomato-based concoction that wouldn't have done the ribs any harm at all.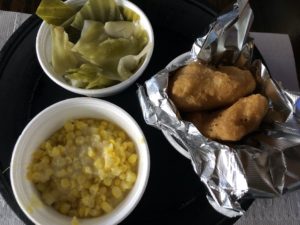 Every single side was estimable. Mashed potatoes were made fresh with a few tiny telltale lumps to let you know they were mashed the old-fashioned way. They were drizzled with thick, rich and tasty pale brown gravy. Turnip greens were cooked simply without fancy seasoning, but there was a chunk of fatback in our bowl. Cabbage was simmered until tender, not cooked into oblivion. Fresh corn niblets fried in butter? Yes, please! Hot water cornbread is fried, too, simple white cornmeal, no sugar, is fried in a shattering crisp shell like a giant hushpuppy only much more appealing.
Shirley Mae's is open Thursdays through Saturdays from 11 a.m. to 9 p.m. and 9-11 p.m Sundays. Please bring cash; credit cards aren't accepted. Our meal for three came to $44, plus an $8 tip.
Shirley Mae's Cafe & Bar
802 S. Clay St.
589-5295
shirleymaescafe.com
facebook.com/shirleymaescafe
Robin Garr's rating: 86 points.
Noise level: A pleasant but not ear-shattering buzz didn't interfere with conversation during a Saturday brunch. (Average sound was 75dB, the level of normal conversation, with occasional bursts to 85dB.)
Accessibility: A single step at the entrance bars independent access for wheelchair users. The restroom has basic accessibility features, but getting to the men's requires negotiating a narrow, turning corridor.