LEO Weekly's annual Readers' Choice Awards went public this week. LEO staff tallied all the votes submitted by readers in scores of categories, and in this week's edition let everyone know who you think is the cream of the crop in each category.
A few categories ended in ties, a lucky happening that brings you two (or more!) winners. Most of the time, though, LEO readers have a clear idea about who they think is the best. Here's your link to the full report.
Some new categories were added this year, and judges also came up with a few surprising honorable mentions that deserved a little spotlight as well. The staff and writers of LEO also picked and created a few categories ourselves to share some of our takes on the best things in Louisville. Read the staff picks here.
We hope you enjoy this year's Readers' Choice Awards, and we hope to see you at the Readers' Choice Party on Saturday, Oct. 19, at PLAY Louisville. Tickets are on sale now. You can get them here: https://redpintix.com/events/leo-weekly-readers-choice-party-10-19-2023
To whet your appetite for the rest, here are the two staff and writer picks that I wrote, celebrating two of my favorite places: Choi's Asian Food Market and V-Grits.
Best Asian grocery if you're looking for inspiration or something obscure.
Choi's Asian Food Market
607 Lyndon Lane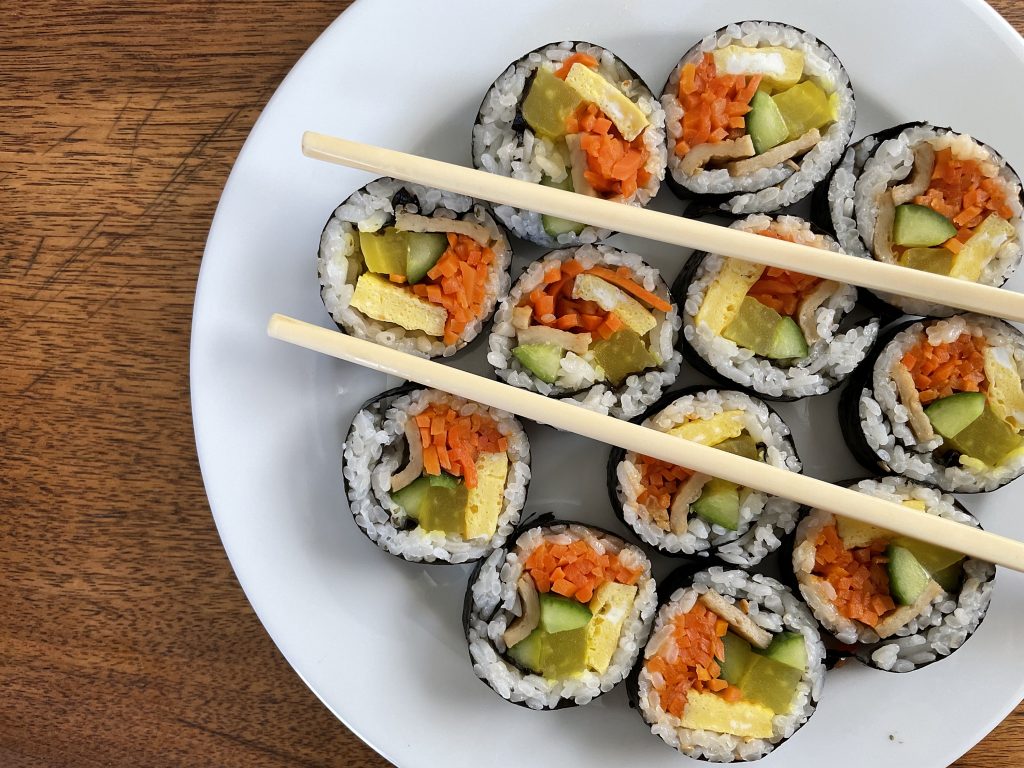 When the television K-drama Extraordinary Attorney Woo sent me out on the town in desperate search of kimbap rolls just like the ones that Woo loves, naturally I ended up at Choi's in Lyndon. While we're lucky these days to have an excellent Asian market in just about every corner of the metro, from Okolona to Buechel to Clarksville, Indiana, I like Choi's best, and not just because it's relatively convenient for me.
I give Choi's high marks for its broad selection of canned and packaged foods from all over Asia. Signs painted on the front window proclaim the presence of fare from China, Japan, Vietnam, Thailand, and the Philippines, and that's not counting the owners' own heritage in Korea. I'm pretty sure you can find delights from other Asian nations here too, but maybe they just ran out of window space. Choi's is packed with freezers loaded with just every kind of of noodles, a full wall of produce, including a virtual garden of obscure but tasty looking Asian greens that I'm more than willing to try. Hot sauces? I lost count, but it's my go-to spot for Laoganma hot chili crisp.
Not only did Choi's have the kimbap that I wanted, they make it fresh daily for sale from a cooler right next to the cash register, and there's lots more fresh-made Korean items too. Want some gai lan (Chinese broccoli)? You'll find it here. Bok choy? Napa cabbage? Yes, and at affordable prices that undersell the big groceries. Fresh live crabs in season? Check. And if you get lost among all the mysterious goods in the rows of towering shelves, fear not: I've always found the staff here friendly and helpful.
Best vegan comfort food that everyone can love
V-Grits at Logan Street Market
1101 S. Logan St.
It doesn't matter whether you're a hard-core vegan, vegetarian, flexitarian, veggie-conscious or even a hard-core carnivore with an open mind, you have every reason to love V-Grits, Chef Kristina Addington's all-plant-based eatery. All it takes is an appetite to enjoy V-Grits' creative meat-free versions of chicken, beef, pork sausage, cheesy mac, and more.
After starting as a food truck in 2014 and moving four years later into the Barrett Avenue spot that had housed Monkey Wrench, it looked like V-Grits had settled in to stay. That's why it came as a shock when the chef made a tough announcement on social media last February: "a lot of small businesses are struggling right now and many are shutting down entirely, especially in the restaurant industry," she said. "Sales have gone way down for this industry and the cost of everything we purchase has gone up. The only way we can continue to exist is to shrink down and focus on one thing – vegan comfort food."
To make that happen, V-Grits closed at the oversize Barrett location. Was it the end? Nope! Within just a few weeks, the popular vegan spot was open again, somewhat smaller but just as appetizing, at a booth inside Logan Street Market.
We dropped in the other day and enjoyed a hefty, crunchy Nashville hot vegan chicken sandwich – oh, so hot! Oh, so crunchy – and a seasonal plate (pictured at the top of the page), an all-vegan German Oktoberfest platter with a plant-based brat, sauerkraut-like slaw, potato salad, and a big, soft pretzel. It's all delicious, affordably priced, and no animals were harmed in the production of our meal.