"Life can only be understood backwards; but it must be lived forwards," the great 19th century philosopher Søren Kierkegaard once said, and Kierkegaard should have known: The founder of existentialism, he coined the word "angst." He called out for us to live passionately, worrying more about the problem of living life than trying to fit the social order.
What's more, Kierkegaard came from Denmark, which also gave us the great film Babette's Feast, that deep dive into human nature that is also perhaps the greatest foodie flick ever.
There has to be a message for us here. I think it's calling on me to take a late-summer pause in the neverending flow of reports on eateries old and new, just for this week following the philosopher's counsel to look backward as a way to guide our journey forward.
In short, let's spend this week's space on a quick retrospective look back at some of the most memorable dishes I've enjoyed in recent years, framed in the form of an indulgent progressive dinner, moving from one restaurant to another for each course.
Shall we start with a cocktail? Why not! There's a vast choice of boozy concoctions in this bourbon-centric town, but my heart beats faster when I step into the lofty, welcoming bar at Ciao Ristorante (1201 Payne St., 690-3532), with its massive wall of mostly Italian spirits. I'm always happy with the tart-sweet flavor and mysterious aromatics of Cynar, the Italian artichoke liqueur, turned into a cooling summer glass with Fever Tree artisanal bitter-lemon soda. Or a Negroni. Negronis make me happy.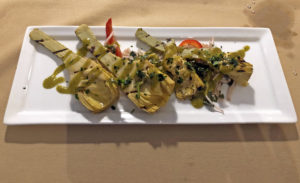 Some folks skip the appetizer course and go straight to the main dish, but I advise against this practice. The grilled Roman artichokes ($14) at Anoosh Bistro (4864 Brownsboro Center, 690-6585), for example, should never be avoided. I described them as "fantastic. A revelatory dish that got us sitting up straight in delight." Based on the Roman carciofi alla romana, it consisted of two perfectly prepped artichoke hearts with stems, first steamed with white wine, lemon and herbs, then halved lengthwise, grilled to impart a haunting smoky flavor, and drizzled with piquant green roasted shallot vinaigrette. It was so good that we really did order another helping to take home.
Is it wrong to have both an appetizer and a salad? Many diners, particularly the calorie- or wallet-conscious, will skip one or the other or even both. That's not indulgent, though, so we're not going to do that. I'll rarely say no to a well-made Caesar or even the blissfully resurgent iceberg wedge, but for a more elevated departure from mere rabbit food, it's hard to beat the heirloom tomato salad that we enjoyed a while back at Butchertown Grocery (1076 E. Washington St., 742-8315). It was a turbocharged variation on the Caprese, a mixed selection of heirloom wedges artfully piled on a fresh mozzarella round, garnished with thin-sliced rounds of Spanish Gordal olives. basil strips and pine nuts, all drizzled with a peppery arugula puree.
Let's build our fantasy meal around a steak! Even as we've evolved into a locus of chef-driven bistros and gastropubs, Louisville retains its steak-and-potatoes heritage, and there are plenty of options if you're looking for a slab of barely seared moo cow. Del Frisco's is one of my old-school favorites; Le Moo for the new school. But we're looking elsewhere today. My pick for best affordable option is the steak frites at Caffe Classico (2144 Frankfort Ave., 895-0076). It's still under $20 for a fair portion of pan-seared sirloin, nicely charred and still hot pink within, accompanied with a paper cone filled with amazing crisp fries, Belgian style.
For a more serious steakhouse dinner, I suggest heading over the Sherman Minton Bridge to Brooklyn and the Butcher (148 E. Market St., New Albany, [812] 590-2646). This cozy dining room offers a dozen ways to satisfy your beef-related needs. Our pick, the flank steak, was seared dark on the outside and left hot pink medium-rare in the middle, just as ordered, sliced across the grain into thin strips. We chose the "Oscar style" option, for a reasonable upcharge adding lump crabmeat, rich Béarnaise, and grilled asparagus on the side.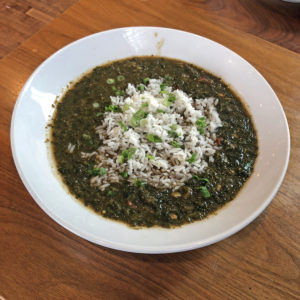 If a vegetarian in your party objects to the presence of animal flesh on the communal table, you might turn away from the steakhouses in favor of Couvillion in Germantown (1318 McHenry St., 365-1813), one of my favorites among this year's many new arrivals, where gumbo z'herbes offers a full-on Cajun gumbo experience without meat, and the wacky but intriguing Josh's beet loaf offers a remarkable animal-free alternative to meat loaf. Or take your flexitarians to Seviche (1538 Bardstown Road, 473-8560), one of my top local choices, for a wide selection of Latin-accented seafood and fish, all sustainably caught, plus both meat and vegetarian options for the non-conformists.
A meal this fine needs dessert, and the goat cheese flan at Artesano (1321 Herr Lane, Westport Village, 708-2196), pictured at the top of the page, fully satisfies.  Simplicity itself, this classic Spanish custard is rich and creamy with pleasantly earthy goat-cheese notes. A scoop of cajeta (goat's milk dulce de leche) ice cream makes it even better.
Bon appetit!