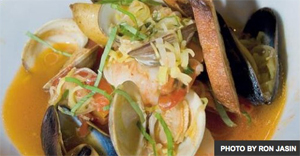 Mussels at Bank Street Brewhouse
LEO's Eats with LouisvilleHotBytes
We arrived at Bank Street Brewhouse on a beautiful late-spring afternoon. The temperature was in the balmy upper 70s, the breezes were gentle, and there wasn't a cloud in the sky.
I looked longingly at the four round patio tables out front and whispered to my bride how frustrating it is that the outdoor dining section has become the de facto smoking section for many Metro eateries.
The server must have overheard me. "Those tables are no-smoking," she said with a smile. "Take your pick."

Outstanding. It was a perfect evening for al fresco, and we took full advantage. Bank Street's inside dining room — which segues into the outdoors when the large overhead doors are rolled up on pleasant days — also is smoke-free. (Smokers are welcome, however, in the partially covered patio on the building's north side.)
That's all good. But the beer — and the food — are even better at Bank Street, not to mention the casually comfy atmosphere, the consistently friendly service, the fair pricing and, did I mention, the food? And the beer?
Let's start with the suds: As a partner pub to New Albanian Brewing Co. on New Albany's north side (still widely known by its former monikers, Rich O's and Sportstime Pizza), Bank Street operates under the radically artisanal vision of publican Roger A. Baylor (who also is LEO Weekly's beer columnist).
That means, in Baylor's terms, that it's a "'Lite-Free Zone,' wherein low-calorie 'light' lagers and industrial swill both are excluded from the premises … and pelted with abuse at every opportunity."
I can get on board with that. Bank Street also offers short but quality options for beer and liquor; but I can't imagine dining here on anything but artisanal locavore beer.
After all, Bank Street takes its inspiration from Europe's gastropubs (compare Butchertown's Blind Pig and Anchorage's soon-to-launch Anchor Pub & Roost) and brasseries (historically, a restaurant that serves beer with food to match). "Cuisine a la bière" defines Chef Josh Lehman's bill of fare.
Check out the chef's résumé: A Sullivan culinary grad, Lehman boasts 15 years in the kitchen, having served at Bluegrass Brewing Co., Blue Parrot and Hurstbourne Country Club before becoming grill chef and then sous chef at Le Relais.
I've held off reviewing since Kevin Gibson's first-rate preview (LEO Weekly, March 25, 2009). Now that brewing is in full operation and Lehman's evening menu is well established, it's time to turn my own two thumbs up and say, "Kevin was right." Bank Street Brewery hits a culinary home run for food and beer and other good things.
In addition to the patios and L-shaped bar, the main dining room's gray and red walls provide a bistro feel (or is that a brasserie feel?). Decor is simple: a hefty wooden bench that looks like an old church pew and a string of colorful NABC beer posters. Green chalkboards list the beers along with beer geek information on the ABV (alcohol by volume) and IBU (International Bittering Units) of each.
During one recent visit with a good-size group of pals, we didn't pay much attention to the beer or food, other than to observe with delight that it was all good, and we all cleaned our plates. Imperial (20-ounce) pints of NABC's Beak's Best ($4.50) and half-pints of Abzug (yes, just like Bella) and Community Dark ($2.50) helped it all go down.
A seasonal asparagus salad ($7.50) boasted a well-balanced vinaigrette and mandarin orange garnish. Lehman's daily specials tend to be more upscale dinner-style than the regular menu: a chicken breast roulade ($20), tender boneless white meat rolled around Fiedler Farm sausage and bacon, with a wedge of rich potatoes Anna and veggies alongside.
The dinner menu mixes up appetizers, light bites and substantial fare, created from locavore and seasonal ingredients in the style of France and Belgium's gastropubs and brasseries.
Selections range in price from $4.50 (for the soup du jour — rosemary tomato on recent visit) to $13 (for 15-B beef stew, made with NABC's Porter beer of the same name, with potatoes and roasted veggies).
Particularly popular items, based on the frequency with which I see them coming out, are giant bowls of Belgian-style pommes frites ($6); mussels Belgian-style with garlic and saffron ($10); and the Croque Madame ($10) sandwich with an egg on top.
On our most recent visit, Mary and I shared a goat cheese and hazelnut salad ($7.50), a mound of fresh spring greens topped with Capriole goat cheese and chopped hazelnuts with a tart-sweet honey and cider vinaigrette.
The Angus burger ($11) was a juicy, sizzling 10-ounce burger prepared exactly hot-pink medium-rare as ordered, topped with crossed rashers of applewood-smoked bacon and a melted square of white cheddar, served on a substantial white bun. A sizable pile of golden frites came alongside.
Chorizo hash ($9) was a well-fashioned blend of neatly diced russet potatoes pan-fried with mild Fiedler Farm Indiana chorizo sausage and chopped shallots, topped with a perfect sunny-side-up egg. House-pickled red onions garnished one end of the plate; a dab of gently tangy crème fraiche made a comforting dip at the other.
Our beer choices this time were the Dubbel, a Belgian-style ale, dark-brown, fruity and complex; and NABC Mt. Lee, a "California Common." This American beer style is benchmarked by Anchor Steam, but I like NABC's even better, with its good body and crisp, fresh hops flavor.
Dinner pricing is attractive, rarely topping $40 for two including beer. The toll on our recent visit was $37.43, plus a $10 tip.
Bank Street Brewhouse
415 Bank St.
New Albany, Ind.
812-725-9585
www.newalbanian.com
Robin Garr's rating: 91 points