Yes, mashed-potato pizza is a thing, and it is comforting and delicious, and it has bacon, too. And it's just one of many fine pies and more at Charlestown Pizza Company.
I've remembered Charlestown Pizza fondly since my first visit there in 2007. It's the kind of place that I would like to visit often for its amiable combination of friendly, relaxed atmosphere and quality service and fare. But from my quarters off Frankfort Avenue, Charlestown seems farther away than the actual 20-mile trek via the downtown bridges.
That, perhaps, is why I deplorably let nearly 10 years slip away between visits. But hey! There's a new East End bridge now! That will make the journay a snap, right? So, eager to check out the Lewis & Clark for the first time. we leapt in the jalopy, headed northeast, and drove. And drove. And drove. A half-hour later we pulled up in front of the cozy pizzeria on Charlestown's Main Street, and wait! What the what? It's five miles longer this way!
This made no sense, but a closer look at Google Maps reveals the miles we wasted in a sprawling lazy Z, out to Prospect, back to Jeffersonville, and out to Charlestown. According to Google, it would have actually taken a couple of minutes less, although a mile or two more, to swing all the way over to the toll-free Sherman Minton Bridge to get there. Harrumph.
Never mind how we got there. I'm glad we did, and I don't think I'll wait as long next time. No matter which bridge you choose, you should go there soon.
The proprietors, Tajana Johann and Shawn Vest, got their start at New Albany Brewing Company's Rich O's Pizza, and it shows in their attention to pizza and to beer. The multi-page beer lists feature more than 60 American craft beers and top-notch imports in bottle and another half-dozen on tap, with plenty of technical information to satisfy the most nerdy beer geek.
Beer labels and posters adorn the spacious dining room, too, with spacious padded wooden booths along both walls, a bar across the back of the room, and a bookshelf stocked with the Encyclopedia Brittanica, the best thing in the world for looking stuff up before Google.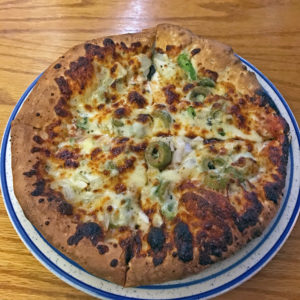 The menu features pizzas, of course, with a few specialty combos but mostly build-your-own in four sizes and choice of white or whole-wheat crust, ranging in price from $4 (for an 8-incher with cheese) to $40 (for the 18-inch "Mack Daddy" with all 16 toppings). There's also a 10-inch gluten-free option, starting at $6 plus toppings. Want hand-pulled chicken breast on your pie? That's available, too, for a modest up-charge.
More than a dozen appetizers and salads, some meal-size, are $2 (for an order of baked waffle fries) to $8.50 (for a pizza pot pie). Yes, you heard that right. "Imagine a bowl of pizza with the crust on top," the menu invites us. I'm trying. I'm trying. A half-dozen sandwiches are mostly $5 for a half sandwich, $9 for a whole; they'll garnish them with the pizza topping of your choice for 50 cents per, and add waffle fries for $1.50.
A small side salad ($3) looked mighty big to me, heaped up to near-overflowing in a wooden salad bowl. Both romaine and iceberg were tossed with shredded carrots, chopped green peppers, chunks of pale winter tomato, mild grated cheese and big, crisp herbed croutons. It was fresh and healthy, with creamy blue-cheese dressing served in a commercial plastic packet.
Half-order bread bites ($3.50) had potential, although we'd have been happier if they had left the bowl full of crusty pizza-dough spheres in the pizza oven a little longer to crisp up and brown a little more. Tajana's spicy beer cheese, one of many sauce options, was mouth-watering: hot and spicy and gently funky, just as old-style beer cheese should be.
An 8-inch pizza with green peppers, onions and green olives – $4 for the cheese pie plus 90 cents for each topping to bring it up to $6.70 – was well-made and satisfying. A very thin base bulged at the rim to make a tasty, yeasty. dark-golden brown handle like a bite of fine Italian bread. It was lightly dressed with a simple, tangy tomato sauce topped with a generous blanket of molten mozzarella blend and toppings, fired in the pizza oven until it hit that sweet spot just before caramelization turns to char.
Did we have to try an 8-inch mashed potato pie ($8.50)? You bet we did! The same fine crust is topped with a thick mound of comforting mashed potatoes, chopped thick bacon, mild cheddar and green onions. Imagine, if you will, a loaded baked potato without the skin, spread on an excellent pizza crust instead. Pizza snobs might be appalled at this gratuitous appropriation of ethnic tradition, but I'm impressed.
With giant glasses of iced tea and Diet Pepsi ($2.25 each), our filling lunch came to $28.03, plus a $6 tip.

Charlestown Pizza Company
850 Main St.
Charlestown, Ind.
(812) 256-2699
ctownpizzaco.com
Facebook: http://bit.ly/ctownpizzaco
Robin Garr's rating: 85 points