Once upon a time, within living memory for many of us, Italian dining meant hearty, red-sauced pasta, garlic bread, maybe a little lasagna, and fake ivy on the ceiling.
Then, just like that, back in the '70s, Italian went upscale. Before we knew it we were all gaga about what we called Northern Italian cuisine, with nary a drop of marinara in sight.
But in our hearts we know we still crave the comforting old-school family-style Italian-American fare, don't we? If you're suddenly craving some ravioli or chicken parm – and pizza of course – then here's my advice: Head for Milantoni Italian Restaurant and mangia, mangia, mangia!
It's not hard to get into Milantoni, but you have to keep your eyes open. Head south on Hurstbourne – you can't get across the median barrier from the northbound side. Cross under I-64, past the first off-ramp, and quickly, before you reach the second off-ramp, hook right through a service station to Milantoni's side door.
The building was once a fast-food eatery. But when you step inside now and see a forest of plastic ivy draped over white latticework, and tables clad in cheerful red-and-white checkered tablecloths, you'll know you've found Italian the way Italian used to be.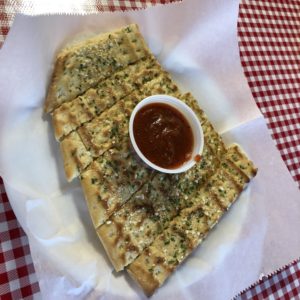 The extensive menu covers a broad range of traditional family-Italian dishes. Sixteen pasta dinners range in price from $7.99 (for cheese ravioli) to $13.99 (for several dishes including ravioli Grande-E-Ole, stuffed with four cheeses and topped with three sauces). Eleven pizzas are available by the slice or in 14- and 16-inch pies, and range in price from $4.59 (for a cheese slice) to $16.99 (for a large meat-lover's pie). A dozen football-size calzones are mostly $7.99, with a few specialty items at $8.99 or $9.99.
Looking for fancier fare? A dozen seafood plates and Milanese specialities range from $11.95 (for chicken with veggies) to $17.95 (for a Mediterraneo plate with five kinds of shellfish). Traditional veal dishes, also available with chicken, are $12.99 for parmigiana to $15.99 for piccata or cacciatore.
Appetizers, sandwiches, and salads range from $5.95 (for mozarella sticks) to $10.49 (for a chicken BLT salad). There's also a short list of vegetarian specialties (although many dishes on the regular menu are also meat-free), and a short kids' menu for those 12 and younger.
A lunch specials menu, offered until 2 p.m., offers a dozen Italian standards, all $7.99 save for a $9.99 salmon salad.
Short beer and wine lists are also available, along with Pepsi products, coffee and tea.
Milantoni makes its own pizza dough, and the same dough is used for the complimentary serving of thin, toasty garlic bread topped with herbs and grated cheese that begins your meal. An accompanying crock of marinara sauce was a little too thick, sweet and aromatic with dried herbs for my personal taste during a dinner visit; the batch served when we returned for lunch another day was better balanced and appetizing.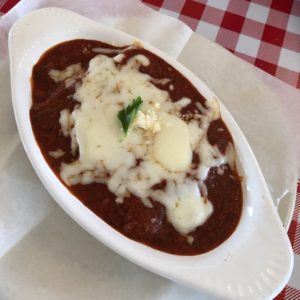 Ravioli ($7.99, add two bucks if you want it on top of spaghetti) took me right back to Little Italy. Heavy blankets of deeply flavored, spicy tomato sauce under molten mozzarella completely hid a couple of cheese-stuffed ravioli. It looked like too much to finish; it was so good that we finished it anyway.
An order of meatballs ($2) was presented exactly the same way as the ravioli, hidden under a flood of tomato sauce and melted mozzarella. Once excavated they were fine: three firm, finely ground golf ball-size spheres.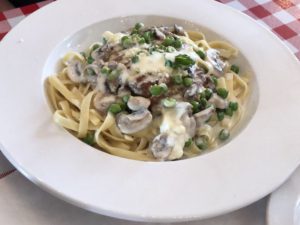 Fettuccine alfredo ($9.99) was outstanding. The pasta was firm and toothy al dente and yet silken; its sauce was cheesy and smooth. And then there's the signature pasta Milantoni ($13.99) which begins with that fine alfredo and kicks it up with chopped chicken breast meat, fine-sliced mushrooms and peas.
Back for lunch another day, we tried a 14-inch pizza margherita ($12.99), pictured above, and a slice of three-cheese white pizza ($5.99). Both were built on a fairly thick (1/2 inch) breadlike crust and pulled from the oven while the edges were still pale and lacking tasty dark spots. The margherita pie was painted with a discreet splash of tomato sauce, then a thick, heavy mozzarella coat, and topped with chunks of out-of-season tomato and a few small fresh basil leaves. The white slice was gigantic, as big as a whole small pie, and bore a melted mix of ricotta, mozzarella and Parmesan on a garlic-scented base.
Dinner for two was an affordable $24.34, plus $5 tip. A pizza lunch for two came to $22.77 plus $5 tip.
Milantoni Italian Restaurant
1600 S. Hurstbourne Parkway
742-8210
milantoni.com
Facebook: bit.ly/Milantoni
(Another location: 1008 Commerce Blvd., Bardstown, Ky, (502) 331-6160.)
Robin Garr's rating: 78 points
Noise level: A pleasant but not deafening buzz didn't interfere with our group's dinner conversation or our lunch for two. (Average sound level was 77dB, the typical sound level inside a moving car, with peaks to 82dB, the sound of loud singing.)
Accessibility: Entrance doors on the side of the former fast-food building are heavy and hard to open, but once inside, dining room and rest rooms appear accessible to wheelchair users.