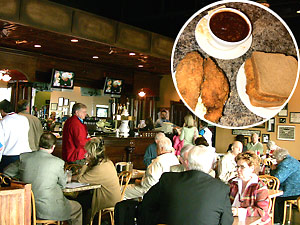 Mazzoni's will celebrate its 125th anniversary next year in new quarters in Middletown. Inset: Chili, fish sandwich, rolled oysters. Photos by Robin Garr.
(Mazzoni's, Voice-Tribune, Feb. 14, 2008)
Mazzoni's, one of Louisville's oldest restaurants, will celebrate its 125th anniversary next year. It's also brand-new.
This seeming contradiction is easily explained: Founded in 1884 in downtown Louisville by Philip Mazzoni, a recent arrival from Genoa, Italy, Mazzoni's remains in family hands a century-and-a-quarter later, ranking it as the city's second-oldest eatery. (Only Cunningham's, founded about a decade earlier around the time Aristides won the first Kentucky Derby in 1875, boasts a longer local heritage.)
But Mazzoni's as also as new as last week, when it reopened in shopping center quarters in suburban Middletown, having moved from the spot across Taylorsville Road from Bowman Field that it had called home since the 1980s.

Regular customers will find the new facilities comfortably familiar, as it appears management has brought over all the old furniture (or something very much like it), particularly the giant oak bar and back bar with its ancient tin ceiling, a memorable antique fixture that came along when it moved from downtown to Taylorsville Road a generation ago.
The menu is pretty much the same, too (and it also bears a stylistic kinship – without the German chow – to the bill of fare at Flabby's in Germantown, which is nowadays under the same family management). It's hearty fare, much of it fairly described as old Louisville pub grub: fish sandwiches, catfish, oysters, bratwurst, chicken livers and salmon croquettes (but, curiously, apparently no burgers); pasta dinners, soups, salads and a substantial array of bar-food munchies from boneless chicken wings to homenade pretzels and the always-popular raw-oyster "shooter" in a shot glass with hot sauce.
Modern demand for variety has brought on some unexpected noshes that might have startled great-great-great-grandfather Philip, such as Crab Rangoon, salmon fettuccine and fish tacos.
I usually stick with the tried, true and reliable when I go to Mazzoni's, though, and I'm here to report that these historic treats have made the transition to the new quarters intact:
* The beef chili ($2.25 for a cup, $3 for a bowl and $4.95 for a jumbo bowl) is unabashedly served in the old Louisville fashion, with a dollop of spaghetti at the bottom of the bowl. The chili's very dark brown color may gain some of its opacity from spicy Mexican pasilla chiles; it's thick and hearty and loaded with finely ground beef and pink beans, made at a warming but not murderous three-pepper level of heat.
* The fish sandwich ($8.10), a popular choice for Lent, is a decent rendition of a Louisville favorite. Two good-sized pieces of mild white fish are thinly but crisply breaded, deep-fried until they sizzle, and served on your choice of bread. I chose fresh if simple slices of unseeded grocery store rye. Thick, mostly-mayo Tartar sauce and spicy cocktail sauce are pour-your-own from plastic squeeze bottles.
* The rolled oyster ($3.90). Often imitated, never duplicated (except perhaps at Flabby's, where they have access to the secret family recipe), this crunchy treat has been a Mazzoni's signature since the beginning, and it remains immensely popular. It's said to be an old-country tradition, although I've never seen anything like it in Italy: Fresh-shucked oysters are rolled in a secret-recipe cornmeal batter called "pastinga," breaded in a thick cracker-crumb coating, and deep-fried until it's sizzling hot and dark, mahogany brown. The size of a baseball, it's crunchy on the outside, with steaming, barely cooked oysters in a moist, bready interior. Some call it a dough ball. I call it a delicious fried oyster sandwich that you eat out of hand.
Mazzoni's: Welcome to Middletown, old friend. May you thrive for another 125 years.
Mazzoni's
12003 Shelbyville Road
451-4436