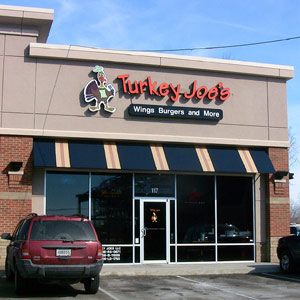 Hot wings are the specialty at this new East End dining spot. You can take your pick of chicken, turkey or boneless chicken.
Another day's quest for hot-and-spicy warmth took me out to the East End to sample another new arrival on the local dining scene, Turkey Joe's ("Wings, Burgers and More"). A collection of U of L and UK athletic memorabilia and beer signs sets the scene, and even the servers wear Cardinal red or Wildcat blue jerseys.
Hot wings are the specialty, and you can take your pick of chicken, turkey or boneless chicken. We went with six chicken wings ($4.55) and three turkey wings ($4.55), and threw on a turkey burger ($7.95), just for the experience.

Buffalo-style "hot" wings were just as good as could be, crisp and sizzling, tossed in an appropriately messy coat of Louisiana hot sauce and margarine. I made short work of three of them, raising my core temperature by at least a few degrees.
Spicy peanut sauce wings fell a little short of the Thai-style experience I was hoping for: It reminded me of a sweet blend of peanut butter and ranch dressing.
The turkey wings were very large, about the size of chicken drumsticks, and I liked the spicy-sweet Asian sauce. They were tough, though, requiring a cave-man-style grip-and-gnaw approach.
A turkey burger, grilled dark brown, came on a decent white kaiser-style roll, dressed with standard-issue leaf lettuce, red onion and tomato. The burger was scented with spices and heavily salted, but lacked the juiciness and appetizing flavors I like in a burger, be it beef or bird or tofu. Onion rings (95 cents as a side order) suffered from a soft and greasy breading that was laced with an unidentifiable spice that I thought might have been cumin but that my wife insisted tasted like soap.
Service was friendly, but pacing was slow. We waited 45 minutes to get our lunch, which came to a rather hefty $23.21 plus 20 percent tip. I'll definitely be back for the hot wings.
Turkey Joe's
2809 N. Hurstbourne Parkway
327-9464
www.turkeyjoes.com
Robin Garr's rating: 76 points