We had been getting along pretty well without dining out since the pandemic got real last month, but someone in this house has been feeling a serious crave for that Louisville tradition, fried fish on rye.
Sounds reasonable. Let's get some fish! But where?
As it turns out, quite a few local favorites are offering this local fave for takeout or curb service: The Fish House, Chik'n & Mi, Four Pegs, Hooked on Frankfort, Royals Hot Chicken, Joellas. I'm sure there are plenty more, but I already had my mind set on a favorite: Moby Dick.
Moby Dick?
Yeah, Moby Dick. Are we going to have to have this discussion every time I go there? Look, people shun the place with the big white whale logo because it looks like a corporate chain. But it's actually a local mini-chain that bills itself as The Codfather of Louisville, a favorite for more than 50 years, listing 15 properties in the metro area.
Moby Disk's Covid-19 notice to customers:
We are closely monitoring and complying with all state and local regulations and mandates regarding restaurant operations. Our highest priority continues to be the health and well-being of everyone who comes into our restaurants. As we navigate the evolving impact of coronavirus on our communities, we are temporarily closing our dining room seating to help limit person-to-person contact. Our restaurants will offer service through our drive-thrus and carry out orders. We thank you for your patronage and we'll continue to do our best to serve you.
Moby Dick grew by doing fish right. Wild-caught Icelandic cod is cut up and flash-frozen on shipboard and never thawed and cut into serving-size fillets until the day you eat it. It's bound-breaded with cracker meal, eggs, milk, and spices, and fried golden-brown in pure vegetable oil when you order it.
But wait! There's more: This high quality fish is affordable. The one-piece First Mate sandwich (on white, wheat, or rye bread) will set you back just $5.57. Upgrade to the two-piece Whale sandwich for $8.99, or order combo plates with fries, a hush puppy, and a soft drink, from $7.99 (for a fried chicken or bratwurst combo) to $11.48 (for the Whale combo with onion rings).
Want seafood? A bowl of New England clam chowder is only $2.85. Shrimp, clams, and oysters range in price from $5.49 (for an order of fried clams) to $11.99 (for an oyster dinner (available in months with an R in them, natch). A shrimp-and-fish combo is $9.05. Don't like seafood or fish? Fried chicken is $3.99 for a sandwich, $6.20 for a batch of tenders, and $8.15 for a chicken tender dinner.
Finally, don't forget the sides. Moby Dick is famous for its array of fried crunchy things, offering your choice of fries, onion rings, and fried mushrooms, cauliflower, okra, zucchini, munchers, cheese stix, poppers and bratworst, from $2.99 to $3.99.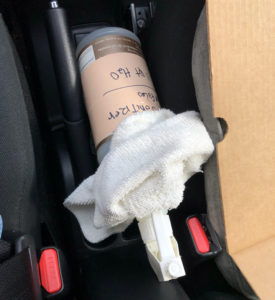 Probably succumbing to an excess of caution, I tossed a squirt bottle of DIY Clorox-based sanitizer and a clean hand towel in the car, lined the passenger seat with cardboard, and had my credit card ready. I headed for the St. Matthews Moby Dick (out front of Whole Foods) around 11 a.m., figuring I'd beat the lunch rush.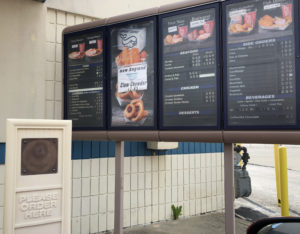 Bingo! There wasn't another car in sight as I wheeled up to the speaker. I already knew what we wanted: The two-piece Whale of a Sandwich, on rye of course ($8.89), and an order of onion rings ($2.69 small, $3.99 large). When I got to the window, the friendly woman inside took my credit card. Just to be on the safe side I gave it a quick sanitizer wipe when I got it back.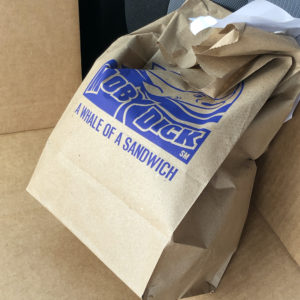 Another woman wearing rubber gloves handed my bag out. I tossed it on the cardboard-lined passenger seat, wiped down my hand again, and headed home.
A little later, we gave the food a quick reheat in a 350º oven, and it was delicious.
The Whale ($8.89, pictured at the top of the page with rings) consists of two long, thick planks of fish, breaded with a cracker-like coating that did not fall off when you bite into the fish. The fish was hot, moist, and flaky, really excellent cod, and the crunchy brown breading offered lots of nooks and crannies to catch tartar sauce. (It came with two packets of commercial tartar sauce, but here's an advantage of bringing food home: You can make your own sauce, and it's a real treat that way.)
We got a small order of onion rings ($2.69), but when we got into them I wished we had sprung for $3.99 for a large batch. They are excellent, some of the best rings around. They appear to be made with the same cracker-crumb batter as the fish, but it's a lighter, thin coating that fries up crisp as glass. It adheres well to the thick onion rings so the onion doesn't disappoint you by pulling out of the breading as you eat it.
It was a great lunch, filling that crave, and I'd say we stayed within Governor Andy's social distancing guidelines to get it. You could, too.
Moby Dick Seafood Restaurant
4848 Shelbyville Road
897-0614
mobydickrestaurants.com