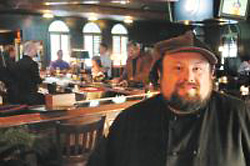 Photo by Kelly Mackey: John McCulloch is the executive chef at Stratto's, cooking in the 19th century mansion – now restored – where his great-great-grandmother once toiled.
(CHEF CHANGE: Chef Tony Efstratiadis, formerly with Napa River Grill and 316 Ormsby in Louisville, took over as chef at Stratto's in September 2006, and has made some changes in the menu.)
As far back as most of us could remember, folks in Southern Indiana who wanted to enjoy a fine-dining experience were pretty much obliged to hit the bridges to Kentucky if they wanted anything more sophisticated than diner fare or a fast-food chain.
It might seem rude for a Kentuckian to say such a thing, but let the record reflect that it's deeply rooted Hoosier John McCulloch saying this, pledging to make Stratto's – the fine new Italian eatery where he's executive chef – a dining destination that will raise the bar for gourmet-style dining on the Sunny Side.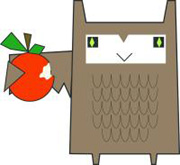 Illustration by Gina Moeller
McCulloch, the fifth-generation descendant of one of Clarksville's oldest families, is in the unusual position of cooking in the renovated kitchen where his great-great-grandmother once toiled: Stratto's is the latest, and arguably the most impressive, restaurant occupant of Montrose, the historic Indiana mansion that the McCulloch ancestors built around 1870.
It joins a handful of other recent Southern Indiana arrivals, including Bistro New Albany and Federal Hill in New Albany and RockWall in Floyds Knobs, that offer Southern Indiana its own upscale dining options … and that offer Kentuckians a credible reason to head north for dinner.
Restored in the 1990s to house the Major McCulloch Steakhouse (later Sunset Grill), and redone again by the Stratto's investors, Montrose was once the farmstead for the region. Now it holds off a wave of strip malls and shopping centers up the road a ways, on the shady lawns that comprise what's left of the property.
Its new decor respects the old-house setting, taking full advantage of high ceilings, fine old woodwork, original hardwood floors, fireplaces and mantels. A crystal chandelier dominates a lofty lobby, and several comfortable rooms now serve as intimate dining rooms plus, on a former side porch, an inviting bar and lounge. An outdoor patio in a shady grove makes an outstanding al fresco option.
White-trimmed black walls display a gallery of attractive paintings and formal mirrors; colorful bottles on glass shelves catch the light; tables are draped with black tablecloths and black napkins and set with luxuriously heavy flatware and flickering votive candles. Soft modern Italo-pop plays discreetly in the background, just loud enough to fill gaps in the conversation.
The menu is extensive, starting with well over a dozen soups, salads and appetizers – many of them fried munchies that make fine bar snacks – from $3.99 (for Italian wedding soup, soup of the day or a house salad) to $10.99 for a spicy shrimp cocktail or $13.99 for an antipasto plate for four.
Two dozen main courses range in price from $8.99 (for spaghetti with marinara sauce or a 12-inch pizza with two toppings) to $17.99 (for several seafood, veal or beef courses). Vegetarians may happily chow down on a choice of four meatless mains, from $9.99 (for eggplant Parmigiana or lasagna verde) to $15.99 (for portobello mushroom ravioli).
Most entrees are served with roasted garlic Yukon gold mashed potatoes, vegetable of the day and choice of house salad, Caesar salad or soup. Inspirations range all over the map of Italy (and Italian-American immigrant delights), from the red-sauced pasta dishes of the South to more subtle, tomato-free Northern Italian dishes and a few idiosyncratically Italian items like an agrodolce salmon grilled and served with a blackberry walnut raisin compote.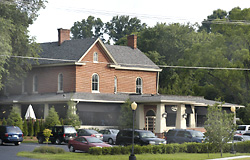 Photo by Robin Garr: Stratto's is located in a restored 19th century mansion.
At the risk of culinary pedantry, I can't help but wish management had invited someone who actually spoke Italian to proofread the menu, which is fine on the English words but suffers too many careless Italian spellings to bespeak professionalism. McCulloch's cooking, however, is beyond reproach, the atmosphere is stunning, and we've found service, if occasionally inexperienced, to be always sincere and usually first-rate. Stratto's offers the region – on both sides of the Ohio – a serious new Italian option.
The wine list offers a mostly Italian selection of some three-dozen bottles at attractive prices starting as low as $20, most available by the glass for one-fourth the bottle price. Our wine-savvy server described my choice, Farnese 2004 Montepulciano d'Abruzzo, as "sort of like a Pinot Noir," and I couldn't quibble with that. Lightweight but fruity, with scents of blackberries and cherries and a whiff of smoke, it was a food-friendly wine and a fine value.
We kicked things off with a shared appetizer plate of fried ravioli ($5.99), an Italian-American treat with its roots in The Hill, the Italian-American section of St. Louis. Eight ravioli pillows the size of postage stamps were filled with molten white Italian cheeses, dredged in a crunchy crumb mix, deep-fried and topped with grated Parmesan cheese. They were served on a plate lined with field lettuce and spinach leaves, with a metal crock of thick, spicy red marinara sauce in the center.
A bowl of Italian wedding soup was right on, a light tomato-laced broth swimming with a few bits of tender sausage and plenty of acini de pepe soup pasta, which means peppercorns and accurately defines the size and shape of these tender pasta beads.
A Caesar salad was served on an artistic square gray-green glass plate, a good portion of chopped romaine dressed with the right amount of creamy and tangy Caesar dressing (with no hint of anchovy), topped with crisp toasted croutons.
Both our main courses were beautifully plated on oversize white dishes. Tuna agli olio ($15.99) consisted of a 3/4-inch-thick tuna steak, attractively criss-crossed with grill marks, perched on a bed of thin, al dente spaghetti dressed with olive oil and asiago cheese and smack-yo'-mouth garlic and spicy red pepper. It was a fine dish, but it showed signs of having been held a few moments while waiting for the other main course to finish, allowing the spaghetti to congeal a bit and the tuna to cook past prime time through carry-over heat.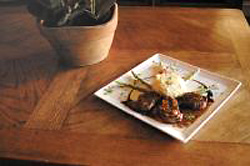 Photo by Kelly Mackey: One highlight of the extensive Italian menu at Stratto's is Italian bistro steak.
The Italian bistro steak ($15.99), served as three small medallions on an artfully plated display of tender asparagus and piquant roasted red pepper, came rare exactly as ordered, flavorful – the pesto rub was a nice touch – but a little on the chewy side. Its sauce was rich and glossy, not sweet, a demiglace enhanced with the intense flavor of sun-dried tomatoes.
We finished up with well-made espresso ($2.99) and a shared tiramisu ($3.99) served in a goblet. It was a rich, heavy rendition, hearty enough to be tough to finish after a filling meal.
Service was competent throughout, with teams of servers in teal-green shirts and bussers in red, a few experienced pros taking the lead and catching the backs of newer folks who are obviously learning fast. Dinner for two came to $70.29 including a bottle of wine, a modest toll that would be tough to equal on the Kentucky side, plus a $14.71 tip.
Stratto's
318 W. Lewis & Clark Parkway
Clarksville, Ind.
(812) 945-3496
Rating: 84 points

Let's make this week's report an all-Italian extravaganza as we catch up with Eat 'N' Blog correspondent ANDREA ESSENPREIS, who reports on a recent tasting of quality Italian olive oils at Gourmet for Everyone, an impressive new specialty food shop in the far East End.
Slow Food and Great Oil – A Study in Taste
The "Slow Food" movement was started in Italy in 1986 as a reaction to the world's growing dependence on, well, fast food. Gourmet for Everyone recently hosted a Saturday cooking demonstration and olive oil tasting to showcase the fabulous "Slow" cuisine of Marta Miranda, co-owner of Abbondanza, a Lexington-based importer of fine olive oils from three regions of Italy. These ultra-premium artisanal oils are used in some of the best kitchens in town (Lilly's, Le Relais and Jack Fry's, among others) and now are being sold for the first time in Louisville at this bright, charming shop east of Middletown.
Three "Oliva Bella" 2005 single-estate oils were unveiled at the Saturday tasting.
• Biologico, from the Gaudiosi family in Campagna, was the lightest – almost lemony, with a pleasant spicy finish.
• Rustico, produced by the Giannini family of Puglia, was the only unfiltered oil in the bunch. With its bold flavor and buttery aroma, Rustico added a splendid accent to a pasta dish, orecchiete con Parmigiano Reggiano.
• My favorite was Umbra, from the Fabrizi family farm in Umbria. This small operation produces only 1,700 liters a year of this certified organic extra-virgin olive oil, which is simultaneously peppery and delicate.
All three oils (from the November harvest) were outrageously fresh and flavorful, a perfect match for the summer's best produce. A 500ml bottle is $23.95 while supplies last. For more information about Abbondanza's fine olive oils, visit http://www.olivabella.com.
Gourmet for Everyone
111 S. English Station Road
(Landis Lakes Shopping Centre)
253-9656
Nibbles
Gourmet for you?
Speaking of Gourmet for Everyone, if Andrea's olive oil tasting got you in the mood to head out East (111 S. English Station Road) to check out this new specialty-food market, you might be interested to know that it also houses a "cooking studio," where proprietor Deb Reese hosts frequent classes and demonstrations. The second in a series of "Cool, Quick Summer Foods" demonstrations is coming up Saturday at 2 p.m. To sign up for the free demo, call 253-9656. Cooking classes will begin in late summer. To get on the mailing list for course schedules, sign up at the store or visit its Website, www.gourmetforeveryone.com.
Fondue with a purpose
If you'd like to dip your food in melted cheese, broth or chocolate and really feel good about it, you might want to consider marking your calendar for the first annual Four STAR Autism Dinner, Monday, Aug. 21, at Melting Pot of Louisville. Proceeds will benefit the Systematic Treatment of Autism and Related Disorders (STAR), a University of Louisville program for children with autism spectrum disorders and their families. Tickets are $55 per person and include gratuity; seatings are from 5-8 p.m. For information contact Melting Pot, 2045 S. Hurstbourne Parkway, 491-3125 or www.meltingpot.com.
Bob, bob, bobbin' along
The Colorado-based Red Robin Burgers chain will open its first Kentucky property Monday in the Brownsboro Crossing shopping center, just east of the Snyder freeway off Chamberlain Lane. According to its PR material, the 315-unit national chain serves "an innovative selection of high-quality gourmet burgers in a family-friendly atmosphere." We would normally assume this means "no booze," but they also speak of a line of "signature Mad Mixology® Beverages" in addition to a choice of 22 gourmet burgers, "Bottomless Steak Fries™" and other tempting things. Next week would be a fine time to check it out, as Red Robin plans to mark its grand opening by donating 50 cents for every gourmet burger sold from Monday through July 30 to the Worthington Fire Department. The money raised will help the fire department purchase a thermal imaging camera, a high-tech tool that can be used to help find people in a fire. Red Robin Gourmet Burgers, 9870 Von Allmen Court (Brownsboro Crossing).