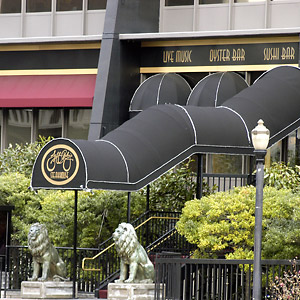 Jeff Ruby's: Jeff Ruby's Steakhouse at Fourth and Main is one of several upscale restaurants that opened here this year. Photo by Robin Garr.
LEO's Eat 'n' Blog with Louisville HotBytes
(2006 wrapup and Jeff Ruby's review)
History may record 2006 as the year that the Louisville restaurant industry finally shucked the post-9/11 attitude that eschewed upscale, pricey dining.
Two of the year's biggest downtown restaurant success stories are the arty, glitzy Proof on Main, and the very pricey Jeff Ruby's Steakhouse. It's easy for a diner to blow past the $100 mark for an evening meal at either of these fine spots. Said diner will go home stuffed and happy.
Nor did these two stand alone in the year's march back toward more conspicuous consumption: From the upscale RAW sushi bar downtown and the classy Danielle's in Clifton, Nio's on Baxter and Stratto's in Clarksville to the lovable Bistro New Albany, the upscale (if not necessarily expensive) restaurant hits just kept on coming. And we're glad.

Budget diners found plenty to keep them happy, too: Sweet Peas Southern, Steve O's, Amici and Shiraz Mediterranean Grill … Sari Sari Filipino on Frankfort and Brendan's in St. Matthews. The downscale joys of Chicago Gyros, Seafood Connection in St. Matthews, La Rosita and Perla del Pacifico. We welcomed Bluegrass Bistro, Marrakech, Toast on Market, Jenicca's and Brix Wine Bar. Barbecue fanciers got Pig City and Big R's. Something Asian? Greet Simply Thai, Liang's Cafe, Kimis Bistro, Pink Door and Pho Binh Minh.
A handful of closings marred the mix: Shed a tear for Mayan Gypsy, Furlong's, Nik's, Shemroun Persian, Twiams Chicken and Waffles and Oscar Brown's. Winter energy costs reportedly laid low two Old Louisville destinations – 316 Ormsby and Leander's – and lease issues wrote an end to the historic Colonnade's 70-year run in the Starks Building basement. Lentini's closed, reopened, closed again and now seems to be open again. We'll keep an eye on that.
Louisville's eateries attracted attention in Gotham this year, with many local chefs making their way to James Beard House, and the Oakroom's Todd Richards and crew winning a spot on "Iron Chef America" (to air this winter). All that plus a favorable mention in Esquire: Maybe 2007 will be the year Louisville realizes it doesn't need New York's approval to thrive.
Let's wrap up 2006 with a Christmas season visit to Jeff Ruby's, the Cincinnati-based mini-chain that describes itself as a "Las Vegas-style New York steakhouse, sushi bar and supper club."
Mr. Ruby runs five upscale eateries in Cincinnati and its Kentucky suburbs and one at the Belterra Casino Resort in Vevay, Ind. Jeff Ruby's Louisville opened after Derby in Waterfront Plaza at Fourth and Main, next door to Galt House East.
The Galt House complex has been described as Psychedelic Art Nouveau and Bordello Gothic; while Jeff Ruby's kicks things up a notch or two, it shares a taste of that wacky Galt House flavor – perhaps crossed in an unnatural union with New York Meat District steakhouse. Banquettes upholstered in orange velvet. Indirect lighting in many colors. Lots of orange, brown and black, reflective chrome and hard, jagged edges. Potted plants high overhead in copper cans illuminated with blue spotlights. A giant, wall-size aquarium separates the dining room from the large bar – regrettably it doesn't separate them sufficiently to keep cigarette fumes from drifting through.
Service, although attentive, can be rough-and-ready; they'll generally put used knives and forks back at your place rather than replacing them. When I mis-used a bread dish for my oyster shells, they quickly whisked it away, which was good, but neglected to replace it, which was not so good.
Menus and the wine list are both housed in large, glossy cardboard books that open up to a two-foot square, big enough to be hard to maneuver without some risk of knocking over your water and wine glasses. I soon mastered the trick, and found a fairly standard steak house menu with a few fancier touches such as a seafood/raw bar and sushi section, plus salads, appetizers and gigantic side dishes large enough for two (or more) to share. The specialty of the house is dry-aged prime steak, ranging from $29.50 to $49.75, plus a smaller selection of chops, lobsters and lobster-and-steak (which, happily, they do not bill as "surf and turf"). They've also got five good-looking seafood and fish dishes and, remarkably, chicken roasted with a can of Ale-8 up its butt for a mere $19.50.
The massive wine list offers a couple of hundred items, heavy on American wines, but plenty from France, Italy, Australia and New Zealand, too. A few high-end cellar treasures like 1961 Chateau Lynch-Bages and 1995 Chateau Petrus go for upwards of four grand. Most bottle prices are on the high side, with lots of bottles in the $100 to $200 range, but you can find a few affordable goodies like my choice, Edmunds St. John 2001 California Syrah ($36). They have short but decent by-the-glass selection, too.
Crusty artisanal sourdough slices come with triangles of pure white creamery butter and a dizzyingly addictive portobello-truffle butter. We shared an appetizer, charcoal herb grilled oysters ($10.50). A row of Chesapeake Bay oysters sat on their half-shells on a bed of rock salt (don't eat it, the waistcoat-clad server warned), each topped with a small amount of snipped chives and finely crumbled bacon and homeopathic dashes of garlic and cheese. They were fresh and juicy, and the garnishes were restrained so the oysters' natural briny flavor came through. It was a fine starter, although the portion – five oysters about the size of my first thumb joint – was scanty. This was the only complaint about scanty portions we would have all evening.
A Kentucky Bibb lettuce blue-cheese salad ($7.75) was a work of architectural design: A thin strip cut lengthwise from a cucumber formed an edible belt that held a ration of mesclun lettuces (but no Bibb that we could see) and was topped with a nest of julienned Granny Smith apple, mingled with crumbled Maytag blue cheese and chopped black walnuts and drizzled with thick balsamic vinaigrette. I went retro with an iceberg lettuce wedge dressed with Maytag blue ($5.25) and got a chunk the size of a small watermelon wedge, perched atop a giant ration of blue-cheese dressing so thick and creamy that it resembled cottage cheese, attractively garnished with halved yellow and red grape tomatoes and croutons. The lettuce was fine, crisp and cold. I'm glad that iceberg, so declassé for such a long time, is trendy again.
The meat courses were spectacular in appearance but slightly less so in preparation. We called for "between rare and medium-rare." What we got was seared on the outside, cold and raw in the middle. I thought about sending them back for further treatment, but gutted it out instead, eating around the edges, mostly, figuring that we'd take the leftovers home and give them a little more time on the grill. Otherwise, they were splendid.
A 1-1/2-inch thick USDA Prime porterhouse ($44.50, trademarked here as "Shorterhouse") comes with a crisp outer rub of discreet spices, unadorned on a large white earthenware plate. Ruby's plays no steakhouse-chain fun and games with molten slabs of butter or sizzling iron plates, and none is needed.
Three large, beautiful, two-bone lamb chops ($37.50) looked great, seared dark-brown and sizzling. But they fared worse than the beef from undercooking: The raw interior was mushy and gamey. They were garnished with a pile of leafy green escarole and bitter white frisee (which I like a lot, even if it is rabbit food) and three silver-dollar size "sweet corn pistachio grill cakes." (Note: The chops were terrific when we re-heated them at home.)
Ruby's signature dessert is a Maker's Mark triple chocolate mousse cake, a decadent concoction with red-dyed white-chocolate ganache poured over the top to represent the bourbon's trademark melted red wax. We succumbed instead to a shared creme brulee ($7), nothing fancy about it, but made just right and not gussied up, a round, shallow white ceramic dish with cool eggy custard under a hot, glassy caramelized surface. Espresso ($3.50) was as good as I ever sipped, foamy and properly bittersweet, with an amazing bittersweet dark roast character that would almost make you swear they stirred in a little cocoa.
Did I mention that Jeff Ruby's is a pricey joint? Even with shared app, side dish and dessert and one of the least expensive wines on the list, dinner came to a little over $170, and I left a $40 tip. If you can afford it, though, it's worth the toll. Ruby's blows away Morton's of Chicago and Ruth's Chris and reaches an entirely different level than familiar local steak houses like Pat's and Del Frisco's. It's a closer competitor with Z's Oyster Bar and Steakhouse. I might give Z's the edge for seafood, but Ruby's gets the nod for steaks and high-energy glitz.
Welcome to town, Mr. Ruby. We're glad to meet ya.
Jeff Ruby's Steakhouse
325 W. Main St. (Waterfront Plaza)
584-0102
http://www.jeffruby.com
Rating: 88 points