Can a great independent restaurant remain great when it evolves into a corporate chain? This favorite topic for foodie debate plays out time and again, just about any time a favorite eatery opens a second location, and then a third.
Looking back, I've got to say that the odds don't favor success, as anyone who remembers the beloved original Tumbleweed or the first J. Gumbo's knows well. At some point in the process, the heavy thumb of the corporate bean counter presses down on the incredible lightness of the original dream, and creative risks get locked down by profit concerns.
So here's good news: When we dropped by Wild Eggs in Westport Village with my visiting sister in tow the other day, I was delighted to rediscover that this place that lit my gustatory fire when its first shop opened on Dutchmans Lane almost 10 years ago is just as good as ever now that it has grown to 14 locations in five states, including four in Louisville and one in Jeffersonville, Indiana, with another in downtown Cincinnati coming soon.
Of course, I'm an easy mark for the incredible edible egg, an ad slogan that has survived for 41 years perhaps because of its truth. Show me an eatery with "egg" in its name, from Wild Eggs to Con Huevos to Steak and Egg or maybe Toast on Market (where the egg is implied), and I'll tuck my napkin into my shirt and sit right down to some henfruit. (Triple credit if the eggs are locally produced by cage-free birds munching grass under nature's sunlight, although I expect that's one of the joys that has to go when a Mom'n'Pop becomes, you know, a chain.)
Still, Wild Eggs does a surprisingly good job of living up to its mission statement: "Our goal is to offer the same level of preparation, presentation and service that guests can expect from an upscale dining experience."
The Westport Plaza shop mirrors the sunny-morning look of the other outlets, with blue and yellow pastels and a large glass wall filled to the top with thousands of eggs. We dined outside for lunch on a recent beautiful day, with just-right breezes, puffy clouds in a bright late-spring sky, and strategically placed patio umbrellas to provide needed shade.
The chain has apparently thrived by building on consistency. It has remained devoted to breakfast and lunch, with a fairly extensive menu that speaks to the egg lover in everyone but does not require haters to consume them. The top menu price has gone up only a dollar over a decade, now topping out at $12.99 (for steak and eggs); most choices are under $10, and a thrifty diner could put together a decent eggs and biscuit breakfast from the sides menu for well under $5. Breakfast and lunch menus meet and intermingle, and both are available throughout the day.
Coffee ($2.79) and tea ($2.79) are strong and good, and fresh-squeezed orange juice comes in three sizes ($3.49 small to $11.99 for a full liter in a pitcher). Are there adult beverages? Of course there are! A dozen brunch-style libations are $7.99. The Bloody Mary is worthy, gaining a triple wake-me-up kick from Absolut Peppar vodka, spicy bloody mary mix, and a salt-and-spice-dipped rim.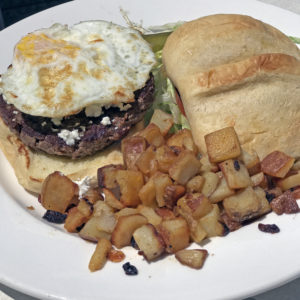 Because Wild Eggs is, after all, an egg place, we all chose dishes featuring the opulent ovoid. Even the Bowling Alley Burger ($9.99) gains a little extra majesty when it's topped with a fried-over-easy egg ($1.29 extra) and crumbled goat cheese, the fanciest topping option. It was a decent burger, traditionally dressed with lettuce, tomato and onion in addition to the fancy extras, and served on an excellent potato roll; but unfortunately we weren't asked how we wanted it cooked, so it came out well-done and rather dry. (Mary returned to Wild Eggs a few days later and tried another, ordered and delivered medium-rare, and that was fine.) Cubed home fries on the side were passable if not memorable.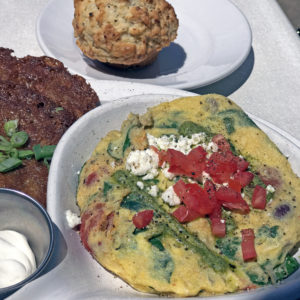 A "Jimmy the Greek" frittata ($11.99) made a fine egg meal, tender and loaded with high-flavor and aromatic goodies including black Kalamata olives, spinach and onions, topped with feta, dried tomatoes and tart, vinegary pepperoncini peppers. A pair of good-size latkes on the side were dark golden-brown and just as addictive as potato pancakes can be, although a bit too greasy for comfort. It comes with a Wild Eggs Everything muffin, also available as a side for $1.79, and that's a good thing, a big, savory muffin that riffs on the idea of an everything bagel, filled with onions, garlic and poppy and sesame seeds.
If you think egg salad is boring, let me introduce you to Pop's Poppin' egg salad sandwich ($9.49). This egg salad starts with deviled eggs, a brilliant concept, then adds habanero-laced habagardil pickles from Louisville's Pop's Pepper Patch, and piles a generous mound – so big that I had to start with knife and fork to get it down to sandwich size – atop thick-sliced toasted sourdough.
A fine meal for three was $41.61 – about a $30 share for two – plus a $10 tip.
Wild Eggs
Westport Village
1311 Herr Lane
618-2866
wildeggs.com?facebook.com/WildEggsKentucky
Robin Garr's rating: 87 points