How is Øskar's Slider Bar delightfully different from just about every other eatery in town? Uff da! Its light, amusing Scandinavian vibe sets it geographically and culturally apart from all the local restaurants that fake a drawl while frying chicken and simmering grits.
Even the good folks from Top Chef, announcing their plan to highlight Kentucky next season, seemed to see us in terms of country hams, sorghum, fried chicken, burgoo, and mutton! Okay, fine. This all may be true, but it is incomplete.
Enter Øskar's, an eatery and watering hole in the style of a Minnesota dive bar! Newborn sibling to Grind Burger Kitchen, this fun new spot fills the old Frolio's (briefly Teena's) pizza joint at the corner of Poplar Level Road and Trevilian Way.
Øskar's, its owners Liz and Jesse Huot say, is lovingly named after their 2-year-old son with the Scandinavian Ø swapped in. A longtime dream based on the Huots' Norwegian heritage, it finally bore fruit only after Grind achieved its full evolution from food truck to Preston Highway storefront to its current spot in NuLu.
Following a long trip through Wisconsin, Minnesota and the Dakotas for research, the Huots opened Øskar's early in the winter, an appropriate season for a casual spot that may remind you a bit of the movie Fargo, only without crime or snow.
Don't look for a menu that dives deeply into the subtleties of Norwegian, Swedish, and Danish cuisines: Sliders are small plates, one slider each, borne on shallow rectangular bowls folded from brown cardboard. The former pizzeria remains simple, too, with sturdy butcher-block tables, heavy chairs, dark terrazzo floors, and tongue-in-cheek decor touches that will keep you smiling.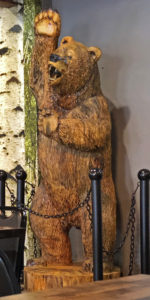 Most memorable, perhaps, is a wooden grizzly bear that was carved from an 8-foot length of a single pine tree, fashioned for them by a California artist after they saw a similar bear on Pinterest. "It weighs 900 pounds and took six professional movers to get it out of the crate and placed in the restaurant," Liz Huot says. "He's pretty amazing. We love him."
The menu is concise, offering just 14 sliders, four salads and fries; and the sliders range in price from $2.50, yes, two dollars and fifty cents, for a ham-and-swiss slider, to a max of just $4 for a lamb slider or hand-made gravlax, Norway's answer to lox. No, you probably can't eat just one, but six sliders and two salads made a meal for the two of us. Okay, I could probably have downed a couple more, but I didn't need them, if you know what I mean.
Øskar's cozy, inviting bar gets its Scandinavian on with four choices of aquavit. There's also Wisconsin's notorious take on the Old Fashioned ($6) made with brandy, fruit, and club soda. There's an extensive beer list, a short wine list, plenty of bourbon and a sampling of other liquors.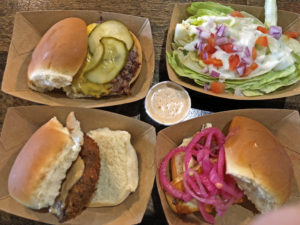 Place your slider order by marking up a sushi-bar-style menu. Most sliders come on squarish white-bread buns; a few are built on special breads. We were impressed with all we tried.
A cheeseburger slider ($3) made a good basic starting point. It uses a small but flavorful round of organic ground beef from Foxhollow Farm, dressed in traditional fashion with thin-sliced pickle rounds, American cheese, and the house's light, tangy Grind sauce.
The veggie slider ($3) is a mini-version of Grind's veggie burger, the crunchy, textured blend of roasted veggies, chickpeas, lentils, and quinoa that caught Guy Fieri's attention when Diners, Drive-ins and Dives came to town. It's simply slathered with a bit of non-dairy tofu sauce.
The Minnesota Fish Fry slider ($3.50) presents a smallish bite of lake-caught walleye breaded with a rye-cracker crumb and deeply, crisply fried, dressed with a scoop of slaw made with tartar sauce.
Halloumi cheese from Cyprus is famous for its grillability, and it made a fine base for Øskar's Halloumi slider ($3). Two molten medallions within crisp, caramelized crust made a rare treat, with tart, tangy pickled red onion on top.
A lamb and lefse sandwich ($4) pushed the definition of sliders. A round piece of lefse – soft, tangy Norwegian potato-and-wheat flatbread – was wrapped like a soft taco around tender, juicy lamb shreds and pickled red onion garnish.
Gravlax ($4) was appetizing too. A curled slice of dry-cured salmon perched on crisp rye crackers, topped with fresh dill and sensuously thick crême fraîche.
Salads ($2 each) were fine, too. Kale salad featured finely torn bits of bitter greens and crunchy pumpkin seeds, dressed with a tantalizing smoked-onion vinaigrette. A wedge salad was crisp and good, a small serving just right for lunch.
The only dessert on the menu is rosettes ($2), a pair of traditional Scandinavian sugar-dusted fried dough cookies formed in a rose-shaped iron.
A filling lunch was a reasonable $28.62, plus a $7 tip.
Øskar's has no published telephone number. They invite contact via Twitter or Facebook message, but point out that reservations are not taken, nor are phone-in orders, so you probably don't need to phone them anyway.
Øskar's Slider Bar
3799 Poplar Level Road
oskarssliderbar.com
facebook.com/oskarslouisville
instagram.com/oskarssliderbar
Robin Garr's rating: 89 points