Thoughts upon dining at the amiable new Ramen Inochi, latest in the city's growing circle of Asian soup eateries: If you're ever in the mood to start a foodie fight, ask your friends whether ramen or pho is better. I tried this on Facebook and Twitter the other day and had three dozen arguments going by lunch.
But you don't have to be a social media troll to love these traditional Asian soups, and Louisville clearly knows this. In the past few years we've seen a mini-tsunami of restaurants that specialize in these memorable soups.
So what's the difference between ramen and pho, anyway? You might have a hard time guessing which is in your bowl if the server didn't tell you. You get a big bowl of steaming rich broth, noodles, and interesting add-ins. But you can count on a few near-certainties. Pho has tender white rice noodles. Ramen has squiggly, jiggly but firm wheat noodles. Pho broth is usually clear, often scented with star anise and cinnamon. Ramen broth involves long simmering with beef or bones, and comes in five or six traditional styles.
Your pho will usually have thin-sliced meat, poultry or tofu resting on the noodles; more goodies, including leafy herbs bean sprouts, and hot sauce, come alongside. Your ramen bowl, conversely, has all the goodies built in: You'll probably get thick chunks of meat or tofu, a halved egg, and seaweed, veggies and corn.
We checked out Ramen Inochi the other day and found owners Jonathan Chiu (whose Hong Kong-born parents own Oriental House) and Jonathan Ham turning out fine bowls of ramen and more. Completing a sort of ramen circle, it's located in the small Highlands storefront that once housed Rumplings, the eatery that kicked off Louisville's love affair with serious ramen.
If you remember Rumplings, though, you'll hardly recognize this stylishly renovated space. They've made more room for tables, and they've kicked the style up a notch or several with a Japanese esthetic, walls in sea blue and cloudy gray, shoji screens with stylized cherry blossoms, Japanese art and, catching your attention near the top of one high wall, a line of Japanese characters that spell out "Ramen Life." (Thanks, Google image translate!) Undraped wood-look tables with small black side chairs accommodate about 20 diners, plus a half-dozen bar stools along a shelf facing the windows.
The one-page menu is concise, yet it includes all the traditional Japanese ramen styles: shio (salt) and shoyu (soy), both $12.50; miso fermented soy and tonkotsu (pork), available in in both regular and spicy versions, all $13.50; and a vegetarian ramen for $10.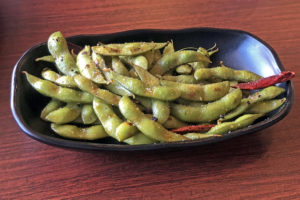 A half-dozen appetizers range in price from $3.50 (for edamame, the classic Japanese soybeans in the pod), to $7.50 (for spicy pork-belly buns).
Four Japanese beers are $3.50 to $8, and 15 sakes are mostly $5 to $15, with a handful of fancy outliers in the $40-$60 range. Non-alcoholic beverages include soft drinks and a variety of bottled teas.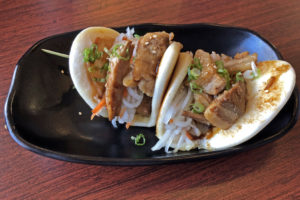 A pair of well prepared pork-belly buns ($6.50) got our dinner off to a great start. The bun was grilled on one side, nicely browned and very crisp, leaving the other side fluffy and tender. That side was lightly painted with hoisin sauce and stuffed with good-size chunks of pork belly and shredded strips of daikon radish and carrot.  The flavors and textures all sang in harmony to make a truly appetizing treat.
The aforementioned spicy garlic edamame ($5.50), pictured above, was fiery, aromatic and addictive. As you pull each pod through your teeth to pop out the tender beans, you pick up palate-popping, smoky flavors of spice, garlic and salt from the pods.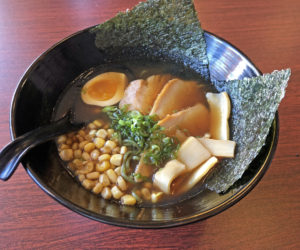 We took the kale noodle option with shoyu ramen ($13.50) and got a big black bowl generously filled with rich, soy-scented chicken broth, thin-cut slices of chicken white meat, a perfect half of a soft-boiled egg, bamboo shoots, and plenty of corn niblets, topped with minced scallions and a pair of crisp sheets of nori seaweed.
Spicy veggie miso ramen ($10), pictured at the top of the page, was fiery and delicious, especially with an added order of kimchi ($1.50) to give it an extra kick. It gets its heat from a house-made spicy miso that colors the broth a pretty reddish orange and imparts a flavor that's not just fiery but complex and interesting. It was filled with crinkly noodles that looked a lot like ramen from the packet, but tasted fine, and was topped with corn niblets, bamboo shoots, scallions, nori, and a half egg.
Dinner for two came to $39.22, but we lucked into a happy hour discount that dropped our toll to $31.82. Discounts shouldn't punish good service, so I based an $8 tip on the original charge.
Ramen Inochi
2009 Highland Ave.
785-4199
facebook.com/RamenInochiLouisville
instagram.com/RamenInochiLouisville
Robin Garr's rating: 88 points
Noise level: The sound level rises when a loud song comes on and bounces off the hard edges in the small room, but the music is good. Most selections were more moderate in volume, so we could talk easily. (Average sound level 78dB, in a broad range from 68-83 dB)
Accessibility: A single, short step at the front door is still a barrier to wheelchair users.