Le Moo just celebrated its third anniversary – its grand opening happened on Sept. 19, 2015 – and if it's not your favorite steakhouse by now, it surely makes that grade with a lot of people. Ask for the best steak in town, and Le Moo will certainly be in the conversation along with a handful of other popular local and high-end corporate eateries.
What's more, within six months of its opening, Food Network declared this Lexington Road landmark not merely Louisville's best, but one of the 28 best spots for steak all across the nation. You could look it up.
But we're not here to talk about steak dinners today. On the contrary, I recently noticed, belatedly, that Le Moo offers a daily brunch. Yes, I said daily brunch: Le Moo's expansive brunch menu is available every day of the week from 10 a.m.-3 p.m. Why wait? My sister Amy joined Mary and me for a brunch expedition that filled us with good food and happy hearts.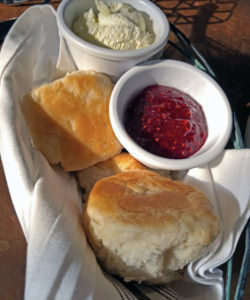 The oversize brunch menu contains some three dozen choices, so bountiful that even the starters, salads and side dishes appear more than sufficient to fill you up. Prices will look a bit spendy if your point of comparison is McDonald's or Denny's, but trust me, you'll be much happier here.
The main portion of the menu is titled "I hate bacon, said no one ever." Did I mention that Le Moo is quirky? The dishes are all named, too, with monikers that range from amusing to grin-provoking peculiar. Prices in this menu sector range from $12 (for the "You're Bad, El Chapo" breakfast burrito or "Myra Stole It From Her Mom" biscuits and sausage gravy), to $22 (for "Love, Love Me Do" for eggs with potatoes and chorizo. This does not count an impressive outlier, also the only steak dish on the breakfast menu: $39 for "Oh No She Didn't," eggs Benedict made with an 8-ounce filet in place of the usual Canadian bacon.
Farther down the page, house-made omelets and waffles range from $10 (for a hot waffle with sorghum butter and maple syrup) to $15 (for a six-egg omelet filled with prime tenderloin tips and a medley of five mushrooms). Yes, six eggs. The omelets are all six-egg omelets, made for the hearty appetite or, more likely, for sharing.
Dollar mimosas (or $3 for jumbo mimosas and $5 for cocktail-style mixed mimosas) are available daily, but we had a work day ahead, so started instead with eye-opening coffee for the table from a gleaming French press ($9). It was very good, and strong, and so dark that rich cream barely lightened it.
We got off to a great start with a basket of four large hot biscuits, dubbed Morning Has Broken ($6, pictured above). They were remarkably good, soft and light, a bit on the crumbly side, ready to be soaked with melting whipped French butter and spread with tart-sweet house-made cranberry-strawberry jam.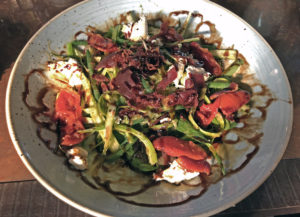 Bean Waiting Long seemed a reasonable name for an oversize tossed salad mix ($15) of haricots verts and asparagus mixed with creamy chunks of burrata cheese, roasted tomatoes, and crisp, bacon-like bits of country ham on a base of fresh, field greens. Bourbon Barrel sorghum and lashings of dark balsamic conferred an almost dessert-like sweetness.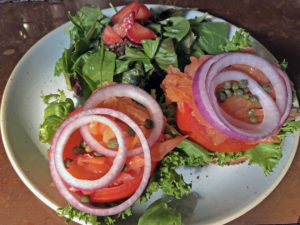 Lox, bagel and a schmear is called the Closet Smoker ($16) here, but by any name it was a fine deli treat. A large everything bagel was split, spread with caper and chive cream cheese, and served open face with both halves topped with no mere nova lox but an abundant ration of thick-cut, sweet-smoked Scottish salmon, topped with red onion and plenty of tangy capers.
Not Just for Crazy People ($18, pictured at the top of the page) takes Le Moo's thick, coarse-ground Black Hawk Farm burger and places it in a breakfast context with thick-cut candied bacon underneath and a soft easy-over egg on top. All that plus Tillamook cheddar, and a spoonful of hash browns is mounted on a tender, rich brioche bun spread with roasted-garlic mayo, and Le Moo's "drunk-cut" fries and spicy sriracha ketchup on the side. We neglected to mention that medium-rare would be nice and got an almost well-done burger instead, but it's such a good burger that this didn't matter. Much.
Le Moo often schedules Sunday drag brunches – yeah, that's what I said – featuring a drag show, if that suits your fancy, and a special brunch buffet.
Our regular brunch, a hearty repast for three with ample leftovers to take home, was $67.84, plus a $15 tip. The share for two would have been about $45 plus tip.
Brunch at Le Moo
2300 Lexington Road
458-8888
lemoorestaurant.com
facebook.com/LeMooLou
instagram.com/lemoolou
Robin Garr's rating: 89 points
Noise level: The sound built up as a small brunch crowd moved toward a larger lunch group, but we never had a problem hearing each other at a table adjacent to the bar. (Average sound level 65-71 dB, with peaks to 79 dB)
Accessibility: The building and much of the dining area is accessible to wheelchair users, although the big front doors are heavy; our route to a table by the bar took us up two steps.