Where in the world do you find the globe's most fiery-spicy cuisine? This seemed like a simple enough question when I dreamed it up amid a sudden craving for culinary fire the other day, but it's hard to get a definitive answer.
I have some notions of my own, based on many a chile-induced endorphin rush at home and away, but I thought I had better check it out with The Google.
Huh.
Alas, poor Google, I knew you well, I mused, gently sliding my fingers over my Apple Magic Trackpad and frowning mournfully. I had to drill down past three pages of useless "clickbait" destinations inviting me to page through extensive "galleries" of ad-filled pages to reach a few tidbits of poorly researched information. No thanks. It's rather eat a whole raw bhut jolokia ghost pepper.
Page three got me to the reasonably trustworthy LonelyPlanet.com, which punted with a seven-way, seven-nation tie for first place, but at least their roster pretty much matched my own list: Thailand, India, Korea, Mexico, the Caribbean … you get the idea … so I'll stand firm on the conclusion that Thai fare can be as hot as any and hotter than most.
As long as you can get your local Thai eatery to believe that you really do want it hot, that is. For some reason, Thai Cafe, otherwise one of my favorites, seems particularly reluctant to believe me when I ask for a little burn in my curry. Don't get me wrong. There's a lot to like about this little storefront in Holiday Manor. It's bright and attractive, and owners Billy and Chavantee Snow (she's the chef) keep it that way, with a good, broad selection of Thai fare at reasonable prices, pretty much topping out at $15.95 (for various seafood dishes; entrees start at $10.95). I like to go there when I have a hankering for Thai, even when I'm not reviewing.
But looking back over my notes and past reviews, it seems I've had hard time getting my Thai heat there much beyond "mild." "Fresh," "aromatic," "complex" and "balanced," sure, as we expect of top Thai. Ask for "4" on a 1-to-5 scale, I get a "1." Ask for "3," I get a "0." I don't want "Thai hot for Thai people." I may be stupid, but I'm not crazy. But I really would like to be allowed to use my own judgment.
Last time I was there, a friendly, motherly Thai woman — Mrs. Snow, I assume — was wandering through the dining room when I ordered, and she gently declined to accept my request for "4"-level Pad Thai. "You don't want it that hot," she told me, in a polite, respectful but firm voice that reminded me of my own mother denying me an ice-cream appetizer before dinner. OK, fine. Make it a "3," then. So she went off and made me a "1."
Maybe she got the wrong impression because Mary and my sister, Amy, were both with me, and they're heat wimps, good, well-meaning people who prompt a soft "bless your heart" when they call for "1/2" level heat and then caution against overdoing it.
Oh, well. Even without the heat, the three of us enjoyed a splendid, varied and seemingly authentic Thai dinner with excellent service.
A first round of apps was fully satisfying. Summer Rolls ($5.95) were stuffed with a nice flavor and texture mix of shredded carrots, rice noodles, cucumber and your pick of shrim or tofu, tightly wrapped in edible "rice paper" and served cold with a tangy soy-based dipping sauce.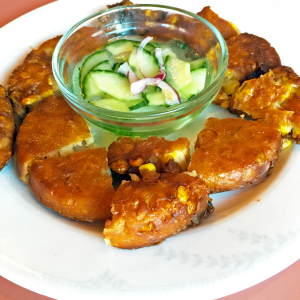 Sweetcorn cakes ($6.95) were downright addictive: Three good-size sorn fritters, cut in quarters to make a dozen two-bite portions, were distinguished from our familiar Southern U.S. fritters by complex, aromatic spice and a sweet-tangy cucumber-and-vinegar dip.
Som Tum, green papaya salad ($8.95) is an iconic dish of northeastern Thailand; shredded green papaya, more tart than sweet, is tossed with tomatoes and lettuce in a garlicky, tart-sweet lime-juice and palm-sugar dressing with just a hint of piquant spice.
Despite its Lonely Planet nomination as a world-class fiery dish, Mary never gave Laab Gai ($8.95) a chance, ordering it "mild." It was a delight, anyway, very fresh and tasty. A generous portion of finely ground steamed chicken was tossed with tart lime juice and spices and that distinctive dash of Thai fish sauce, plated with mint and grape tomatoes and served with a side of steaming white rice. It was a little slow arriving, but the delay was heralded by appropriate warnings and apologies.
Chicken Gaeng Paa, "jungle" curry ($11.95), a red curry dish with bamboo shoots, green beans, baby corns, mushrooms, and fresh peppers. Tofu (was $10.95, now $11.95), and a fine Pad Thai ($10.95) with its traditional mix of soft pan-fried rice noodles and crisp bean sprouts tossed wotj chicken (or tofu or Buddhist-style "mock chicken") with chopped peanuts and veggies were both first-rate except for the mild-for-Americans spice.
With a $3.75 Singha beer, a fine dinner for three came to $60.90, plus a $12 tip.
Thai Cafe
2226 Holiday Manor Shopping Center
425-4815
thaicafelouisvilleky.com
Robin Garr's rating: 88 points