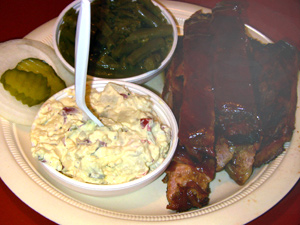 Anybody want a little mutton? I can hear you going "Eeuuww!" all the way from here.
Once beloved by our English and Australian cousins, who had a lot of sheep around, mutton has all but died out in modern times. You'll rarely if ever see it in the grocery store or on a restaurant menu. In an age of mild beef, chicken and pork, "the other white meat," mutton has a bad reputation as strong, greasy and gamey meat.

But you'll find an enduring exception in Western Kentucky, around Owensboro and Paducah, where sheep are farmed and mutton lives on as a popular meat choice for barbecue.
Owensboro's Moonlite Bar-B-Q Inn may be the iconic home of Western Kentucky barbecue, if only because of its wide advertising and sumptuous all-you-can-eat buffet. But dozens of other local favorites lure the hungry traveler. In Louisville, barring the annual Barbecue Pitt fund-raiser in May, mutton barbecue may be found at only two places I know of: Bootleg Bar-B-Q in Fern Creek, and Ole Hickory Pit on Shepherdsville Road near General Electric's Appliance Park, whose diminishing corps of workers is still plenty to fill up this popular place at lunch time.
It's hard to miss Ole Hickory Pit. Just look out for the giant pink pig statue on the roof. Carrying on the tradition that his father, Murvin Ramage, began in 1941 at Plantation Bar-b-que in Paducah, proprietor Ken Ramage and his wife, Sharon, smoke meats the old-fashioned way.
We stopped in for a visit and found that there's been some redecorating done. The toys that used to dangle from the ceiling are gone, and the concrete-block walls have been painted tasteful gloss-enamel pale beige over dark brown, with a few framed old photos of Louisville scenes around. It looks a bit more upscale, like a cross between a barbecue pit and a bistro, but the fare is all barbecue.
The extensive menu includes about 20 barbecue sandwiches and platters, most of them well under $10, plus burgers, chili dogs, fried fish, chicken, even a veggie plate. We went the hard-core barbecue route, sharing a BBQ rib plate ($10.95) and a BBQ mutton sandwich plate ($6.95), which earned us a total of four sides. Soft drinks, Luzianne-brand iced tea and domestic beers are available.
Five or six hefty pork ribs (pictured above) came soaked in mild, tomato-based sauce. They were relatively fat-free and extremely tender, falling off the bone, prompting the use of plenty of paper towels. Actually, a handful of Wet-Naps would have been welcome.
Mutton barbecue is chopped and cooked in sauce, sloppy Joe-style, served on your choice of bun or Texas toast. I went with the toast and somewhat regretted this decision, the weight of the mutton being almost too much for the simple toast to bear. In other words, the sandwich contents fell out when I picked it up. The mutton was decent, though, albeit very mild. Mutton-haters need not worry, as the sauce, smoke and meat combine in a flavor that could as well be tender beef as sheepmeat.
Oddly, although Ole Hickory Pit boasts of its fine hand with its smoke house and barbecue pits hand-built by Murvin Ramage himself, we found any smoke flavor muted at best. Barbecue sauce is the dominant flavor here … but it's good sauce, sweet, tangy and hot in good balance.
All side dishes were excellent. Slaw was fine-sliced cabbage in a creamy sauce with just enough sharp tang for balance. Green beans were long-simmered and tender, country-style. Potato salad was creamy, too, diced potato bites held together with a creamy sauce that might have included sour cream. Barbecue beans were tender and savory, in a fluid medium apparently based on Ole Hickory Pit's tasty mild sauce.
Lunch for two, with tall glasses of cola and iced tea, wasn't cheap at $23.15 plus a 20 percent tip, but it was filling and good, and service was friendly and prompt. That's a lot to like.
Ole Hickory Pit
6106 Shepherdsville Road
968-0585