Voice-Tribune review by LouisvilleHotBytes
Stand in the center of St. Matthews at lunch time and look around. Try to find something healthy. Okay, there's … um … pub grub. More pub grub. And still more pub grub! There's a hearty Irish stew. Over there, hot dogs. Quick-service Chinese food. Fast-food sandwiches. Fried fish, and more fried fish. Danish pastries, yum … and pizza!
Yep, we've got lots of goodies to tantalize the taste buds here, but options are more limited when you're in the mood for a light and healthy lunch.
Say hello to Chop Shop Salads, a new arrival that adds an appealing option to this limited local niche: It's an all-salad eatery with a fast-food vibe.
You'll find its bright lime-green storefront next door to a Chinese spot on Breckinridge Lane just off Shelbyville Road, where lunchtime parking can be at a premium. If you have to park nearby and walk in, though, that's healthy, too.
Inside, the colors are bright, lime green and pale pea green and white, with colorful photo posters showing tomatoes, onions and corn, and funky computer-art icons in the shapes of fresh veggies all around.
Take your place on the serving line, and you'll realize that it's a lot like a Salsarita's or Quizno's, with servers who take your order for the ingredients you prefer, then toss them together while you watch. The only difference is that at the end of the line you don't have a fat burrito but a relatively healthy salad.
You may choose from about a dozen standard salads or pick your own "recipe" from a selection of four lettuces, two dozen dressings, about a dozen meats and a half-dozen cheeses (these at extra cost), plus fruits, "crunch" ingredients and some two dozen toppings, some of these also requiring a small upcharge). Decide if you want it in a salad bowl ($5.49 plus extras) or a wrap ($5.19 plus extras).
Then stand by and watch as they assemble your salad in a big bowl, turn it out on a big white cutting area and chop it into bite-size bits with a mezzaluna, the half-moon shaped Italian-style rocker knife; slam it into a plastic takeout salad bowl or, if you so chose, a big tortilla, and send you on your way.
It was a searing hot day when we dropped by, and perhaps that's why none of the staff seemed really into it. You need to tell them the four to six options you want in your salad, but the guy who served me apparently was in the mood to hold only one thought in his head at a time.
"I want iceberg lettuce, shrimps, peanuts and red onions with Thai ginger sauce," I declared. He got out some iceberg. "What else did you say? Shrimps?" Yes, please, and peanuts and red onions, too. He scooped up some shrimps. "What kind of dressing you want on that?" Er, Thai ginger? After all this he forgot the peanuts. Fortunately I noticed and had the next guy down the line throw some on.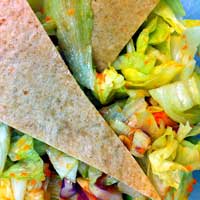 Chop Shop lets you choose ingredients.
My simple, cool, Asian-style salad bore a $3.19 addition for an ample ration of small, tender cold shrimp. My wife's salad featured grilled steak ($3.19 upcharge) and cilantro lime vinaigrette. It was pretty good, but the chunks of "steak" were flavorful but overcooked and chewy.
The meat upcharges add up to good but rather pricey salads. Our two salads and two iced teas came to $21.36, plus a $4.64 tip.
Chop Shop Salads
126D Breckinridge Lane
589-2467
chopshopsalads.com
Another location: 436 W. Market St., 589-2467