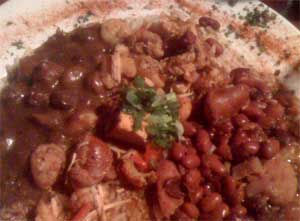 An old, popular East End country dive bar, closed for years, reopened about a year ago as Selena's and has been drawing crowds ever since, owing its growing popularity to bountiful food, friendly service and a relaxing atmosphere. "A tradition since 1979," read the black awning over the entrance to what used to be the Willow Lake Tavern when we visited soon after it opened last fall.

The 30-year "tradition," it turns out, was mostly lived out at Selena's restaurant in Tampa, Fla., a popular landmark in the Western Florida city.
Its owners sold the restaurant and came to Louisville last year, transplanting Selena's and recreating a similar menu and mood. Selena's Louisville incarnation continues its Tampa tradition with what it calls "Cajun and Sicilian" cuisine.
A lot of cleanup, paint-up and fix-up have occurred at the old Willow Lake Tavern: Exposed brick, old stone fireplaces and simple, stylish furnishings create an upscale atmosphere. Still, it remains casual and family-friendly.
Beyond a sizable bar on the left past the entrance, a large, L-shaped dining room is comfortable, with large windows affording views of the park-like surroundings. An attractive patio is a popular seating alternative when weather permits.
That "Cajun-Sicilian" menu features nine appetizers: "Our Famous Crab Rolls" ($6.95), "Selena's Crab Caps" (mushrooms with crabmeat stuffing, $7.99), and "Praline Brie," which the menu describes as "Creamy Danish brie gloriously crowned with our pecan praline sauce and Granny Smith apple slices" ($9.99). There's also stuffed shrimp, crab cakes, fried calamari, fried green tomatoes and spinach artichoke dip.
"Oysters Selena," which sports its own heading on the menu, called to our party of three as an appetizer. A ration of smallish oysters were wrapped in bacon and baked atop a bed of spinach and artichoke casserole — apparently an ingredient lifted directly from the appetizer menu — under a blanket of melted mild white cheese. A couple of the oysters may have been sojourning out of saltwater for a while, but they were still acceptable. Overall, the spicy combination of shellfish, spinach and cheese made a tasty dish, and the rounds of crisp, thin-sliced garlic toast that surrounded the oval bowl were delicious.
Six salads include a Shrimp Remoulade salad for $11.99, which the menu describes as the "famous New Orleans Creole sauce" over shrimp, all on a bed of lettuce.
There's soup, including a "Gumbo of the Day" ($4.99 a cup; $7.99 a bowl). For pasta, you can order linguine with tomato sauce, spinach lasagna, white clam sauce and "BCM" — fresh broccoli, cauliflower and mushrooms sautéed in olive oil, garlic and "Selena's seasonings," tossed with grated Romano cheese and served over linguine.
Main courses are subdivided into "entrees" and "New Orleans dishes." Three of the four entrees feature chicken breast: There's prosciutto and mozzarella-stuffed chicken breast ($16.95), chicken Parmigiana ($14.99) and blackened or grilled chicken breast ($12.99). Want red meat? A hefty rib eye steak is $24.
The New Orleans dishes include a crawfish and shrimp etouffee ($14.99), red beans and rice ($10) and jambalaya ($13.99). Want it all? The New Orleans Medley offers samples of all three dishes for $14.99. There are shrimp, crawfish and oyster platters and a combo, shrimp scampi ($17.99), stuffed shrimp ($16.99) and Shrimp Manale. "Our version of Pasquale Manale's New Orleans BBQ," the menu informed us. "One of our most celebrated dishes."
Our dining companion, Lucinda, born and raised in New Orleans, said she and her family were regulars at Manale's when she was growing up, and her father lives near there still. "It closed after Katrina, and there was great rejoicing when it reopened," she said. So she simply had to try the Manale's shrimp, noting that the menu described it as "our version" of the New Orleans dish.
Sure enough, it was nothing like what she remembered from the original Manale's. But that doesn't mean it wasn't good: a big bowl of linguine with plenty of well-prepared shelled shrimp, tossed in a buttery, savory and garlicky sauce. Cajun barbecued shrimp usually come whole and scary, heads on and antennae waving, cloaked in a dark-brown, spicy sauce with plenty of bread and rice for dipping. This was something else entirely — but hey, it was good.
The New Orleans medley, which comes in a large, shallow bowl, all the parts touching on the plate, is presented without explanation, so you pretty much have to know what you're eating — if you care. I believe I got a bit of gumbo in place of the expected etouffee, but it's kind of hard to tell. There's a dark, somewhat floury roux in there, shrimp, a simplified version of "dirty rice," although if the traditional gizzards and such were in it, they were hard to find. Ample, flavorful red beans and rice. It's a filling plate, so much that I ended up taking some of it home.
My wife's Gumbo of the Day was similar to the food on my plate. There was chicken, shrimp and spicy ham in roux, a bit on the floury side, but cooked dark and simmering with a spicy heat. The shrimp seemed a bit overcooked, but it was still a tasty bowl of spicy fare.
Although Selena's has a modest wine list, we opted for the traditional Dixie beers, and enjoyed service that was friendly but a bit casual (Lucinda's inquiry about "Manale Sauce" got little info beyond "it's real good").
Dessert may have been the highlight of the meal. An order of the bread pudding netted us a slab big enough for six, covered with a wonderful bourbon-accented caramel sauce. We dug in with our three spoons and ended the meal happy.
Overall, it's an amiable place, a neighborhood saloon turned a bit upscale. Ethnic-food snobs who come looking for something genuinely Sicilian — or even genuinely Cajun — may be disappointed, but hey: The food's OK, and the bill was right. Dinner for three came to a thoroughly reasonable $73.36. We added a $15 tip.
Selena's at the Willow Lake Tavern
10609 Lagrange Road
245-9004
www.selenasrestaurant.com
Robin Garr's rating: 84 points