By Robin Garr
LouisvilleHotBytes.com
Back in the late winter of 1984, I did my first restaurant review for The Louisville Times. I enjoyed a great dinner at a short-lived Lebanese restaurant on Bardstown Road with a Lebanese-American friend who spent a short time at the city's afternoon paper before moving on to bigger things.
Here we are, almost too many years later to count, and I've just finished a tasty repast from Simply Mediterranean, which I believe is the city's first ethnic Lebanese restaurant since then.
Why has it been so long between iterations of such a cuisine? Louisville has boasted a vibrant Lebanese-American community since Ellis Island days, and quite a few neighbors with Lebanese ancestry have been involved in the restaurant, grocery, and food-distribution business, all the way back to the city's storied Haymarket.
Anyway, I'm delighted to welcome Simply Mediterranean, which as its name suggests, operates under the broader umbrella of "Mediterranean," melding the cuisines of the Eastern Mediterranean from Greece through Turkey, Lebanon, Syria, Israel, Palestine, and Egypt, and over to Iraq and Iran too.
We've got a couple of dozen Mediterranean restaurants around the metro now, and if they all look similar, they're certainly not identical. Each offers an appetizing whiff of its owners' heritage, and you should pay attention to that. Look more closely and you'll realize that this one's Persian, that one's Syrian, and the folks at that one over there hail from Palestine.
So take my advice: Try to discern which national flavor reflects your host's background, and choose those dishes. You can enjoy a good gyros anywhere, but the fare that comea from the owner's heart and speaks of the owner's soul will make you happiest of all.
We got an immediate and smiling welcome from Chef Farrah, who was working behind the counter, and her husband, Chef Ziad, who gave us a friendly wave through the window from the kitchen. She boasts half Lebanese and half Palestinian ancestry, she told us; he's all Lebanese.
The first thing you see on the menu is a catering page with combo meals ranging from $60 (for a moussaka repast) to $120 (for a tempting roast lamb leg). It's not as pricey as it seems: These are full meals that serve four to six.
Actually, only a handful of main dishes are more than $10: Musakah is $11.99, a three-skewer chicken kabob platter is $12.99, and a three-skewer lamb kabob platter tops the menu at $16.99. About two dozen more items are listed under starters, soups and salads, and wraps.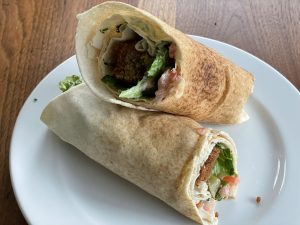 A half-dozen wraps, rolled in chewy, paper-thin lavash, are all priced at $7.99 (for chicken, tangy chicken, lamb and falafel Saloova, fondly named after Chef Ziad's mom, who taught them her special recipe). A veggie kabob wrap is $6.99.
Savory pies, popular Lebanese street food snacks baked in pitas, are offered here as appetizers: Meat, potato and onion pies are $5.99 for two; savory spinach, onion and olive oil pies are $4.99; and an unusual Lebanese treat, savory thyme pies with sesame seeds and olive oil on an open-face pita are $3.99 for two.
There's plenty more, from grape-leaf roll dolmas or hummus ($4.99) and baba ganoosh ($5.99) to baklava for dessert ($2.99).
I'm always up for baba ghanooj, and this place does it right, fire-roasting eggplant before mashing it with tahini, lemon, and olive oil. The version here is chopped and mashed but not blended smooth, with tender pitas on the side.
Simply Mediterranean's Lebanese version of taboulleh ($7.99) is primarily finely chopped parsley, as it should be, mixed with tiny dice of pale-pink winter tomato and bulgur wheat ground very fine, almost like cornmeal. The ingredients were swimming in a salty olive oil and lemon dressing.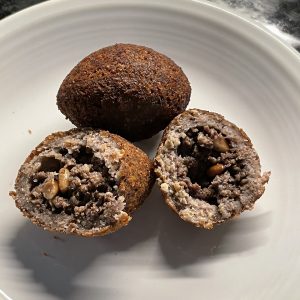 The nations of Eastern Mediterranean argue about who invented kibbeh, but in my experience, Lebanese chefs usually get it right. Two rather small pieces ($6.99) were filled with deeply browned chopped beef, pine nuts and tiny bits of onion, surrounded by a thick shell of bulgur and fried. It was crunchy and tasty and didn't really need either of the small tubs of tahini and tzatziki sauce that came with the meal.
Shawarma, pictured at the top of the page, is close kin to the Greek gyros, but shawarma is bathed in a spicy marinade, served with pickles and lettuce, and, in this $9.99 Lebanese version at least, rolled in paper-thin lavash or maybe markouk flatbread rather than puffy pita bread. The beef was thin-sliced flank steak, brushed with tahini and rolled into the wrap with briny, crisp Lebanese pickles and diced tomatoes and onions.
A falafel Saloova Wrap ($7.99), the one named after the chef's mother, was built similarly to the shawarma but filled with dense falafels that could have passed for meatballs, surrounded with tangy pickles and lettuce in a lavash wrap.
A hearty meal for two, with plenty of leftovers, came to about $40 plus a 20 percent tip.
Simply Mediterranean
2900 Brownsboro Road
963-5577
simply-mediterranean.com
facebook.com/SMediterranean
Noise Level: The takeout waiting area was as quiet as could be.
Accessibility: The entrance is fully accessible to wheelchair users, but the front door is heavy and hard to pull, and four high tables and stools for limited dining in would be impossible for most wheelchair users.