By Robin Garr
LouisvilleHotBytes.com
And the hits just keep on coming. It seems appropriate, in a meta kind of way, to quote a hit by the musician and songwriter Michael Nesmith, who died this month, to mark the passing of two more Louisville restaurants as the year nears its close.
Both spots – Faces Bar/Bistro at 1604 Bardstown Road, and The Fuelery Restaurant and Cafe at 2011 Frankfort Avenue – were born, lived, and died during the pandemic. Faces opened in June 2020, pushed back by the looming pandemic from a planned March opening. The Fuelery opened at the beginning of 2021.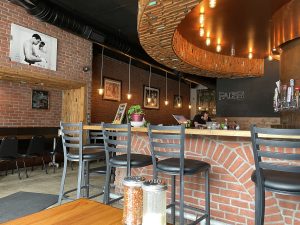 I gave Faces a glowing review with high points for creativity in July, shortly after owner/chef Eric Morris had shifted its concept toward artisanal pizza, a step that marked a series of changes aimed at keeping afloat in a pandemic-wracked economy.
Sadly, I never got to The Fuelery, but it was high up on my list after I interviewed Chef Devon Rosenblatt, who told me about the scramble to build traffic with new breakfast and lunch menus, adding alcohol to the bill of fare, and the frustrations of the widespread worker shortage. "Ninety percent of applicants won't even show up to their first interview," he lamented in my November 3, 2021 column. "A few of them I've verbatim said, 'if you show up, you're hired,' and the day comes and they don't show up."
Both restaurants announced their closings this week, and both did so in sad yet charming farewells that I think are worth sharing. Let's let them speak for themselves.
The Fuelery's management left their farewell (pictured above) on their Instagram and Facebook pages early on December 28:
It is with heavy hearts and minds that we make this announcement….

But as of 12/31, we will be permanently closed for business.

The world is a different world now than what it's been in the past, particularly in the hospitality industry. What may have worked then, or in the future, now gets pushed to the limits to survive. This pandemic has taken its toll on everyone, in so many ways, and unfortunately we are not exempt from those effects.

We did the best we could for all of you, to provide a welcoming, clean, and bright environment, with delicious food made with local products. We're proud to say we believe we did exactly that. So this is not a moment for sadness. We can all walk away with our heads held high knowing we did everything we could, and made a lot of people happy in the process.

So with that being said, we'd like to say THANK YOU to everyone who has supported us since we opened. This has been an educating and growing experience for the whole team, and we couldn't have done it without all of you.

If you'd like to see us before we close, feel free to come in and tell us your favorite part about your times with us! As a heads up, supplies will be limited as the week goes on, as we use what supplies we have left and make sure nothing goes to waste.

Thank you all again. You've been great!
Faces owner/chef Eric Morris bid farewell from his personal Facebook page:
So about the restaurant….

I'm gonna be closing within two weeks. Our rent will be more than doubling starting Jan 1st and that mixed with everything else just doesn't seem like a good business move to remain fighting another year..I miss my kids and positive mental health.

If you know me personally then you know we've been quietly shopping for a new location for almost a year but without any luck.

The staff was told two weeks ago to allow them to have a month to find other work. No need to be dramatic here, we all worked extremely hard and were faced with absolute hell day one with covid without ever being a business before or after in this strange world. We can walk away with our heads held VERY high! We could've easily thrown in the towel a year ago

Obviously I've closed some before and perhaps some were self-inflicted on my part….but this group of people and myself did absolutely everything we could. We worked SOOOO hard! Especially being self-funded with me and my partner with zero loans to open it. We were on our own and I'm so very proud of all of us!

Timing is everything…..
Cheers!
Both restaurants will be around for at least a few more days. Drop in and see them, if you can, and leave a few bucks on the table.