A restaurant doesn't have to be expensive to be good, and it doesn't have to be elegant to be pleasing. I present in evidence Six Forks Burger Co., an amiable little eatery that specializes in hamburgers, hot dogs, and more.
Six Forks recently arrived in a Shelby Park street-corner storefront that, in years past, housed Louisville's only Pakistani restaurant and later a fried chicken-and-fish shop.
Now Six Forks owners Troy King and Selena Johnson – who also operate the popular Pollo Gourmet Chicken Joint food truck – have fixed up and redecorated this welcoming little place. They've added colorful notes with splashes of red, white, and pink paint that give the floors and table tops a Jackson Pollock vibe; a long wooden church pew forms a banquette along a wall.
Place your order with the friendly folks at the front counter, pay and give your name, grab your drink from a big cooler, take a seat and relax.
Speaking of drinks, bottled water is free, and that goes for anyone passing by who's thirsty. Fresh-made Kool-Aid is $3 (and free on Tuesdays) for a 32-ounce mason jar, your choice of grape or bright-blue Jolly Rancher raspberry. Refills are $2.50, assuming you can glug down a quart and come back for more.
Allow yourself a little time to study the menu. First, decide whether you want a double burger with no cheese ($6.25), a double burger with three slices of cheese ($6.55), a li'l burger with one patty ($5.30) or a l'il cheese burger with a patty and one cheese slice ($5.45). But wait! There's more! You can substitute an organic turkey burger ($6), the vegan, gluten-free Beyond Burger ($7.25) or a bison burger ($9).
You're not done yet. Now choose among ten free toppings, 11 free sauces, and 13 premium toppings (85 cents), allowing something like 13 million possible combinations, from mustard and ketchup to a Dagwood burger loaded with pimento cheese, cheddar, bacon, buffalo ranch and raspberry chipotle barbecue sauce. For example. Or let the chef do the deciding with any of four chef's selection burgers ($6.95) including the super-spicy caliente burger or even the adults-only breakfast burger with bourbon-spiked chocolate sauce.
Hot dogs? This is not a simple yes-no choice either. You've got your pick of five dog styles ($3.95 to $4.95) and a Chicago-style Maxwell Street Polish sausage ($5.95).
In the mood for something different? Choose between two grilled chicken sandwiches ($6.95) or a two-layer double grilled cheese ($3.95).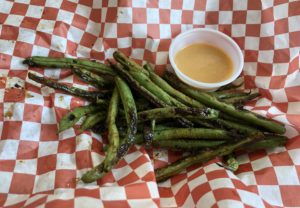 A chef's hand is apparent in side dishes (all $3.95) like cast-iron skillet-grilled green beans, spicy "twisted" corn, or potato salad kicked up with Thai spices. Fries come in six variations from $3.50 (for basic herbed fries) to $8.95 (for fries loaded with spicy chicken, bacon, nacho cheese and more).
We loaded up on a dog, a burger, and two sides, and didn't have a word of complaint.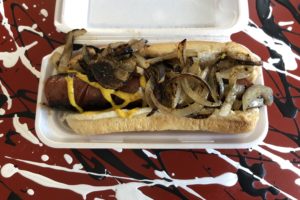 The Maxwell Street Polish sausage ($5.95) was thick and beefy as a Polish sausage should be.  It had been deeply scored in several places to let the delicious juices run out, with good dark char spots from the grill, and discreetly drizzled with ballpark mustard. A mass of darkly grilled sweet caramelized onions added even more flavor boost. It came on a standard-issue white hot dog bun in a white styrofoam box.
We took the Beyond Burger ($7.95) option, pictured at the top of the page, and resisted the temptation to load on a mass of toppings and sauces, opting for simple elegance with a ration of those excellent grilled onions and, to mix things up a bit, a dollop of gently spicy, earthy Asian-style peanut sauce. In the current competition among fancy faux burgers that taste and even bleed like meat, I'll give the Impossible Burger a slight edge; but the Beyond Burger is a close runner=up, and this one was grilled just right, with crunchy dark edges and a beefy, juicy center. It came on a good white burger bun, lofty and light.
Cast-iron charred green beans ($3.95), pictured above, were amazing, a side dish that would pass muster in the city's fanciest eateries. Whole, thin green beans with the ends neatly trimmed had been sauteed in a screeching hot black-iron skillet until just at the point between crisp and tender; bright green and dotted with sweet charred spots. They're sprinkled with a fragrant mix of black pepper and spices and topped with Yum Yum sauce, a creamy pale-orange Japanese-American blend of mayo, ketchup, and spice.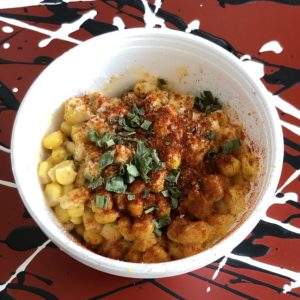 Twisted corn ($3.95), another intriguing and delicious side, adds complex smoke and spice flavors to sweet yellow niblets thanks to grated Parmesan, Yum Yum sauce, smoked paprika and snipped chives.
With free water, a memorable lunch for two came to a thrifty $18.18, plus a 25 percent tip that I consider mandatory for a tab that cheap.
Six Forks Burger Co.
1270 S. Preston St.
565-9750
facebook.com/sixforksburgers
Robin Garr's rating: 87 points.
Noise level: We had no difficulty communicating across the table at lunch time on a weekday. (Average sound was 73dB, the level of normal conversation.)
Accessibility: The restaurant and restrooms are fully accessible to wheelchair users, but those with limited hand and arm motion may have difficulty with hard-to-twist round doorknobs and heavy doors.