"The next wave of hot restaurants could be a basket full of biscuit concepts," the trade journal Restaurant Business prophesied in 2016, focusing on Cracker Barrel's planned biscuit-eatery spinoff Holler & Dash.
Heck, it could have mentioned the Florida-based Maple Street Biscuit Co. chain, which opened in 2012, and even the long-standing West Virginia-based chain Tudor's Biscuit World, which opened in 1980. 
More recently, Louisville's own Boujie Biscuit in Clifton has been delighting diners with its oversize, towering square biscuits for about a year now.
And now we know it's trendy because biscuit dining has arrived in Nulu! Say hello to Biscuit Belly, a spot so popular that its brunch-hour crowds line up around its Main Street block.
Biscuit Belly is situated on the main floor of the beautifully restored 19th century DeHart Paint & Varnish Co. building . It fills a sizable, bright and colorful space framed by oversize windows and flat white and bold wooden plank walls, with bright yellow and turquoise accents.
The menu is biscuit-driven, of course, with 20 creative dishes created by Biscuit Belly's team of Chad Coulter and Tavis Rockwell, the minds behind Louisville's LouVino restaurants.
Even one of the four appetizers, the $10 Gravy Train, is built on a pair of biscuits; the others are praline donuts or loaded tots (both $7), and pancake corndogs ($8).
Ten biscuit sandwiches range in price from $8 (for a biscuit with egg, cheese, and bacon or sausage) to $20 (for the massive Belly Buster loaded with fried chicken, sausage, bacon, brisket, cheese, mushroom gravy and an egg. Four biscuit-and-gravy dishes are $8 (for a s'mores biscuit with chocolate gravy) to $11 (for a Hot Brown biscuit with goetta sausage gravy).
You don't want a biscuit? Really? All right, then, you're covered with a half-dozen Not A Biscuit options, priced at $7 (for spinach salad, oatmeal, or french toast) and $8 (for pancakes or hash browns and onions).
Many ingredients are locally sourced; vegetarian and gluten-free options are clearly noted, and you may substitute tofu for the protein in any sandwich.
Heine Brothers Coffee provides a special Belly Blend. There's also kombucha, Phocus drinks, fresh-squeezed juices, and ice cream floats, plus a short list of local craft beers and breakfast cocktails including bloody marys and mimosas.
We tried two biscuits and were completely satisfied.
The G.O.A.T. biscuit sandwich ($10, pictured at the top of the page) lived up to its namesake, stinging like a bee with a hefty chunk of crunchy fried chicken thigh, floating like a butterfly with dabs of earthy Capriole goat cheese. The biscuit was large and well made, with flaky and short, buttery flavor coming through in every bite. We ordered its sweet pepper jelly on the side so we could check it out. It was sweet, as expected, and deliciously peppery but not overly hot, with a distinct but subtle back note of mild green chile peppers.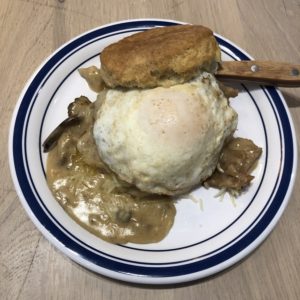 The Edgy Veggie sandwich ($9) joins the ranks of Louisville's top meatless dishes with its mouth-watering ingredient combo. It stacks a soft over-easy egg, Kenny's cheddar cheese, and a fried green tomato on a similar biscuit and bathes it all in a thick brown gravy made with mixed mushrooms from Simpsonville's Frondosa Farm.
Who knew that two biscuits (with all their trimmings) made such a filling lunch? Biscuit Belly does! The toll for two was $22.79, plus a 20 percent tip calculated at the point of sale.
Biscuit Belly
900 E. Main St.
409-5729
biscuit-belly.com
facebook.com/biscuitbellynulu
instagram.com/biscuitbellynulu
Robin Garr's rating: 88 points.
Noise level: It was buzzy but not deafening on a busy week day. (Average sound was 68dB, approximating normal conversation, with spikes to 84dB, akin to a diesel truck driving by 50 feet away.)
Accessibility: The restaurant and restrooms are fully accessible to wheelchair users.