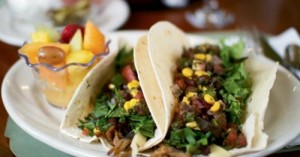 Verbena Café is one of those places that always seems to smell like home. For Mike Cortino, the smell is likely a reminder of much more.
Mike and his wife, Laurie, opened Verbena in Norton Commons this past autumn. They based Verbena's fare on dishes served in restaurants founded by Mike's grandfather and operated by his family back in the 1960s in Chicago. Verbena specializes in omelets, crepes, pancakes, waffles and eggs Benedict, and offers sandwiches, entrées and salads for the lunch crowd.

Mike began working for the family business at age 12 as a busboy; by age 19, he was managing his own store. "That's where I met my wife," he says. "We've been married 30 years, and this has always been a dream of ours."
The Cortino family's restaurant chain, which was called Golden Bear and had a "Goldilocks and the Three Bears" theme, was sold to a large corporation in the 1970s, not long after his grandfather's death. The chain eventually closed, and Pizza Hut bought the old locations when it moved into Chicagoland. So for Mike, Verbena is a rebirth of sorts.
The brightly decorated eatery has a modern feel with a touch of a rural vibe. You can get a pancake platter ($8.45), complete with flapjacks, eggs, hash browns (make that Verbena browns), plus sausage, ham or bacon. Or you can opt for a lighter, more elegant dish like lemon Verbena crepes ($6.45), made with lemon, honey and cream cheese, and dusted with powdered sugar.
For the meat and egg lovers (you reading this, Dad?), you can get steak and eggs ($11.95), egg platters ($4.95 and up) or a Butcher Shop omelet with choice of meat and cheese ($8.95).
Mike designed his menu with an unusual structure, organizing dishes according to their platform: omelets, pancakes, hot-iron skillets, French toast, egg platters and so on. Starting with the basic format, you can then mix and match ingredients at will.
In addition to the standard options of white, wheat and rye bread, an artisan bread-of-the-day is fresh-baked and served to order.
Many of the dishes, such as the pancakes, are from original Cortino family recipes. Laurie has added her own touch to the menu, one highlight being the Verbena Flower Pot Salad. The mixed-green salad is actually served in a small flowerpot, with two slices of cranberry-walnut artisan bread and a lemon-sour cream topping.
My friends Fred and Jaclyn turned me on to Verbena, treating me to breakfast a few weeks after the café opened. On my first visit, I opted for a fairly standard egg platter with bacon and Verbena browns (also a Laurie original), and I was impressed.
Jaclyn's blueberry waffles were darn tasty as well. And while I'm no fan of bananas, Fred insisted I try a bite of his peanut butter and banana French toast. Hey, anything with peanut butter is delicious (even my dog agrees), and the French toast was indeed great.
I went back a few weeks later with my friend Glenda and ordered the Egg Burritos Olé ($8.95), which turned out to be a good choice — I dived right in. Glenda enjoyed her eggs and bacon — and noted while glancing at another table that the mini-waffles were "cute" — but my two flour tortillas filled with scrambled eggs, pork carnitas, tomato chunks, field greens and cheddar cheese, plus black bean and corn relish, were off the charts.
Looking back at my notes, I can still make out my excited scribbling: "The carnitas are almost, like, the best thing ever." Perhaps that's a tad hyperbolic, but the pork was so tender, juicy and filled with flavor that, I have to admit, it did rank among the best I've ever had. (It was also a nice touch that our server presented me with habanero Tabasco instead of the regular stuff when I asked for hot sauce to go with my mildly seasoned browns.)
Verbena is well worth the trip out to Norton Commons. My guess is it would make Grandpa Cortino proud. —Kevin Gibson
Verbena Café
10639 Meeting St.
Norton Commons
425-0020
www.verbenacafe.com
Rating: 88 points