When I first heard about Tandoori Fusion, the new Indian restaurant way out in the East End across the way from Costco, my imagination leapt up. I know that the tandoor, the iconic Indian clay oven, can reach temperatures upward of 900ºF, a searing fire that does something magical to meats and flatbreads too.
But Tandoori Fusion? Can these people possibly have mustered nuclear fusion, the fierce energy that lights up H-bombs and the Sun itself? Crazy! That would make some remarkable tandoori food, all right, and it would be wicked fast.
Nope. Even if the Atomic Energy Commission approved the plan, fusion-in-a-tandoor continues to elude science. But culinary fusion, that's another story. As it turns out, Tandoori Fusion's bill of fare, in addition to nearly 100 authentic Indian dishes, prominently features a shorter list of "fusion" dishes that mix and mingle Indian and Western traditions in a culinary blender. A double-cheese murgh tikka pizza, anyone? Or how about some lamb vindaloo shepherd's pie?
We'll get back to this, but first, let's back up and take a look at this recent arrival, opened early in October in the suburban shopping-center quarters formerly occupied by one of the shops of the local Zeggz Amazing Eggs chain.
The new tenants haven't changed the scene much, and there wasn't much need. A few abstract Indian paintings have been added, and I'm sure there was no compelling reason to paint over the scenic photo mural of the California wine country that fills the far wall of the spacious room. Attractive modern wood-look tables and wood-and-metal chairs remain, and the undraped furniture, wooden floors and glass wall of windows afford plenty of hard surfaces to amplify the noise of happy diners at the table and guests at the short bar.
The restaurant's India-born owner, Purna Veer, adds the restaurant to his extensive resume as founder of a national technology services company,  V-Soft Consulting Group, Inc. Veer also owns a farm in Smithfield, Ky., where he grows hops for beer, grapes for wine, and some Indian vegetables for the restaurant.
So how is this Indian-American renaissance man doing in the restaurant game? Not badly. We dropped in about one month after opening and found a few of the slips and slides that aren't unreasonable in a new spot. Overall, it's good, though, and likely to get better.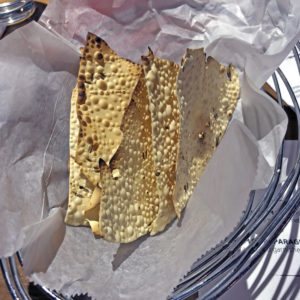 A starter bowl of pappadams lentil wafers were exceptional, glassy crisp and so grease-free that it wasn't clear whether they had been fried or baked. It didn't matter. They were amazing, good enough that we didn't mind, too much, that they weren't served with the customary tamarind chutney or fiery green mint chutney.
The menu is fairly priced, with main dishes mostly ranging from $10 to $15, with only a few outliers up to $17. The bar offers a range of cocktails and short but well-chosen wine and beer lists including four local craft brews on tap.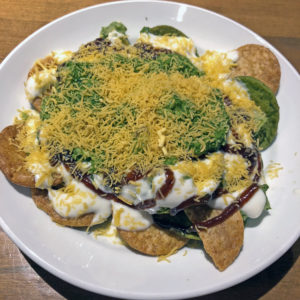 Chaat (rhymes with "hot," not "hat"), is a tempting Indian street food, salty, crunchy, soft, and savory, that comes in dozens of forms. A starter order of Papdi Chaat ($6) was fine, a platter of papdis – crisp wheat rounds that look like Ritz crackers but taste more interesting – with potato and chickpea, slathered with yogurt and tamarind and mint chutneys.
We had to try one of the fusion dishes, and vindaloo shepherd's pie ($10), pictured above, proved a good choice. A triumph of creativity, it presented a bowl of lamb vindaloo, boneless chunks of tender meat that had been cooked in a fiery marinade and served in a sharp, clean tasting sauce redolent of aromatic spice that infused the meat. It was topped with a comforting blanket of fluffy mashed potatoes turned golden and subtly flavored with turmeric, run briefly under a broiler to crunch the edges. This is a delicious dish, but know that it is fiery, and there's no way to tune it down, our server said, as the heat is built in with the marinade.
An accompanying salad looked good, made with field greens with a wonderful dressing, lemony and light and not overmuch. It was spoiled, though, by an all-too-common kitchen lapse: No one had picked over the greens, leaving plenty of black, slimy bits for us to sort out with our forks.
Malai Kofta ($12) is one of my favorite meatless Indian dishes, and Tandoori Fusion does it well. Three toothsome potato-and-paneer-cheese dumplings swam in a shallow bowl filled with a delicious, creamy tomato-cashew sauce that was just as fiery as I had requested and no more.
Garlic-cilantro naan ($3) was okay, but I wish it had been better. A half-round of tandoori flatbread cut in wedges, it was paper-thin, crunchy and hard, more like a big pita chip than soft, billowy, smoky naan.
Desserts of Indian rice pudding and sooji halwa ($3 each), served in martini glasses, were okay if not thrilling.
On balance, dinner was fine, and we'll definitely go back for more. Dinner for two was quite reasonable, totaling $39.22 plus a $10 tip.
Tandoori Fusion
4600 Chamberlain Lane
255-2590
thetandoorifusion.com
facebook.com/TandooriFusionCuisine
instagram.com/thetandoorifusion
Robin Garr's rating: 84 points