You'd be surprised to know how many people who give up eating tasty animals for reasons pertaining to the environment, health or animal welfare nevertheless harbor a nostalgic memory for the comfort-food pleasure of the meat that they won't eat any more.
But there's good news for vegetarians and vegans who want life to be more than a boring run of side dishes: There's a variety of humane alternatives that can approximate that experience without Bossy or Porky having to die for their pleasure.
Even better news: A growing number of local eateries stand ready to provide such meatless goodies; and most of these veggie-based choices are so good that everyone can enjoy them.
I'm thinking of at least three broad categories of meat-free "meat" right now: First, channeling the Buddhist culinary tradition that emerged in China more than 2,000 years ago, wheat- and soy-based alternatives like seitan, tempeh and tofu can pinch-hit for meat and seafood in mock-meat vegetarian dishes that follow the Buddhist tradition of kindness to all beings. Roots and Heart & Soy continue this tradition here, as do Zen Garden, Half Peach, and Ngon Appetit.
A more modern approach uses commercially produced processed meatless proteins manufactured from soy, peas, and other meatless resources. You'll find this version at Morels Cafe, where Stanley Chase's team turns out delicious tongue-in-cheek vegan takes on Arby's, Chick-Fil-A and more.
And then there's the clever style of V-Grits Food Co., a vegan outfit that bypasses tofu and manufactured protein analogues to creatively fashion dishes from fresh vegetables and magically turn them into surprisingly good imitations of fish, seafood, sausages and more.
Chef Kristina J. Addington, the first vegan chef to win Food Network's Cutthroat Kitchen competition, used her prize money and a crowd-sourcing campaign to start the V-Grits vegan food truck with partner Jeff Hennis in 2014. The name of the operation is a clever acronym for her self-description, "Vegan Girl Raised in the South," and they focus on fresh, made-from-scratch Southern-style vegan comfort food.
Chef Zachary Kerr, a vegan culinary expert, recently joined the team as they added a line of Soul Sauce brand vegan cheeses and spreads. These are now marketed in local groceries, and they've also come up with a line of prepared vegan meal kits available via a weekly subscription service.
Some time soon, perhaps, a sit-down vegan restaurant will round out the mix, but we're already getting delicious previews through V-Grits' frequent Vegan Supper Club gatherings. These food-and-social events take place regularly in the large, glass-walled dining room at ChefSpace on West Muhammad Ali in Russell, a restaurant-business incubator that makes its large commercial kitchen available to food trucks operators and other small culinary business owners.
We got in to a recent evening gathering that featured a vegan Louisiana-style seafood feast – all veggie-based seafood, of course – and found the flavors compelling and the meal more than filling. (Next up, a vegan Thanksgiving feast, Nov. 16-17 at 7:30 p.m. Check V-Grits' website or their Facebook page for details.)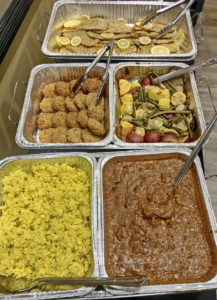 How does a vegan chef make vegetables and fruit taste like catfish and crab cakes? It takes creativity and skill. The appetizing bill of fare showed how it's done. First came starters: large, savory drop biscuits with garlic herb not-butter and a fiery sweet sauce, and a spicy slaw of crunchy cabbage and peppery watermelon radish in sweet-hot malt dressing. Then the crowd of 50 swarmed buffet pans loaded with main dishes.
Startling fool-the-eye fish fillets proved to be long slabs of savory, marinated eggplant breaded-and-fried crisp and golden brown. It was delicious, so convincing that you probably wouldn't ask questions if they served it up at Moby Dick.
Crab cakes were made, of all things, from green jackfruit, a tropical fruit that, when green, boasts a meat-like texture without sweetness, a blank canvas that makes a surprising substitute for crab when cloaked in a thick, crunchy, dark brown crust flavored with bits of red bell pepper and slathered with spicy remoulade.
Green beans, halved new potatoes, inch-thick rounds of yellow corn and lemon and orange halves were simmered in a spicy, tasty crab boil sans crab.
A thick, spicy gumbo full of herbal house-made vegan sausage, with oyster mushrooms filling in for, you know, oysters, was a bit floury and strong on the dried herbs for perfection, but this did not deter me from eating it. Ditto bright yellow jasmine rice with lemon, which was okay but unexciting.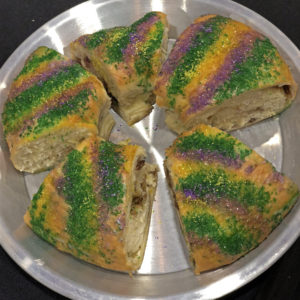 Louisiana-style king cake hit the spot, though, colorful and fully authentic, a fine finish to a very filling vegan feast.
Tickets for the dinner, acquired through the vgrits.com website, were $34 each. Wine and beer and kombucha were available for extra charge. Chef Kristina tells me that the move to a bricks-and-mortar restaurant is a high priority now, a goal they hope to reach by spring. I for one can hardly wait.
V-Grits Food Co.
Food truck, commercial kitchen and special events at:
ChefSpace
1812 W. Muhammad Ali Blvd.
627-0446
vgrits.com
facebook.com/vgrits
instagram.com/vgrits