By Robin Garr
LouisvilleHotBytes.com
Not long after the turn of this century, I'm not sure that many of us would have predicted the rise of St. Matthews as one of the city's most active bar and nightlife zones.
So I guess it shouldn't surprise us that this suburban village has suddenly become a go-to zone for Asian eateries with estimable bars.
Say what?
Hear me out: Within walking distance of the nightlife zone's epicenter on Shelbyville Road you'll find two Vietnamese restaurants (Nam Nam Cafe and District 6 Gastropub), one popular Thai spot (Simply Thai) and a top Indian restaurant (Tikka House). And just a mile out the road sits Oriental House, the 60-plus-year-old OG of local Asian eats.
Five excellent Asian restaurants along a one-mile stretch? I'm not sure that the city's South End Vietnamese eats zone is much more concentrated than that. Without digging into the statistical details, this development makes me happy.
Back to District 6 Gastropub
I'll grab a meal at most of these places often, even when I'm not reviewing, so when I realized that I hadn't returned to District 6 since shortly after its opening in the autumn of 2019, I knew it was time to go back.
We dropped in for lunch on a busy weekday and found the place already crowded and noisy at noon, filled with seemingly happy diners. Its bill of fare, according to the restaurant website, focuses on both traditional and modern dishes that "combine Vietnamese flavors and techniques with local and market-fresh ingredients."
The bar, a prerequisite for this nightlife zone, offers basic selections of modest wines and beers, basic classic cocktails (all $10), and most interesting, a half-dozen "Vietnamese-inspired" cocktails (all $12). The Vietnam Smash seems typical: It's a mix of Buffalo Trace bourbon, a Kentucky bourbon barrel beer reduction, Vietnamese honey simple syrup, fresh squeezed lime, and fresh mint.
A lunch special, available until 4 p.m., includes one side and one entrée plus a soft drink or iced tea for $12.75, but flip the menu page and you'll find many of the same dishes available on the dinner menu. It offers a broad selection, and most of the 14 small plates, 18 vegan or vegetarian dishes, and five curry and noodle bowls are also priced at $12.75, or less for a few smaller dishes. Only the dozen signature dishes rise into fancy-dining price points: They range from $12 (for pan-fried sticky rice with chorizo, pork and shrimp, or Mama T's spicy bacon, egg and cheese fried rice) to $28 (for steamed whole sea bass in banana leaves).
A long wait for lunch
We chose one lunch special and ordered a couple of other items a la carte. There appeared to be several servers at work in the busy room, but service was still a bit slow; we waited about 40 minutes for our food, which could be problematic for folks on an hourlong lunch break.
Our lunch special was beef pho and a spring roll, both of which I judged good but not great. They were competently prepared, but my socks remain firmly on my feet.
The spring roll was small – I actually didn't see it at first, hidden behind a romaine leaf. Its pastry wrapper was fried crisp and sizzling hot. It shattered on first bite. The ingredients within – pork, maybe cabbage or green pepper, a bit of carrot – were finely minced together.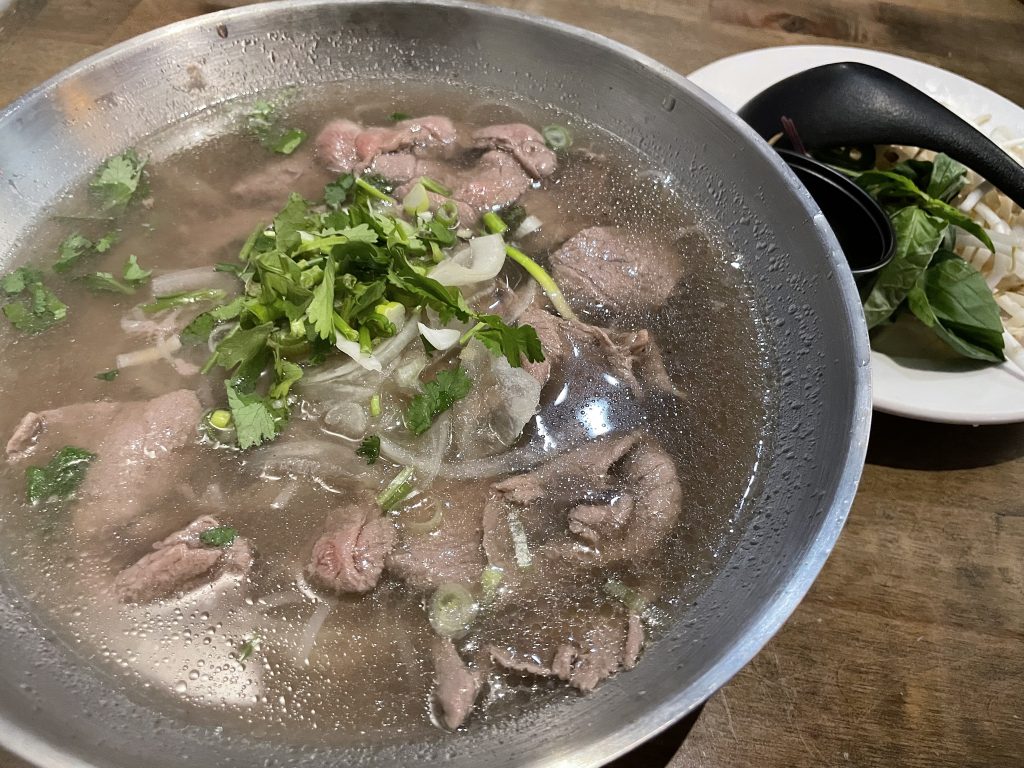 The pho almost filled a deep metal bowl, with the traditional Vietnamese side dish of fresh bean sprouts, lime wedge, sliced jalapeño and a few springs of Thai basil. A small plastic tub of something like hoisin sauce came alongside.
A great pho will be built on an intense, deeply flavored beef stock that simmered for many hours. This pho was good, but it was not like that. The broth was clear, with tiny flecks of fat floating on top, but its beef flavor was subtle at best. Plenty of tender rice noodles were mounded in the bowl, topped with about 10 very thin slices of beef, chopped fresh cilantro, and sliced white onion and green onion. Adding basil, sprouts and lime from the condiment dish kicked up the flavor as they melded into the dish.
Vietnamese spicy street corn ($6) from the small plates menu reminded me of Mexican elotes with a Vietnamese accent. I liked it a lot. A good-size cob of sweet corn was rubbed with garlicky aioli and a fiery chile sauce and garnished with crisp fried shallots and fresh cilantro.
An order of pagoda noodles ($12.75) from the vegetarian menu (pictured at the top of the page) was a close cousin to pad Thai. A generous portion of tender, flat rice noodles had been poured over plentiful crisp-tender cauliflower and carrots, a few cubes of fried tofu, and green onions, with scrambled egg bits, chopped peanuts, and cilantro on top.
With Vietnamese hot coffee ($5), strong and sweet with condensed milk melted in, lunch for two totaled $37.57, plus an $8 tip.
District 6 Gastropub
?3930 Shelbyville Road
?873-5561
eatdistrict6.wixsite.com
?facebook.com/EatDistrict6
instagram.com/EatDistrict6
Noise level: The sound level ebbed and flowed during a crowded lunch hour, occasionally hampering conversation during noise peaks. Sound levels varied from a noisy but doable 75.1 dB to a near-annoying 83.6 dB.
Accessibility: Except for tall stools along the bar, the restaurant appears to be accessible to wheelchair users.