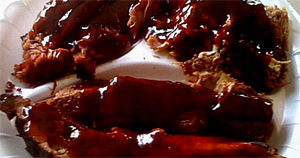 Say hello to Texicans BBQ Pitt in Crestwood, one of the most recent arrivals in our local smorgasbord of smoked meat and a tasty addition indeed.

Barbecue may be one of America's most traditional regional foods. It varies in style and content as we travel around the nation, particularly around the "BBQ Belt," a swath of the South, the Midwest and Texas that's more an idea than a geographical reality.
Just about every region has its own take on barbecue, from the saucy urban Kansas City style to the wacky yellow mustard-based sauces of South Carolina. In Memphis, folks dress your meat with slaw – yes, right on the bun. And down in Western Kentucky, around Owensboro and Paducah, they're notorious for the use of mutton as a favorite meat for barbecuing, and a thin, tart "black dip" to bathe it in.
In Louisville we fall between barbecue zones, being a bit too far from sheep country for mutton to be popular; and equally distant from the Eastern Kentucky mountains where pulled pork and tangy tomato sauces hold sway.
But our loss is also our gain, as the absence of regional dogma opens the whole world of barbecue, and we benefit from the craft of pit masters using recipes handed down in families from all over.
Judging from the name and the style, Texicans offers Texas-style barbecue, which is characterized by being slow-smoked over hard wood with sauce added only as a condiment at the table, and by the presence of beef as a primary meat option (they didn't call those guys with the 10-gallon hats COWboys for nothing).
Note, however, that Texicans may serve your meal with the sauce already applied on your behalf. If you'd rather do it for yourself, simply ask for it on the side, and they'll gladly comply.
It's a simple eatery, bright and attractive, once a family home just past Pewee Valley on your way out LaGrange Road (KY 146) toward Crestwood. Park out front, climb the porch steps, and you'll find three comfortable rooms for dining and a window where friendly folks will take your order.
The menu is about as simple as it gets: Pick your choice from a half-dozen meats and decide whether you want a sandwich alone or a meal with two sides. The choices are pulled pork, smoked sausage, chicken breast or chicken leg quarter ($3.99 for a sandwich, $5.99 for a dinner); or beef brisket or cherry-smoked pork ribs ($4.99/6.99). Sides are slaw, potato chips, "tater" salad, mac'n'cheese, green beans, baked beans, fried "taters" or cinnamon apples. (Ask about specials … they offered us sample bites of a pretty tasty peach cobbler one day.) Meats are also available in bulk, from $9.99 per pound for pulled pork, sausage or pulled chicken, $10.99 for brisket and $17.99 for a rack of ribs.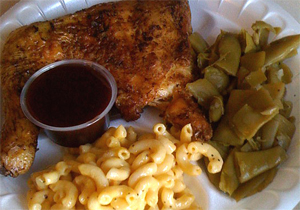 Everything we've tried has passed muster. Brisket was beefy, with smoke as an accent but not dominating the meat. Pulled pork was juicy and flavorful, although I tried it before learning to ask for the dark, tangy-sweet sauce on the side, which made it hard to judge the meat. A grilled chicken-leg quarter was juicy with just the right amount of smoke. Ribs are flavorful and meaty, made in a falling-off-the-bones style that many adore, although a hard-core barbecue judge might knock off a point or two in preference for more textured meat.
Among sides, red-skinned potato chunks skillet-fried with onions were outstanding. Baked beans were very good, with a tangy, slightly spicy sauce. Green beans were flat Romanos, long-simmered with pork. Mac'n'cheese appeared to be homemade.
It's all good, more than good enough to justify repeat return trips out to Crestwood. Lunches have been $14 to $16 for two, plus tip, definitely affordable especially when you think in terms of protein per buck.
Texicans BBQ Pitt
6608 W. Highway 146
Crestwood, Ky.
241-9227
texicansbbqpitt.com