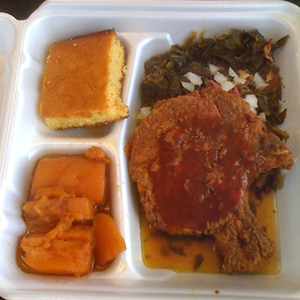 Here's a geographical conundrum: How can you walk from the familar suburban scene of St. Matthews into Chicago's South Side in one small step? It's simple, assuming that small step takes you through the door of Lonnie's Best Taste of Chicago.

Cubs and White Sox and Bears, oh my, not to mention portraits of Chicago mayors Harold Washington and Richard Daley and photos of Windy City landmarks like the John Hancock building convert the small, free-standing building on St. Matthews Avenue into a fair approximation of a South Side lunch spot.
As it is in Chicago, so it is in St. Matthews, at Lonnie's at least, where you can order Chicago-brand Vienna Beef dogs with a variety of toppings, plus Kronos gyros – also made in the Windy City – and other Chicago culinary traditions including spicy Italian beef sandwiches, corned beef, wings, Polish and Italian sausages and more.
A half-dozen hot dogs, bearing the names of Chicago streets, range in price from $2.99 (for the Congress Cheese Dog) to $3.79 (for the Rush Street Chili Cheese Dog), plus sundry Italian and Polish sausages from $3.45 to $5.29. Burgers are $2.19 to $5.19, Chicago beef sandwiches are $4.29 to $6.99, and other munchies range from $2.49 (for deep-fried, mozzarella-and-sausage-stuffed Pizza Puffs) to $6.19 (for the Greek Island Gyros). A bowl of chili – Midwestern-style, of course – is $3.99, and "Lonnie's Famous" fried chicken wings are $5.79.
Lonnie's, which has been in this location for six years now (and recently opened a Highlands branch at 1034 Bardstown Road), is a frequent stop for us when we're in the mood for a tasty Chicago snack.
No place in town offers a better rendition of the classic Chicago-style hot dog (billed here as the "Clark Street Hot Dog," $3.29 regular and $3.99 jumbo), which piles a sizzling all-beef dog on a steamed poppyseed bun dressed with chopped onions, cucumber, tomato wedges, tiny, whole vinegary-piquant "sport" peppers, neon-green picalilli relish, yellow ballpark mustard and celery seed. The Clark Street dog comes with fries, and they are exceptional, crisp and hot and grease-free; with other dishes they are $1.09 regular, $1.39 large, $1.89 with cheese, $2.09 with chile, $2.49 with cheese AND … well, you get the idea.
The Kronos-brand gyros ($6.19) is a fine rendition, too, with thin-sliced, warm gyros meat (traditionally a mix of beef and lamb) on the side of a tender pita simply dressed with creamy yogurt-and-cucumber tzatziki sauce and tomatoes. It comes rolled for eating out of hand but is so large that I generally open it up and attack it with knife and fork.
If you're looking for something more than a mere snack, though, mark your calendar for any Friday, when a catfish fry is featured for $7.99; or Wednesday, when the plat du jour is a blue-plate soul food special featuring a meat course (typically pork chop, rib tips or meat loaf) with greens, cornbread and candied yams.
We dropped by on a Wednesday for a soul-food treat. Knowing that the Wednesday feature draws a crowd, we came by a little early (Lonnie's opens at 11 a.m.), only to find we had outwitted ourselves: The chops were still cooking. Still, we got an order at the head of the line and didn't have to wait long before our dinners came out, in three-part styro boxes with plastic utensils and paper napkins.
The pork chop was pretty good, a rather thin but tender loin chop that had been lightly breaded and "chicken-fried," served with a dollop of sweet-tangy tomato-based BBQ sauce on top. I'm not a huge fan of collard greens, but long cooking and plenty of bits of thin-sliced ham made Lonnie's version about as good as I ever ate. A square of yellow cornbread was propertly coarse-textured and crusty, with little or no added sweetness. Candied yams made up for that, long-simmered and coated with a very sweet, sugary sauce.
With large cups of diet cola and unsweet iced tea, a very filling meal topped out at $20.10, plus 4 bucks for the tip jar.
Lonnie's Best Taste of Chicago
121 St. Matthews Ave.
895-2380