LEO's Eat 'n' Blog with Louisville HotBytes
(Sari Sari, Queen of Sheba, and Kim's Curry Tour)
In addition to the customary greetings that all languages share for "Good morning," "Good afternoon," "Good evening" and "Good night," folks in the Philippines greet other at midday with a happy "Magandang tanghali." Loosely translated, the term means "Happy lunch-time!" This cultural note suggests an affection for the midday meal that's borne out in the warmly comforting nature of home-cooked Filipino cuisine.
Louisville hasn't had a lot of exposure to the food of this 7,000-island Southeast Asian nation, but the Sari Sari restaurant in Crescent Hill may soon change that with its tasty and affordable Filipino delights. ("Sari Sari," by the way, means something like "various" or "sundry" in Tagalog, the national language of the Philippines. A sari-sari store is a cross between an unchained 7-11 and a community center, where you can get just about anything you really need, and the latest neighborhood gossip, too.)

The round-the-world explorer Ferdinand Magellan met his untimely demise in the Philippines in 1521, but knocking him off didn't ultimately protect the country from colonization by Spain for almost 300 years. The country came under U.S. dominion for a half-century after the Spanish-American War, was seized by Japan during World War II and has been independent since 1946. With those varied influences, not to mention exports from China and its other Asian neighbors and its original Malayo-Polynesian nature, it's not surprising that Filipino cuisine is both exotic and yet strangely familiar at the same time.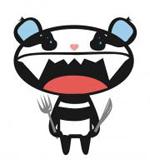 Illustration by Gina Moeller
Some of the dishes resemble Chinese stir-fries (and the crisp egg rolls called lumpia have a distinct Chinese accent), but there isn't a pair of chopsticks in the house. Spain's hand is evident in the stew-like menudo ($7.95 for chicken or beef, but none of the aromatic tripe that's a feature of the Mexican dish of the same name). Filipino fried rice ($4.50 small, $5.95 large) owes an apparent debt to China, while the name of the national dish, pork adobo, comes from Spain, although the long-simmered soy-and-vinegar dish speaks of the other side of the Pacific, and the Tagalog-named Sinigang (beef and tangy tamarind stew, $9.95) and Inoong-onan (codfish simmered in aromatic Asian flavors, $9.95) are pure Filipino.
You might call Sari Sari a "Brother of El Mundo," as owner Pete Chamberlain and chef Lourdes Fronteras, a native of the Philippines, left the popular Mexican restaurant (which Chamberlain's sister Bea still owns) this past spring to open the Filipino eatery on the same block. The tiny storefront, just large enough to hold a half-dozen tables, is decorated in bright tropical colors and a combination of Chinese art (hey, at least it's Asian) and paintings by local artists.
We've tried a variety of dishes in several visits and have rarely been disappointed with Lourdes' home-style cooking. An eggplant appetizer ($4.25) consisted of small Asian eggplants sliced into long, thin ovals, marinated in a sweet-hot blend of ginger, garlic and lemongrass and fried crisp, served atop shredded iceberg lettuce and garnished with scallions, with dipping sauces of soy-vinegar and sweet-hot red-chili sauce.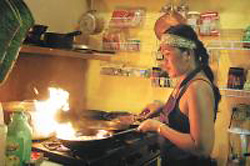 Chef Lourdes Fronteras: a longtime fixture at El Mundo, now works a few doors down at Sari Sari. The new eatery reflects the varied influences of Filipino cuisine, which is exotic and yet strangely familiar at the same time. Photo by Kelly Mackey
A dinner special a while back ($9.95) featured tender, hot grilled cod plated with a pair of crispy lumpia filled with rock shrimp, and vegetarian fried rice. The aforementioned pork adobo was a slightly different style than I've had in the past, with more vinegar and a bit less soy, but it was fine all the same, long simmered and falling-apart tender in a salty soy-vinegar broth, accompanied with steamed rice and excellent red beans.
On a more recent visit I dropped in for lunch and couldn't resist a combination plate ($6.50) that included two good-size wedges of empanada (a flaky deep-fried pastry stuffed with spicy shredded beef and peas, sort of the savory Filipino answer to a Southern fried pie) and a tasty item called coconut bean sprout cake that was a dead ringer for the Vietnamese dish, banh xeo, a thin, spicy omelet folded over crisp bean sprouts. It was billed as an appetizer but proved to be plenty for lunch, a fine bargain attractively presented on a large, colorful dish.
Our dinners rarely go over $20 or so, and it's hard to get lunch much over $10. Beer is served – on sale these days for $2 a bottle at magandang tanghali time. Sari Sari is open for lunch Wednesday through Friday and dinner Tuesday through Saturday.
Sari Sari
2339 Frankfort Ave.
894-0585
http://www.gosarisari.com
Rating: 82 points

Kim's curry tour
Staying on the ethnic beat this week, here's Eat 'N' Blog correspondent KIM MASSEY, who's been prospecting the city in quest of some of the best curry dishes she could find. Kim, who comes to Kentucky from Britain, offers us this report:
When you hail from a country where chicken tikka masala has replaced fish'n'chips as the national dish, you develop a passion for curries. When I think about what I miss most about London, I invariably include my favorite Indian take-out, The Bombay Brasserie, along with the obvious "family, friends and warm beer."
Now that I'm 4,000 miles away, I've been motivated to move beyond my masala-induced comfort zone and explore some of the curries with roots outside the Indian sub-continent. Here are a few of the dishes that have helped me deal with my separation anxiety.
My tasting tour began with a pleasantly contrasting duo of curries at Vietnam Kitchen, the stir-fried curry shrimp ($9.95) and green chicken curry ($8.35). Both dishes relied to some degree on coconut milk and included an abundance of vegetables; the similarities ended there. The rich, thick, mildly spicy brown sauce surrounding the shrimp was reminiscent of the Chinese genre, with the peppery flavor of the curry powder prevalent but not overwhelming. The accompanying potatoes and aubergine (that's our Brit writer's word for "eggplant" -Ed.) absorbed the juices of the curry without becoming mushy, making a hearty and filling entrée. The green curry was lighter in appearance and consistency, but it packed a much stronger spice kick. Small pieces of chicken, onions and crispy green beans were all nestled in a spicy, slightly sweet coconut-milk broth. Lemongrass added an aromatic flavor, reminding me of the joys of Thai curries – opening the door to the next stop on my tour.
At Lemongrass Café I sampled an eclectic sounding curry, which consisted of minced chicken in shrimp paste and pineapple ($7.75). This was not a "fishy" dish by any means. The shrimp paste is barely detectable but adds a pleasant savory flavor (trust me on this), which pairs well with the coconut broth. Chopped pineapple confers an unashamedly sweet and savory taste sensation. A tad bland in appearance but not in taste, the light dish made an ideal hot-weather curry. The Seafood Curry ($7.95) was a heartier, hotter dish altogether. A mélange of shrimp, scallops, squid and surimi "crabmeat" was combined with diced carrots, green peas and beans in a thick spicy sauce. The seafood was tender and tasteful, but I would have preferred less imitation crab and more shrimp. I was sorely tempted by the red and green curries, but opted instead for curried carbs in the form of stir-fried curried vermicelli noodles ($6.25, with choice of chicken, pork or shrimp). It was a lively combination, akin to Pad Thai with a spicy element added.
Having neglected the vegetarian options, I decided to go hard-core vegan with Zen Garden's aubergine in curry sauce ($9.50). It was quite unlike any curry I have tasted before: A combination of Japanese aubergine and shiitake mushrooms was simmered in a slightly sweet, soy-based sauce with a touch of curry powder and a hint of anise akin to Chinese five-spice. The vegetables were complemented by crunchy edamame beans and topped with shredded tofu. It was an interesting and unusual dish, if a bit lacking in the comfort-food factor that I associate with curries.
Unadulterated Caribbean comfort food, the curried chicken ($8.95) at Taste of Jamaica provided a marked contrast to Zen Garden's more austere curry. There was nothing remotely sweet or subtle about this vibrant yellow, stew-like dish – and you wouldn't want it any other way. The generous pieces of chicken, slow-cooked on the bone, fully absorbed the delicious, lip-smacking, peppery-hot broth. The meat, so tender and moist that it fell away at the touch of a fork, made me wonder what I ever liked about boneless chicken breasts anyway. For a brief moment, as I savored this intensely satisfying dish with a friend, the distance between here and my Bombay Brasserie seemed a little less painfully far.

Eating with our fingers at Queen of Sheba
Wrapping up this week's all-ethnic report, we catch up with SUZANNE M. BERNERT, who headed out, in classic Louisville direction-giving terms, to Queen of Sheba – the Ethiopian place across the street from where the Toy Tiger used to be.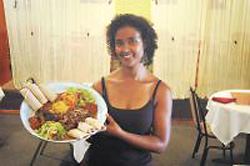 Selam Deneke: owner-chef at the Queen of Sheba, shows off a selection of Ethiopian fare. The restaurant serves a lunch buffet Sunday through Friday ($6.49). Photo by Kelly Mackey
In our search for different lunch options, my son, Edward and I went to Queen of Sheba for the lunch buffet. The room was softly lit with pictures, music and décor that made me think of Casablanca or the Casbah with wispy drapes and woven straw tables.
An expansive all-you-can-eat Ethiopian buffet ($6.49), served for lunch Sunday through Friday, makes a large L shape with cold-food and hot-food sections at right angles, and a large basket of spongy Ethiopian injera bread convenient to both sides. Silverware is provided, but guests are encouraged to try eating in the traditional manner – pulling off pieces of the flat bread and using it to scoop up the food with their fingers.
The cold side includes a tray of lettuce with tomatoes, red onions and peppers, a lemon salad dressing and Ethiopian Timatim Fit-fit salad, which consists of bits of injera mixed with diced tomatoes, green pepper, onion and lemon dressing. The tastes were fresh and the lemon dressing accentuated the flavors.
We used forks for the salad, but gave the injera a workout on the hot buffet, which featured several wots, the Ethiopian version of stew. Doro wot (spicy chicken stew) and sega wot (spicy beef stew) were cooked with onions, fresh garlic and ginger. Berbere sauce, hot and spicy with red chile peppers, made the dishes quite piquant. On the second round, the alicha-sega wot (beef stew) and alicha-doro wot (chicken stew), cooked with onion, potatoes, garlic, ginger and turmeric, offered great flavor again with less fire.
Choices on the vegetable side of the buffet included akilt (cabbage, onions and carrots in a tomato sauce), kik wot (lentil stew, kicked up a notch with berbere) and gomen-sega wot (collard greens, onions, carrots, potatoes and garlic in a mild sauce. Vegetarians should note that this "vegetable" dish contains beef. Herbed rice on the buffet offers another complement to the fine Ethiopian flavors.
Queen of Sheba Ethiopian
3315 Bardstown Road
459-6301
http://www.queenofshebalouisville.com