By Robin Garr
LouisvilleHotBytes.com
I'm not vegan, although I can see the argument against industrially produced dairy products, and I don't even like milk. It would be hard for me to give up favorites like artisanal cheeses, pastured eggs, and ice cream, though.
But that ice-cream thing may be changing. The other day I noticed a case at Graeter's promoting its new line of Graeter's-branded Perfect Indulgence Vegan ice cream, animal free and lactose free in assorted flavors at $7.99 for a pint.
A little research revealed that, in a process akin to that of the meatless Impossible Burger, Perfect Indulgence developed a way to make real milk proteins – whey and casein – without the presence of animals. In brief, the company developed a type of microflora that can ferment simple plant ingredients to produce the same dairy proteins found in milk.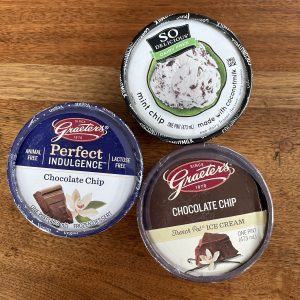 The result, in my opinion, speaks for itself. Tasted alongside a scoop of Graeter's regular chocolate chip French pot ice cream ($5.99 for a pint), it was almost impossible for me to tell which was which. Perfect Indulgence melted a little faster than regular Graeter's, with the happy effect of making it seem even more creamy.
Just for fun, we threw in a scoop of a more traditional vegan ice cream, SO Delicious Mint Chip Coconut milk Non-Dairy Frozen Dessert ($4.69 a pint at Kroger). The subtle mint flavor singled it out, but as an ice-cream type dessert, it was delicious, too. I'd happily enjoy any of the three.
Graeter's Ice Cream
140 Breckenridge Lane
896-9952
Graeters St. Matthews