How big is Africa? Africa is so big that you could fit the U.S., China, India, Japan and most of the countries of Europe neatly within its borders and still have plenty of nooks and crannies left for more. You've probably seen the colorful map that shows this; it's all over the Internet.
How big is Africa? About 1.5 billion people live there, or almost 1 out of every 7 humans on Earth. That's about the same as the total population of Europe, North and South America.
So riddle me this: How come so many of us know so little about Africa? And getting to the point, how come Louisville has so doggoned few African restaurants? It's only in recent years that we've started to get glimpses of real African flavor.
Recently, I'm happy to report, we're finally getting a taste of the culinary riches of East Africa, thanks to recent arrivals Baraka, on West Oak Street, which I hope to sample soon, and the destination of this week's dining journey, Safari Grill, in the lovably multi-ethnic environment of Beechmont's Woodlawn Avenue.
So let's offer a warm welcome to Safari Grill's proprietors Mohamed and Gabriel, immigrants from Kenya and Somalia, respectively, who greet visitors with sparkling hospitality, excellent English, and an eager enthusiasm to share their homelands' native foods.
Long ago the home of Tangerine restaurant, famous for its slogan, "Worst Food in Kentucky," this small, well-kept storefront boasts bright walls the colors of turmeric and berbere, furnished with simple black-metal, red-leatherette chairs and glossy earth-tone laminate table tops.
Safari Grill's menu, posted on a large sign behind the counter where you place your orders at the rear of the room, isn't overly long, but it offers a good overview of East African food, which starts on a native West African base of corn, greens and chicken, beef and goat, but goes on to add distinct flavors of Arabian and Indian tradition, cultures historically linked by trade routes around and across the Indian Ocean. (All the meats, by the way, are halal, in Muslim tradition)
Main dishes include 10 meat items, served with biryani or white rice or pasta plus soup and salad, closely clustered in price from $9.99 to $11.99 for generously portioned plates. Four similarly sizable vegetarian or vegan plates are $6.99 to $7.99, and a short list of East African breakfast dishes (actually smaller-size lunch dishes served with chapatti, injera or pita) are $8. Sandwiches tilt toward the Middle East, including falafel ($4.99), gyros ($6.99), kabobs and baba ganoush (both $8.99).
No alcohol is served. Non-alcoholic beverages include chai ($1), smoothies ($2), American soft drinks and bottled water ($1 each).
You won't need to take in a cheat sheet with Mohamed's and Gabriel's eagerness to tell you about the food, but if you like to be prepared, here are two words you might want to know before you go:
Githeri (pronounced "Gee-teh-ri"), a stew of corn and beans, originated in the Kikuyu tribe but has become an iconic dish of all Kenya. It's nutritious and filling, the combination of both vegetables fills the dish with complete proteins.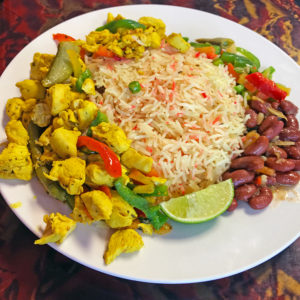 Suqaar (pronounced "Sooh-car") is as beloved in Somalia as githeri in Kenya. It's a quick-fried preparation of any meat, cut into small cubes, quick-fried, and served with fresh vegetables and rice.
Mary and I and my brother Matt checked it out the other day, and we enjoyed a pleasant meal in comfortable surroundings. A round of small salads (included with the meal) came out first, an item that Gabriel acknowledged with a grin is fully American, not African. They were good, though: Fresh, carefully chosen mixed lettuces tossed with crunchy cubes of raw green pepper and a well-made sweet-tart vinaigrette.
Githeri ($7.99) looked as good as it tasted, a bright and colorful quickly stewed melange of yellow corn niblets, tender red beans, red, green, yellow and orange pepper julienne, and bits of kale, with thin-sliced crisp cabbage and a wedge of lime on the side.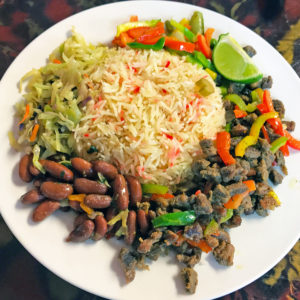 Plates of beef and chicken suqaar (both $9.99) proved to be similar except for the meat, and subtly, gently spiced, with bottles of hot sauce available on the tables for those who like it. The cubed meats were flavorful and carefully prepared; the chicken bites bore a pretty bright-yellow color of turmeric; the beef was lightly grilled to a pleasantly charry surface and still-tender interior, cooked past rare but well short of well-done.
Both plates were built around a sizable mound of excellent rice, something like biryani with an African accent. Every grain was dry and separate, with a few colorful grains on the top dyed a bright red-orange color vor visual contrast. The meats were piled along one side of the rice, with portions of the same vegetables used in the githeri – red beans, mixed pepper slices, pea pods and sliced cabbage circled around the plate.
With a pleasant cup of African-style chai (Kenyan black tea with milk, cardamom and cloves) and two bottles of water, dinner for three came to a very reasonable $31.72, plus a 20 percent tip.
Safari Grill
328 W. Woodlawn Ave.
915-0943
Safari Grill on Facebook
Robin Garr's rating: 86 points