"How hot do you want your Pad Thai?"
This can be a leading question in any Asian eatery where some of the dishes have the capability to scorch your palate. I raised an eyebrow, seeking more information.
"Scale of one to four," our friendly server added, neglecting to mention the "zero" possibility. More about that later.
Mmm. Now I faced a dilemma. I like my spicy dishes hot, but I'm not insane. Nor am I a masochist. I know that "Thai for Thai people" is too hot for me, but I get irritable when I summon hot but am given a toned-down dish because management assumes that Westerners have puny palates. Let's shoot for the middle ground: "Three, please."
The guy pushed back. "Three is pretty hot," he warned. "Are you sure?" This challenged my macho, so what could I say? "Sure! Bring it!"
It turns out that the good folks at A Taste of Thai don't lie. This Pad Thai ranked among the hottest dishes I've had around town in the last few years. It was good, though, really good. It was hot enough to numb my lips and break out a good sweat on my brow, but not hot enough to make me think about calling 911 later in the day. (That's a feat that only the chipotle grilled cheese at Toast on Market in New Albany has accomplished in recent memory.)
In fact, over all, I'd rank A Taste of Thai among the metro's top Thai spots. This recent arrival in Crestwood in Oldham County is well worth the trip out from the city, especially now that it has added evening hours. It's now open 11 a.m.-3 p.m. and 5-8 p.m. daily except Sundays.
It's hard to miss, even if you're not familiar with the area: Its free-standing building on Kentucky Highway 22, in front of the Walgreen's right in the middle of Crestwood's mini-downtown, is a bright, eye-catching reddish-orange.
The bold exterior gives way to more simple, quiet decor inside the smallish room. A golden Buddha gazes from a black screen. Images of elephants – spiritually significant in Thai culture – adorn simple white walls. Quarry= tiles, wooden tables and attractive side chairs are black, and reddish-orange adds a bright accent below a chair rail. Tables are set with simple white china and stainless flatware wrapped in paper napkins.
Fifteen lunch entrees are all $8.95; about 20 dinner entrees will be mostly $10.95 or $11.95, with two house specialties – Thai-style crunchy fried pork belly and fried tilapia – tagged at $14.95.
A friendly American-born host welcomes guests, while his Thai-born wife keeps things authentic in the kitchen.
Authenticity: Does it really matter? I'll confess that the closest I've come to Thailand is either Adelaide, Australia, or Himeji, Japan. (Don't make me go check an atlas to see which is closer, but I'll concede that neither place is particularly known for Thai food.) But my love for the culinary arts extends beyond the table to food anthropology, food history, food justice and a whole lot more. From that perspective, I feel a special resonance when the chef takes care to honor the ingredients and preparation used in the original dish.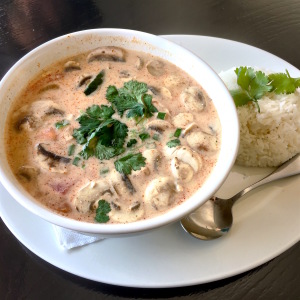 I feel that kind of care at A Taste of Thai, and our bowl of Tom Yum soup with beef ($8.95) provided a teaching moment. It tasted great, with its characteristic Thai flavors, a subtle symphony that mingles ginger-like galangal, tangy lemongrass, slightly bitter kaffir lime leaves, fiery chile peppers and more, studded with tomato wedges, sliced mushrooms, and thin-sliced tender beef. But it was creamy, not clear, and there were no noodles in it. Huh. I don't remember Tom Yum being like that.
So I consulted Chef Google – not Wikipedia, mind you, but bilingual Thai-based websites – where I learned two key points: Tom Yum may be made in either clear and milky versions; and it doesn't usually have noodles. Rather, jasmine rice is served on the side. Just as they do it at A Taste of Thai.
Well, how about that? I'm pretty sure the Pad Thai was authentic, too, but that's a little different, because every single Thai chef, from restaurant rock-star to grandma cooking at home, has his or her own recipe. But one element is constant, and A Taste of Thai nails it: It must bring soft, silken rice noodles and crispy, uncooked bean sprouts together to make a mouth-pleasing textural contrast. It was nuanced and flavorful. And yes, it was hot. Really hot. "Three" worked for me.
The Tom Yum, however, was pretty darn hot for "one-level" heat. That was okay with me, but Mary wanted it mild. If you're serious about mild, try asking for "zero."
Otherwise, the meal was virtually flawless, our only other minor complaint being that a pair of otherwise first-rate, fresh-made veggie spring rolls ($4) came sizzling but dripping oil from the fryer.
Lunch for two was $23.21, plus a $5 tip. It's about 17 miles to Crestwood, and gas is cheap. Make the trip.
A Taste of Thai
6549 W. Highway 22
Crestwood, Ky.
365-1809
facebook.com/atastethai
Robin Garr's rating: 89 points