We've been hearing complaints lately – more in sorrow than in anger – that Comfy Cow's popular shops have been down to just a few basic flavors. A couple of weeks ago, co-owner Tim Koons-McGee apologized to the shop's fans, saying that the bad luck of a broken ice-cream machine and a replacement part that was hard to replace coincided with warmer weather and their grocery retail business ramping up.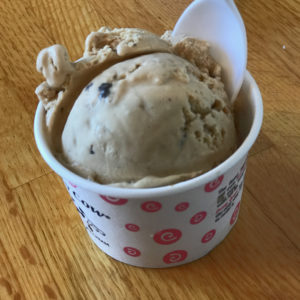 "We recently started a second shift that should be fully functional within the next week or two and we're hoping that will allow us to catch up," Koons-McGee said on May 22.
Sure enough, when we dropped in to the Clifton shop during Cyclouvia today, there were 16 choices on the board, including some delicious new options: Blueberry cheesecake, cherry chocolate chip, chocolate peanut butter cup, "Coffee with Friends," Myrtle's turtle, poppies & lemons, and Rip Van Ripple.
I can testify to the coffee flavor, friends and all (pictured). It's a rich coffee-and-cream flavor studded with tiny, crunchy bits of candied almond and chocolate-covered toffee. I wouldn't mind another!