Let's welcome the Voice-Tribune's move to NuLu late in 2011 with a word of praise for another long-time St. Matthews institution that's thriving there. The classy bistro Wiltshire on Market is a direct descendant of Susan Hershberg's much-loved Wiltshire Pantry, which got its start on Wiltshire Avenue in St. Matthews.
Its always appealing menu is based on American culinary traditions with international touches, and a strong emphasis on fresh, local produce and meat. Wiltshire opened on Market in April 2009, so it's practically an institution by the fast-moving standard of its trendy neighborhood.
Chef Coby Ming set a high standard before she moved down the block to take the kitchen at Harvest last summer. I'm happy to report that Chef Casey Broussard has taken over without missing a beat.
We dropped in with our friends Karl and Ann on a mild Friday night, and before long the place was hopping, with a people three-deep at the friendly bar and just about every table in use. We were happy with our window nook just on the edge of the action, seated around a huge, shiny table fashioned from a thick slice of an ancient white oak tree felled by a severe storm a few years ago.
Chef Broussard's menu gets weekly updates, particularly in the exact composition of the cheese and charcuterie (sausages and hams) board, which are both $9, and, our selection, the $17 cheese-and-charcuterie combination. Other starters ranged in price from $4 (for Wiltshire's signature assorted marinated olives) to $9 (for cold smoked kajiki fish "rollups" stuffed with pink lady apples, cress and lemongrass vinaigrette).
Four "first course" items – small plates, really, that you could mix or match to make a meal – were priced from $7 (for Fox Hollow short rib tacos) to $9 (for a flatbread "pizza" topped with barbecue-grilled veggies, fried oregano leaves and house-smoked Asiago cheese).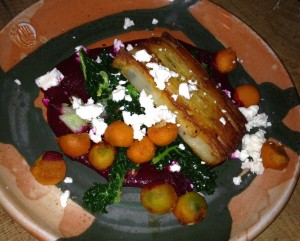 We sampled all four main courses: A slab of Stone Cross Farm crispy pork belly ($18) (it's basically unsliced, unsmoked bacon) was fried crisp and painted with a sweet sauce, served atop a crisp potato latke and dressed with fresh pea shoots and a quince compote. The herb-rubbed beef hanger steak ($20) drew raves. It was prepared perfectly, medium-rare as ordered with a nicely charred edge, cut into four thick slices and plated on a blue cheese veloute sauce with sensuous fingerling potatoes cooked in duck fat, with oven-dried cherry tomatoes and fresh broccolini. Crisp-fried fingers of Hawaiian sun fish ($23) were sauced with Cuban-style Meyer lemon crab mojo and garnished with pea shoots, hearts of palm, tart-sweet mango and tempura-style plantains on a bed of coconut whipped potatoes. The Potato pave ($19) appears to be based on a concept by Chef Thomas Keller of French Laundry. It's best described as a block of scalloped potatoes roasted in a block of stacked thin slices, creamy within a crisp, golden-brown shell. It can also be described as "incredibly delicious." It was served with local kale, crumbled feta and marble-size rounds of kabocha squash on an intense red-beet coulis.
The well-chosen, diverse wine list provided good-value red and white picks at its lower-price end: Belleruche Côte-du-Rhône from France ($32) and Heidler Grüner Veltliner from Austria ($38).
There wasn't a clinker in a carload, and we capped dinner with perfect chocolate truffles ($5 for a shared plate) and outstanding coffee by Red Hot Roasters ($2 each). With the wines, dinner for four came to $190.80, plus a $40 tip for perfect service. The share for two would have been around $95 plus tip.
Wiltshire on Market
636 E. Market St.
589-5224
Web: www.wiltshirepantry.com/wiltshire-on-market
Facebook: http://on.fb.me/WiltshireMarket