I'm a wine geek. Or you could call me a wine nerd. But please don't call me a snob.
Look, I've enjoyed wine since I was a teenager, Chianti diluted with 7Up with Italian-American friends in Brooklyn. Later I found out about this cool place called Napa Valley, where you could get free wine, a long time before most of you had probably heard of the place. I've been writing professionally about wine since around 1980, and have been lucky enough to visit wineries and judge wine competitions around the world.
But you'll never catch me taking this stuff too seriously, and you shouldn't, either. Wine is good, all right. It goes great with food, and in moderation it makes us feel good. It's a drink! It's a hobby! And yes, it's fun to learn things about wine, the people who make it, and the places it comes from. But getting to know these things doesn't give us any right to lord it over everyone else who doesn't know the difference between Burgundy and Bordeaux, and really doesn't care.
This is what I love about Cuvée Wine Table in Springhurst, Louisville's newest wine bar – um, make that wine-oriented restaurant – and arguably its best since L&N Wine Bar closed its doors after Derby 2012. Under the guiding hand of Master Sommelier Scott Harper, who has built the excellent wine-and-beverage program at Louisville's Bristol Bar & Grilles, Cuvée Wine Table offers a broad, interesting and very fairly priced selection of wine that should satisfy any wine geek, but you don't have to be a wine snob to enjoy it.
"We're ready for the person with no wine knowledge curious to learn and try new wines," the restaurant's web page assures us, "as well as the experienced wine connoisseur." Dang, there's that word again. The name "cuvée" is a bit geeky too, now that I think about it: It's the French word for the blend of grape varieties that makes up a specific wine. But the nerd stuff ends there.
About 50 wines – about equally divided between red and white plus sparkling – are available by a 2-ounce taste, 6 1/4 ounce glass (one-fourth of a bottle), or full bottle. Tastes are available for as little as $3, with most white tastes under $4.50; and many bottles are available in the $30 to $60 range. Personally, I'd rather line up a bunch of tastes than one whole bottle, but then, I'm a wine geek.
The large shopping-center space – formerly the suburban branch of Papalino's Pizza – is bright and airy, with large windows. Dark gray and Chardonnay-gold walls bear colorful vineyard photos that Harper shot on his many international wine tours, and a long black-marble-look bar is backed by a black wall of wine racks.
Executive chef Edoardo Bacci, also a Bristol veteran, has put together an affordable menu of small plates, a delight for wine nerds and anyone interested in matching wines and food to see how the flavors work. It covers about three dozen appetizer bites, salads, flatbread pizzas and small plates ranging in price from $4 (for giardiniera pickles, an Israeli salad, or polenta fries), to $14 (for smoked salmon or Kentucky lamb sliders).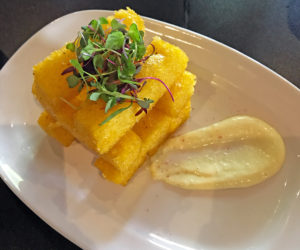 We started with an order of those amazing polenta fries ($3.50), a log cabin built of square sticks of cornmeal polenta fried crunchy and delicious on the outside, creamy within, served with a plate schmear of aromatic, garlicky aioli.
An arugula salad ($5) tossed fresh, bitter leaves in a sherry vinaigrette, with sweet toasted cashews, just a bit of shaved fennel bulb, and a few orange segments adding a sweet snap.
Fried calamari ($6) were extremely good, a generous portion of tender, not at all rubbery bits, lightly dredged and quickly fried crisp, light and dry.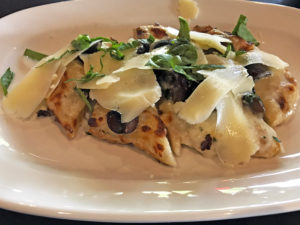 A white funghi flatbread pizza ($8) was built on soft, chewy house-made dough that reminded me of lavash. There's no red sauce, just a good ration of caramelized mushrooms, spinach, sweet fior de latte and earthy Pecorino Romano cheese.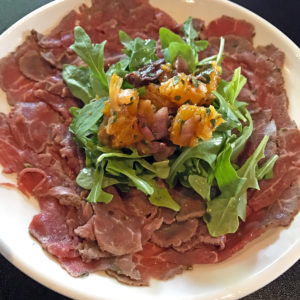 Beef carpaccio ($10) was good, maybe not the best ever, but a fine match with red wine. Raw, marbled beef was sliced paper-thin, just as it should be, and spread on a plate. It was fresh and good but quite mild in flavor, and the offbeat accompaniment of a sweet-earthy olive-orange salsa might have been better replaced with the more traditional shaved onion.
Kentucky lamb sliders ($14), pictured above, were excellent. Presented as a trio of tender, fluffy and flavorful lamb meatballs on tiny, tender brioche buns, they're dressed with a dab of Italian pomodoro (tomato sauce), thin-shaved Parmigiano and fresh arugula.
Chifeletti ($6), from the short dessert list, is a mound of sugared gnocchi. Very much like tiny beignets, these sweet pasta balls were served with a deep, dark chocolate ganache, making a fun finish to a fine meal.
Dinner for two was $62.64, plus a $20 tip for our server, Danielle, who never lost her friendly smile over a long evening of frequent trips for small glasses and small plates.
Cuvée Wine Table
3598 Springhurst Blvd.
242-5200
cuveewinetable.com
facebook.com/cuveewinetable
instagram.com/cuveewinetable
Robin Garr's rating: 91 points