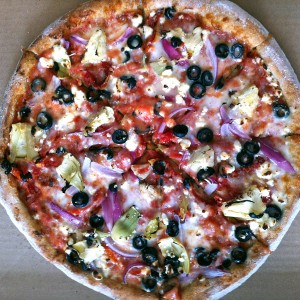 Voice-Tribune review by LouisvilleHotBytes
What's a Naked pizza? Just about everyone does a double-take when they first hear the name of this popular new takeout eatery in St. Matthews.
So let's get a couple of things straight: First, the pizzas here are not served, er, bare. They're fully clothed with sauce, cheese and delectable toppings. What's more, you don't have to be naked to go there. In fact, public nudity is just as strictly discouraged within these quarters as it is everywhere else in St. Matthews.
So what's this Naked thing? Frankly, it's hard to tell. I've perused this new but fast-growing franchise chain's Website carefully, but they don't spell it out. My best guess is that they're talking about stripping traditional pizza down to its essentials, with a wacky name that allows them to "tweet" snarky, suggestive come-ons like "Live Naked" or "Get Naked here."
They've converted the iconic Italian-American fat food to something that's actually healthy, with multi-grain crust and all-natural sauces and toppings ("no added sugar or freaky chemicals, promise," the menu pledges). And they're using quirky social media – Twitter tweets, Facebook status updates, even an iPhone applet – as they quickly push out a national franchise expansion from a bare-bones start in post-Katrina New Orleans.
Louisville, along with Miami Beach, won early admission into this coming tidal wave of pizza-that's-good-for-you, with nine more outlets around the metro coming soon. Naked Pizza will soon be nationwide, Nation's Restaurant News reports, with as many as 75 stores slated for opening next year and more than 300 units under contract, in the U.S. and in Dubai in the United Arab Emirates.
So let's take a peek into the St. Matthews store, a tiny walk-in spot in part of the old Louisville Billiards building. It looks mighty classy after a re-make, in a cool, high-tech style. A few chairs are available for waiting, and I suppose you could sit there and consume your pizza out of the box on your knees, but it's not really meant for dining in.
Think of a Domino's or Little Caesar's, a tiny storefront meant for takeout and delivery. But then add colorful green and off-white walls, with a slide show of color photos that pop up on a flat-screen on one side. On the other side of the room, you're welcome to sit down and enjoy a most unusual wall decor element: A couple of working iPads, tuned to the 'net for your surfing enjoyment.
Can a pizza lover find fulfillment in a pizza crust that is, and I quote, "an Ancestral Blend of more than a few whole grains plus prebiotic flavor and probiotics"? Frankly, this strikes me more like something I'd read on a Metamucil jar than a pizza menu. The proof is in the tasting, though. Let's just say that it's a thin, beige crust that's soft, not snappy, and that reminds me of a pretty good health-food cracker. I'm sure it's good for me, and that's worth something.
The toppings are healthy, too. A message on the pizza box assures us that it's "topped with tomatoes and real cheese from a cow with no growth hormones. It has fewer calories, more fiber, more protein, less fat and more taste."
I can't disagree. We've eaten our way through a 12-inch sausage, red onion and red pepper pie ($11) and a 12-inch "Mediterranean" with artichokes, sun-dried tomatoes, onion, black olives and funky Greek feta cheese ($14.99), and both boasted above-average, fresh ingredients. The sausage was particularly good, tender, not fatty, with an Italian hint of fennel in the flavor. The artichokes were real, although I wish they had picked out a few chewy leafy bits. Still, add it up, and there's a lot to like in Naked Pizza.
Naked Pizza
135 Breckenridge Lane
410-2211
www.NakedPizza.biz