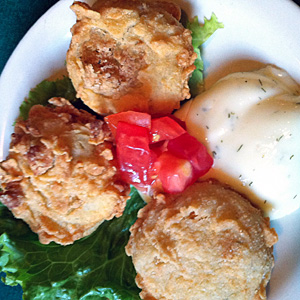 The Irish Rover has been my comfy neighborhood pub for a long time now. We moved back to town from exile in New York City in 1994, not long after the Rover had opened its authentically Irish digs in a historic Crescent Hill building that began life more than 150 years ago as a saloon.

For a long time I thought of the Rover as primarily a place to grab a pint of real Irish Guinness, properly pulled and served at the correct temperature, with fish-and-chips or a Scotch egg serving merely as a base for more pints.
Lately, though, I've branched out and begun to recognize the Rover as a dining destination in its own right, its menu an equal partner to its undeniably worthy, if compact, lists of beers, wines and spirits. The pub burger ($6.95), lamb burger ($8.95) and even the salmon burger ($7.95) are all fun on a bun; Chicken Cashel blue ($14.95) and Guinness Beef Stew ($6.95) have passed muster; as have the smoked salmon salad ($6.95) and the shrimp salad ($8.95) when I was in the mood for something light.
But the most intriguing eating of all is found on the Rover's Bar Bites menu, a selection of small plates ranging in price from $2.95 to $8.95, that offers an Irish analogue to such other international bite-size goodies as tapas, meze and dim sum.
They're all good, but I'm here to tell you about the most addictive small-plate snack ever. My wife, Mary, our pal Sarah and I wandered by the Rover the other night, and on a whim I ordered the salmon potato puffs ($4.95).
Out came a trio of perfectly fried golden rounds garnished with leaf lettuce, diced fresh tomato and a dollop of dill-scented mayo.
Sarah took a bite and her eyes lit up as if she had seen a band of seraphim winging across the twilight sky, bearing next month's winning Powerball number.
Robbed of speech, she gazed into the distance with a beatific smile. Finally she spoke: "They are crazy good," she said. "Crunchy, crack-a-licious good. They are so good they will sober you up."
She was right.
Imagine a ping-pong ball-sized round of creamy mashed potatoes, subtly infused with the flavors of finely shredded smoked salmon, green onion and dill, dredged in a rough-textured breading and fried to a beautiful, utterly grease-free golden brown. Bite down gently and the coating breaks with an appetizing crunch, unveiling a steaming, delicately scented interior. Two bites, another, and poof, it was gone.
Smitten, we ordered a second round, and then a third. Sarah demanded a fourth, but we dragged her out before she could catch the server's eye.
Salmon potato puffs. It's an Irish pot of gold for just $4.95. At the Rover. Now. —Robin Garr
The Irish Rover
2319 Frankfort Ave.
899-3544
www.theirishroverky.com