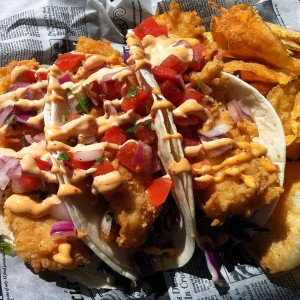 Fish tacos at Big Ben Cafe
Voice-Tribune review by LouisvilleHotBytes
England swings like a pendulum do.
Bobbies on bicycles, two by two.
Westminster Abbey, the tower of Big Ben …
Roger Miller's memorably kitschy tune is one of those melodies that sticks in your head until you want to bang your skull on the wall to make it go away.
Louisville's new Big Ben, happily, isn't anything like that. But drop by during a busy lunch hour or balmy evening, and chances are you will find the place swinging.
Head for the village center of new-made-to-look-old Norton Commons, and you can hardly miss the busy scene of outdoor tables and red umbrellas set up across the front of Big Ben's red-brick quarters. Within, it's an independent eatery made to look a great deal like a franchise chain, a dream that I suspect the owners have in mind.

High ceilings and big windows admit plenty of light, and walls in bold red, black and white bounce it right back. The Big Ben theme, er, chimes in with large, seemingly almost life-size drawings of the iconic London clock's face.
Even the menu, if not quite authentic British fare, offers a few English standards such as fish and chips ($9.99) and a "pizza" that turns the traditional Neapolitan margherita into the tongue-in-cheek "Margarita Thatcher" ($7.99 individual, $12.99 large).
There are also non-decidedly British options including fish tacos ($8.99), a pork schnitzel sandwich ($7.99), and a tandoori chicken platter ($7.99), which is East Indian beyond any dispute, although I've eaten more Indian food than you can shake a bobby's billy at in curry houses around London's Victoria Station.
A different pair of soups, one vegetarian and one containing meat, poultry or seafood, is available each day for $2.50 a cup, $3.50 a bowl. We enjoyed a cup of clam chowder on a Saturday and found it flavorful and loaded with plenty of tender clam bits and diced potatoes. It was on the thin side, though, more like a milk-based fish stew than a creamy chowder. It came with a short length of white, chewy baguette that reminded me of Panera bread.
Boddington's chicken pot pie ($9.99) comprised diced chicken in a thick sauce with peas and carrots and a pleasant peppery tang, pressed into an edible bowl of puff pastry and topped with a golden-brown dome of the same. My wife, a tough critic of pot pie, gave it two thumbs up.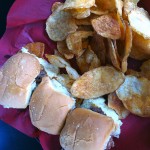 Big Ben Sliders
A trio of Big Ben Sliders ($7.99) came on three tasty dinner rolls like Mom used to make. Pocket-size burgers were cooked well-done, chewy but beefy. One was topped with melted smoked Gouda and sweet caramelized onions; one with a dab of earthy blue cheese, and one with yellow cheese and a slice of crispy bacon. House-made chips were fine, thick and crunchy and not at all greasy.
Fish tacos ($9.99) assembled mild white fish fingers fried in a crunchy beer batter (made with English Boddington's Ale, the menu said), nestled, one each, in flour tortillas, dressed with red cabbage and tomato salsa, decorated with a pale-pink, spicy and smoky chipotle cream.
The Thatcher pizza brought together the traditional Neapolitan ingredients – sliced fresh tomatoes, creamy mozzarella and fresh basil leaves – along with a chunky tomato sauce and dried herbs, neatly assembled on a sturdy rectangle of thin cracker-bread. Not quite my idea of pizza, but close enough.
In a small coincidence, we lunched here twice, enjoying completely different selections on each visit, and both bills came to an identical $22.56 plus $5 tip.
Big Ben Cafe
10600 Meeting St.
Norton Commons
749-6326
www.bigbencafes.com