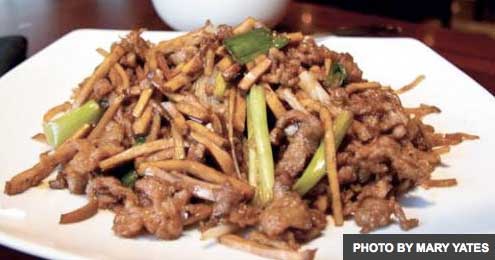 "Tell me what you eat, and I will tell you what you are." Not merely the intro line of the original Japanese "Iron Chef," this fundamental hypothesis goes back to the French gourmet Anthelme Brillat-Savarin's 1825 gastronomic essay, "Physiology of Taste."
If Brillat-Savarin had examined my dinner at Peking City Bistro, he might have concluded I am a pregnant Chinese woman, a revelation that would come as a considerable surprise to both my mother and my wife.
Intrigued? Pull up a chair, and I'll tell you the story.

Pride, they say, goeth before a fall, and I'm dangerously proud of my Chinese culinary skills and knowledge. Whenever I dine at a Chinese restaurant, I do my best to wheedle management into giving me the "authentic" menu. I love it that places like Oriental House and Jasmine make it easy by providing Westerners a bilingual version.
So does Peking City Bistro, a new Chinese restaurant with a Taiwanese accent, which opened last month in the Evergreen Station shopping center in Middletown. Stylish and upscale, it's the direct descendant of the old Peking City in Springhurst and boasts the same chef, Mr. Chen, a veteran of 40 years' cooking in Taiwan and the United States.
In its old location, the staff at Peking City, as in many Chinese restaurants, was resistant to allowing Westerners a taste of the authentic stuff. They're concerned, I suspect, that we won't like it after all, resulting in an ugly language-barrier confrontation that's best avoided.
Once, in rude Anglo style, I insisted until they finally succumbed. The authentic menu was printed entirely in Chinese. Oops! Luckily, I've memorized about 50 Chinese characters related to food, so I could try to puzzle out the menu. With this bare skill I was able to pick out a spicy lamb dish that I actually liked. Crisis avoided without losing face.
At the new Peking City, there's no need for such subterfuge. Although the tables are set only with American utensils and the Chinese-American menu, both the authentic menu and a set of chopsticks are happily provided upon request.
Our party of four did so request, and I gleefully pored over the lengthy authentic document. I considered pig ear or pork intestine just to gross everybody out, but decided to be rational and went with free-range chicken marinated in sesame oil ($14.95).
"Are you sure?," the server asked. "The chicken pieces have bones in them."
"Sure," I said. I can handle it. The others ordered, and she left, giving me an
odd look.
We sipped our Sapporo beers ($3.50) while waiting for our food. Peking City is an attractive venue, a far cry from the typical Chinese eatery with backlit photos of Hong Kong and dragons and Great Walls. It's tasteful with an Asian sensibility, a mix of dark brick colors and walls decorated with Chinese cursive script, tasteful Chinese art and attractive red paper lanterns.
After a while, three servers came out, bustling. "We need to push another table up next to yours to make room for the chicken," they explained. Huh? Out came a high-tech table heating unit, an oversize modern version of the hot plate. What had I ordered?
The hostess brought out a large silver bowl with a glass top. She set it down on the heater, turned a knob and a blue ring of fire popped up. The liquid in the bowl began to bubble. She lifted off the lid and wafted the steam in our general direction. "Good," she said. Indeed it was.
We followed instructions and shared our other dishes while we waited for the chicken pieces to cook in the simmering broth.
Appetizers were fine. Veggie steamed dumplings ($6.95) were tender purses of Chinese wheat pasta stuffed with finely chopped Chinese cabbage and onions, with a soy-based sauce. Salt and pepper calamari ($8.95) featured the best fried squid this side of Porcini, tossed with strips of red pepper, onion and a subtle piquant spice, with a hot-sweet dipping sauce.
Our friend Ginny enjoyed Chinese-American classics: a steaming, rich egg-drop soup ($1.75), bright yellow and fresh, and a large bowl of moo goo gai pan ($8.95), a subtle but delicious stir-fry of white meat chicken, mushrooms and vegetables in a clear sauce.
Our pal Sarah made an inspired pick from the authentic menu: Shredded pork with dried tofu ($8.95) combined strips of savory roast pork with similar strips of dried tofu in an intriguing flavor and texture match.
Mary's stir-fried water spinach ($8.55) was a bright-green Chinese vegetable resembling watercress. Cooked until just tender and gently seasoned, it was good enough to make you want to eat your veggies.
So finally it was time to dig into my sesame-flavored chicken. It was worth the wait. We dug out the tender chicken pieces, infused with the aromatic flavors of the simmering broth, and ate them — too much to handle with chopsticks, but they gave us a pile of napkins to assure us it was finger food. Then the broth was spooned into soup bowls, rich, golden and still steaming, redolent of ginger, garlic and sesame.
The hostess looked at me again and grinned. "It is good soup for cold winter day," she said. I was grateful for air conditioning. She grinned wider still. "In China, this soup for woman who have baby."
Right. And that's how much I really know about authentic Chinese food. It was still one great soup.
Dinner was $75.58 for four, plus a $20 tip for skilled, attentive, but unobtrusive service.
Peking City Bistro
12412 Shelbyville Road
253-6777
www.pekingcitybistro.com
Robin Garr's rating: 87 points