By Robin Garr
LouisvilleHotBytes.com
After Lynn's Paradise Cafe closed abruptly in 2013, it left a vacant building and a crowd of nearby merchants crying over the loss of a neighborhood commercial anchor.
Martin's Bar-B-Que Joint filled the space for a couple of years, but soon became a victim of the pandemic.
It took another year for the latest occupant to fill the space again. Bad Breakfast looks like a good fit, though. Like Lynn's, the new entry – first Kentucky franchise of a small but growing chain based in Oxford, Mississippi – offers hearty breakfast and lunch dishes in a down-home setting.
Like Lynn's at its peak, Big Bad Breakfast appears to be drawing a happy. noisy crowd that craves breakfast from morning through midday. It's filling those seats in the face of plentiful competition, too.
After all, Louisville loves breakfast, and probably always has. We've got dozens of eateries that focus on the morning meal. You want breakfast? We've got breakfast. You've probably got your favorites … me too! But there's always room for more, and Big Bad Breakfast nicely fills the space that once was Lynn's.
The wacky decor, ugly lamps and offbeat antiques that gave Lynn's its charateristic personality are gone, replaced by a generic faux-Southern look with funny slogans, folk-art drawings of farm animals, and a wall-size mural of Louisville celebrities posed in a black-and-white parody of Sgt. Pepper's Lonely Hearts Club Band.
The chain's founder, chef and cookbook author John Currence, who grew up and earned his cooking spurs in New Orleans, won the James Beard Award for Best Chef South in 2009 at his City Grocery in Oxford. He founded Big Bad Breakfast (let's call it BBB) there in 2010, and the chain has expanded slowly across five Southern states. Louisville's outpost opened in February as the chain's tenth property.
We stopped by for lunch the other day and enjoyed a bountiful meal and first-rate service in a clean, bright, and happily noisy scene.
The menu offers some three dozen brunch standards, all available throughout the 7 a.m.-2:30 p.m. operating hours, so you're welcome to enjoy breakfast for lunch, lunch for breakfast, or both. It's subdivided among specialties, biscuit dishes, egg dishes and omelets, skillet dishes, pancakes and waffles, sandwiches and wraps, and low-calorie lean plates. Just about all the entree options are priced between $10 and $16.
Coffee drinks feature local Sunergos coffee, and a short list of brunch-style cocktails includes bloody marys, mimosas, and a decadent Kentucky Coffee laced with bourbon and cream liqueur and topped with whipped cream.
The Huevos Rancheros grit bowl ($13.50, pictured at the top of the page) caught my eye. Two perfectly football-shaped soft eggs showed some serious poaching skills in the kitchen. They were built into a fancy preparation that hinted at the flavors of Mexico with a spicy dingle that didn't whack your taste buds with hellish fire.
The excellent eggs perched atop a spoonful of black beans and pool of cheesy, soupy very smooth grits, billed as Weisenberger Mills' finest but more finely ground than I expected. Dark green salsa verde, diced tomatoes, and spicy pico de gallo surrounded the eggs, and the dish was topped with pale tan crunchies that looked like shoestring potatoes but were actually crisp-fried tortilla strips. A sliced half of an avocado and a spicy chicken sausage, halved lengthwise, flanked the plate.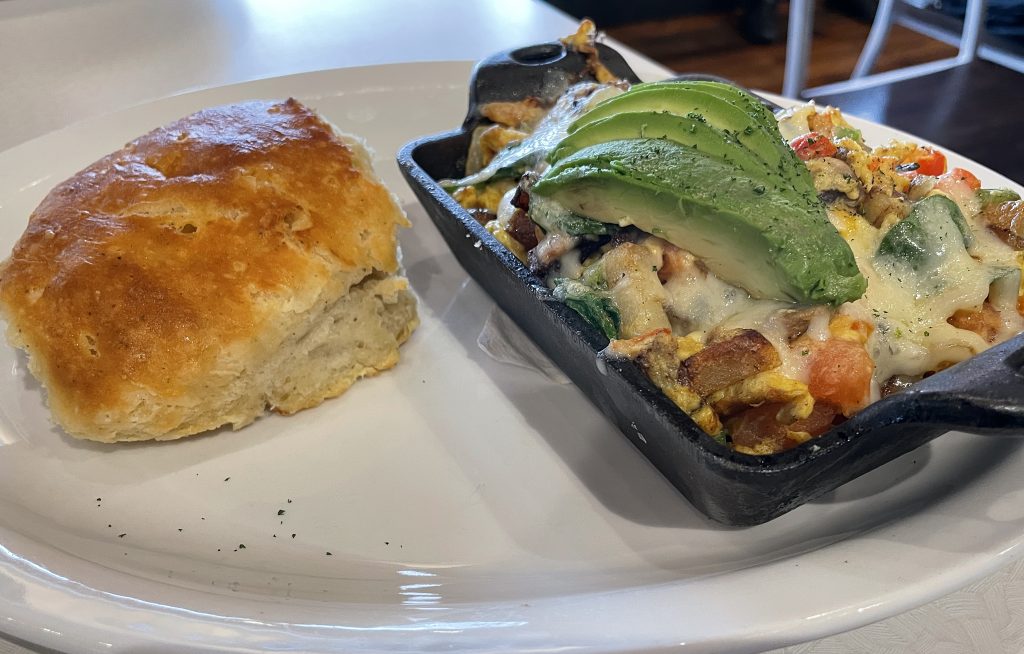 The Yard Work Skillet ($11) is one of the few vegetarian dishes on the menu, although our server said just about any dish can have its animal protein removed upon request. Presented in a rectangular black-iron serving dish, it was basically an egg-and-cheese casserole baked atop a bed of sauteed veggies that became enveloped as the white cheese and egg melted into diced tomato, green pepper, onions and mushrooms as the dish cooked. It wasn't the most exciting dish ever, frankly, but it felt reasonably healthy, and the sliced half-avocado on top made a pleasant treat.
The Yard Bird comes with your choice of white or wheat bread or a black-pepper buttermilk biscuit ($2 as an a la carte side). Naturally I summoned the biscuit, and it was a good one: Huge and square and a good inch thick, it was moist and slightly tangy, with a whiff of black pepper, a coarse crumb and a thick, brown top crust.
Another side, a crispy hash cake ($3.50) came in a generous portion – two large triangles – and I could have eaten more. Finely grated potatoes that almost melted into a mash were fried to a very dark, delightfully crisp golden brown that surrounded a steaming, creamy interior.
With an excellent latte served in a coffee mug ($4.25), a hearty lunch for two came to $34.19, plus an $8 tip for our friendly and efficient server, Dominique.
Big Bad Breakfast
984 Barret Ave.
289-8227
bigbadbreakfast.com/locations/louisville
facebook.com/bigbadbreakfastlouisville
Noise Level: Conversation was possible but sometimes challenging as crowd noise, bolstered by background music, recorded an average of 75dB (the level of music on your stereo) with peaks to 82.2dB (the range of a garbage disposal).
Accessibility:  The entrance from the parking lot is up two steps, but wheelchair users can gain full access through doors on the Barret Avenue side.