Some of you young'uns may not believe this, but there was a time, not all that long ago, when there was not a single Thai restaurant in the Louisville area. We might have read about the stuff, or even, if we were lucky, tasted it in trips to more sophisticated cities or to the Far East.
Then, adding insult to injury, Lexington got a Thai restaurant before we did! That was so unfair. But once Thai-Siam (now defunct) broke the ice in 1989, we finally have an abundant choice of Thai goodies, about nine currently in the greater metro, and I like them all!
But I still hold a special place in my heart for the remaining early arrivals: Thai Cafe, which came to Holiday Manor in 1994 and remains one of my favorites; and Mai's Thai, which got its start in the back of an Old Louisville neighborhood grocer in 2000 before moving to its current quarters in Jeffersonville the year after.
I hadn't been to Mai's for ages, so we made a nostalgic visit the other day. It's just as good as ever, and not much has changed. It still looks very much the same, with brightly painted walls covered with Thai art and travel photos. Tables are draped in red cloth under glass, with dozens of postcards showing Thai scenes held in place by protective glass.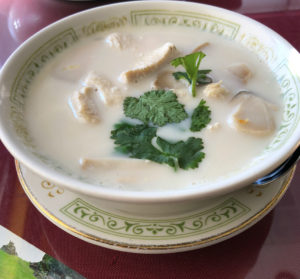 The bill of fare remains affordable, with some 45 dishes. Entrees range in price from $7.99 (for a large bowl of Tom Yum Kai or Tom Jued Woon Sen soups) to $15.99 (for Haw Mok, grilled tilapia steamed with coconut milk and curry paste). Most of the main dishes, including all fried-rice and stir-fry selections, are $10.99 or less.
Thai food particularly appeals to me because, when it's well-made, as Mai's dishes almost invariably are, it tantalizes your taste buds with a clean, refreshing mix of flavors in careful balance. You may sense sour, sweet, salty, bitter, and spicy-hot flavors, sequentially or in combination, in a cuisine that, thanks to Thailand's location near the junction of East Asia and South Asia, may remind you of Chinese food one minute, Indian food another. You may encounter rice, or noodles, or both. Or, in the case of the classic Pad Thai, rice noodles and bean sprouts meeting in a contrasting dance of textures. Thai tip: Don't expect chopsticks, except perhaps with rice dishes.
Mai's menu offers a good selection of the fare that has come to represent the Thai canon in the United States. A few curries that can't be made without spicy heat are marked with a tiny red pepper on the menu; all the rest may be made mild, medium or hot to your liking.
We left the spice to Chef Mai's judgement and were happy with moderate heat in all our dishes, although if we weren't sharing I might have asked for a little extra to suit my tastes.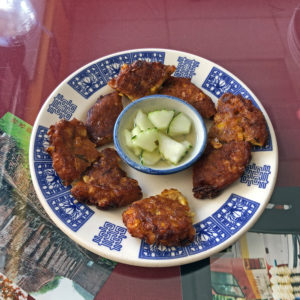 Mai's corn cake ($4.99) is one of the most addictive appetizers I've ever met. It's essentially an oversize corn fritter, crisply fried dark golden brown and crunchy, but its batter is elevated with a dose of spicy, subtly earthy Thai red curry. It's cut into eight pieces and served with a traditional Thai condiment, bits of cucumber in a clear, sweet-tart dressing.
A small bowl of Tom Kha Gai chicken soup ($4.99) turned out to be the spiciest of our dishes, not that there's anything wrong with that. The chilies added a subtle touch to a pretty white coconut milk and chicken broth that bore a generous ration of juicy, tender white meat and plenty of straw mushrooms, plus pleasant herbal notes from a good ration of fresh cilantro. (Yes, I know, cilantro is controversial. We love it. You can ask to have it omitted if you wish.)
A bowl of steamed rice ($2) requested on the side proved to be gently scented jasmine rice, beautifully prepared with each grain fluffy yet separate.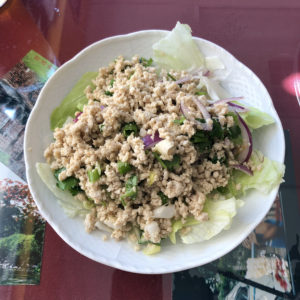 Another favorite, laab (sometimes spelled larb) is Thailand's answer to chicken salad. Chicken white meat was ground as fine as burger meat and marinated with the haunting flavors of Thai fish sauce and zippy lime, served on a bed of iceberg lettuce and garnished with red onion and green onion slices and cilantro. The flavors were bright and clean and nicely balanced.
Pad Thai ($9.99), pictured at the top of the page, is the traditional Thai homestyle noodle dish, and Mai's is a a fine version. Tender thin rice noodles and crisp bean sprouts with a subtle but umami-loaded dressing are mixed with your choice of diced chicken, pork, tofu or beef; or shrimp for an extra $1.50. It's a celebration of Thai cuisine in its subtle mix of textures, aromas and flavors that all march in tune.
A hearty afternoon dinner came to a thrifty $34.14, plus a $7 tip.
Mai's Thai Restaurant
1411 E. 10th St,
Jeffersonville, Ind.
(812) 282-0198
maisthai.com
Facebook: bit.ly/MaisThai
Robin Garr's rating: 87 points
Noise level: A less-than-capacity Saturday afternoon crowd and gentle recorded Thai music posed no barrier to easy conversation. (Average sound level 66-75 dB)
Accessibility: There's no physical barrier to wheelchair users, but the unisex restroom door is heavy, and the paper towel dispenser is too high to reach from a wheelchair.