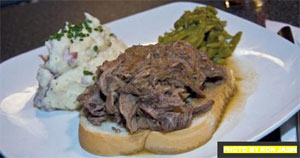 By night, Zanzabar is a hipster hangout, a music venue that attracts local and touring artists alike, and it offers a varied dinner and late-night menu, along with a pretty fair beer list. By day, Zanzabar is a mild-mannered purveyor of boxed lunches and "the lunch line" — a one-price, one-stop, cafeteria-style alter-identity that offers all-American, down-home goodness at a decent price.
Is it just a coincidence that there is a Batman comic book lurking behind the horseshoe-shaped bar?

Zanzabar is housed in an 80-year-old Germantown landmark, which Baby Boomers knew as the Zanzibar (with an "i" not an "a," aka "Z-bar"), and more recent generations as Nord's Brown Bag. Refurbished and stripped of architectural accretions to reveal its historic white-tile "Z" facade, Zanzabar recently took on executive chef Jack Tapp, once chef at the late Brasserie Deitrich. This unlikely balance of upscale flair with tried and true seems to be working.
Zanzabar has stuck with its roots — the booths and tables are, well, nearly ancient, and the place is riddled with throwback decor featuring all manner of Louisville and neighborhood memories. (On one wall is a Louisville Orchestra poster that proclaimed Louisville "City of the Seventies.")
Having been to several music events during the always-crowded nighttime version of Zanzabar, I have sampled the fare, including a respectable bean soup ($1.95 for a cup, $2.95 for a bowl), a mixed green salad (refreshingly devoid of iceberg) with a delicious Maytag blue cheese dressing ($2.25 or $4), and the fried, cornmeal-battered grouper sandwich ($7.95), which was flaky and tasty.
The concise, sandwich-dominated menu (call 'em "ZANDWICHEz") includes interesting signature creations such as Tapp's Sesame Seed Crusted Tuna Salad ($9.95) with almonds, mandarin oranges, carrots, crispy rice noodles and a sweet chili scallion vinaigrette. The Germantown Club ($6.95) features braunschweiger, bacon, provolone, lettuce and mustard on a ciabatta roll. The Chicken Cynthia ($12.95) also intrigues with its bacon-wrapped chicken stuffed with gouda, spinach and onions, served on mashed potatoes and garnished with green beans in a mustard cream sauce.
Tempting, no? Well, wait until you get a load of the lunch line. My friend Kirk and I stopped in recently and found that our familiar dark, crowded evening hangout undergoes a startling transformation into a pleasant neighborhood eatery by day.
For $6.50, the cafeteria-style lunch line provides your choice of entrée plus two side items and a cornbread muffin, if you so desire. The menu changes daily. Our entrée choices included turkey with gravy, pork loin cutlet with sweet chili glaze, open-faced roast beef with gravy, fried catfish and blackened cod. The sides included mashed potatoes, green beans, mixed vegetables, mac-and-cheese, kale and hamhock soup or white bean with chicken soup, and homemade peach cobbler for dessert.
I went for the roast beef, which curiously hid its open face with bread on top as well as below. No problem, as it was all smothered in delicious gravy and piled high on my plate.
The fare is hearty and fresh, and the natural flavors come through. The mashed potatoes were smashed, skin-on red potatoes. While I lean toward green beans spiced with pork, garlic and pepper, these were straightforward. This isn't a complaint, just an observation — based on my lunch, the menu seems by day geared toward a blander palette, and is by night more adventurous.
Then again, Kirk pointed out that his pork tenderloin was pushed to near perfection by the tasty chili glaze, which not only added flair but also helped keep the inch-and-a-half thick cutlet juicy and tender. His cobbler was clearly homemade and packed with plump slices of peach. I didn't steal a bite, but Kirk proclaimed it delicious and devoured it accordingly. One of the friendly Zanzabar staff even congratulated him for cleaning his plate.
Owners Jon and Anthony Wettig have pulled off a difficult feat — to make just one concept work in a down economy and competitive dining scene is tough enough, but dual identities? The Dark Knight himself would be proud.
Zanzabar
2100 S. Preston St.
635-9227
www.zanzabarlouisville.com
Food rating: 84