I still vividly remember the excitement of my first tastes of Sichuan cuisine. We had to travel to New York City, San Francisco or Chicago to get such goodies back in the late '70s, but Sichuan, aka Szechwan, fare did get to Louisville finally, and for a decade or two, these spicy regional cuisines were among the city's most popular dining options.
Our tastes and our options have since grown diverse, and now that there's a quick-service Chinese restaurant in just about every shopping center in town, General Tso's chicken is just another ho-hum option.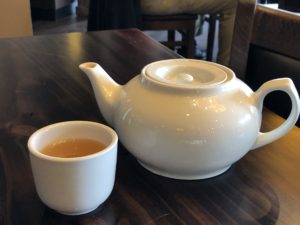 But a couple of destination Chinese eateries remain, and one of the top spots, Jasmine Szechwan Chinese Cuisine in Middletown, has just doubled down. Really doubled: Now there are two Jasmines, with the arrival of the same owners' Jasmine Asian Bistro in a shopping center along Lime Kiln Lane in the Holiday Manor neighborhood.
It's an attractive room, with wall-size glass windows along two walls, a short sushi bar is lined with a half-dozen tall leopard-print stools, and a row of booths are separated by stone arches. In a variation on the usual Chinese-restaurant Great Wall paintings and bas-relief dragons, a large mural over a banquette at the back of the room is a stylish mix of traditional Chinese drawing and attractive street art. Shiny wood-look tables are set with flatware rolled in paper napkins; chopsticks are available only on request.
As with its original East End operation, Jasmine Bistro's menu covers a broad range of standard Chinese-American dishes including sweet and sour chicken ($9) and pepper steak, ($12), eight kinds of fried rice (from $8 to $11) and less-familiar authentic dishes such as hong shao rou, Shanghai-style braised pork belly ($12) and seafood fish belly soup ($8). All dishes are listed in both English and Chinese, and entree prices are contained within the range of $8 to $15.
Eight varieties of sushi roll range in price from $5 for the familiar California roll to $13 for several fancy options including the White Castle roll, which, happily, is not composed of deconstructed sliders but honors the beloved soaring white samurai castle in Himeji, Japan.
An extensive lunch menu includes 30 dishes, all served with white or fried rice and choice of egg drop, hot-and-sour, or wonton soup, from $6.99 to $8.99.
We stopped in at lunchtime but chose from the dinner menu and were happy with everything we tried, starting with steaming, strong pale-green jasmine tea ($2 for a full pot).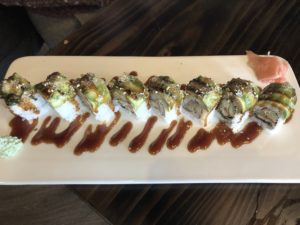 A Wonderland roll ($13), an eel-based sushi roll, served as an appetizer, was large and well made, tightly wrapped and firm and sliced into eight two-bite pieces. It was made in the inside-out style with sticky white rice both within and on the surface of the a black nori seaweed cylinder. The inside of the roll was stuffed with fresh, clean-tasting eel (it's a fish, not a snake, get over it), cooked, not raw. The roll was topped with thick slices of avocado, drizzled with sweet brown eel sauce, and topped with tiny, sparkly clear fish roe that popped in your mouth..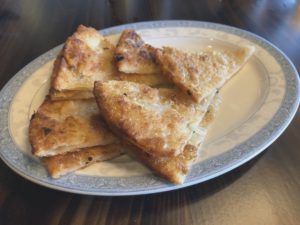 Another good appetizer, onion cake ($3.50) was simple but so appealing that we devoured it quickly. Grated white onion and sliced green onion had been coated with a light rice-flour batter, made into a thin pancake, fried crisp and brown, and cut into eight wedges.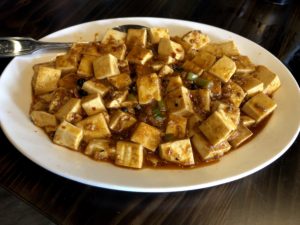 Ma po tofu ($9) is one of my favorite Sichuanese dishes. It's often made with ground pork, but Jasmine lists it on its eight-item vegetarian menu. Even without meat, its generous portion of 3/4-inch cubes of soft, creamy silken tofu provided an ample supply of protein. The tofu is braised in a fiery reddish-orange sauce of chili oil sauteed with red pepper flakes, Sichuan pepper, and tiny bits of green onion and green pepper that coat the tofu cubes with deliciously palate-numbing heat.
Cumin beef ($13.99 at dinner, $7.99 for a lunch portion), pictured at the top of the page, is another favorite. Made with beef or lamb, it's a dry-fried specialty of the Uyghur community in China's far northwestern Xinjiang region. A lunch order was still a very generous portion, plated atop tiny baby bok choy cabbages and accompanied with a mound of good fried rice. The beef had been cut in thin strips, coated with spicy red pepper, fried crisp, mixed with green onion slices and a little cilantro, and served dry with no additional sauce.
The fried rice was subtle and delicate, lightly fried but still pale in color, studded with tiny bits of scrambled egg and cabbage.
My fortune cookie was empty, which seemed so existential that I declined a replacement. It was crunchy and good.
Lunch for two was $37.62, plus an $8 tip.
Jasmine Asian Bistro
2420 Lime Kiln Lane
618-3000
jasmineasianbistroky.com
Robin Garr's rating: 86 points.
Noise level: The average sound level at lunch was 77dB, making conversation easy, although an investment sales pitch at a nearby table occasionally spiked to a piercing 92dB.
Accessibility: The modern shopping center dining room and restrooms are accessible to wheelchair users, except for tall stools at the sushi bar.