There's something lovably gritty about the stretch of urban Louisville along Lower Brownsboro Road in Clifton that some call "LowBrow," and we're okay with that. Take that well-worn restaurant building that sits up on the bank across from Kroger. Home to a dozen short-lived spots over the past couple of decades, it started life as a Pizza Hut sometime back in the '70s. You know the place: It's one of the city's most storied "restaurant graveyards."
But now a new arrival has upped the ante significantly …
with an attractive renovation – off-white walls and raw wood, with squadrons of antique-look lightbulbs overhead, bare-wood tables and wooden floors. The new arrival, Chik'n & Mi, remains as casual as the neighborhood but brings a powerful game that has been drawing crowds – and even gaining a mention in a where-to-eat-for-Derby Zagat review – since it opened late in March.
The owners, Culinary Institute of America graduate Jason McCollum, and his wife, Aenith, whom he met at CIA, are challenging the hegemony of Kentucky Southern-style fried chicken with an exotic twist: It's an Asian fried chicken and noodle shop, and it's a sophisticated bar offering beer, wine, bourbon, cocktails and a whole page of artisan sake.
The eclectic menu goes well beyond Asian chicken and Asian rice noodles ("mi" in Vietnamese). Nine starters range in price from $4 (for egg rolls) to $14 (for the crudo of the day, spicy tuna tartare and trimmings). Seven sharable sides, well suited as lighter entrees, are $3 (for steamed jasmine rice) to $8 (for hot-and-spicy tofu and rice flakes). Three noodle soups, usually ramen or pho) are $14 or $15. FreeBird brand organic chicken comes in your choice of sandwich, wings and drumsticks, or nuggets. They range in price from $7 (for three pieces or nuggets mix) to $12 (for five pieces).
House-made pickled vegetables ($5) make a palate-teasing starter. A crunchy mix of spicy radish, tiny garlic flowers, crisp green beans, turmeric-scented cauliflower florets and kimchi filled a small rectangular plate.
Miso sesame salad ($8) brings mixed lettuces and arugula, julienned asparagus, snow peas, radish and shimeji mushrooms, with black and white sesame seeds and a citrussy, spicy miso-sesame vinaigrette.
Three large, tender Bibb lettuce wraps ($6) bore payloads of fine-chopped chicken (or tofu if you like) with radish, bok choy, herbs and spices.
Fried cauliflower ($6) is crisp and dark, dressed with a Calabrese fish-sauce vinaigrette, pickled currants, toasted sunflower seeds and fresh herbs.
Thai-influenced tofu cubes and rolled rice flakes (wide noodles) ($8) were pan-seared with spicy guajillo chile sauce and served on wilted water spinach with Thai basil and pepitas.
Don't expect southern-style breading on Asian fried chicken. These juicy, flavorful dark-meat pieces are lightly dredged in tapioca and rice flour, then fried at high heat to a thin, extremely crisp crust. Choose among sweet soy sauce, mild Southeast Asian Jeaw Bong spice, X-tra hot, or "naked" with peppercorn ranch dressing.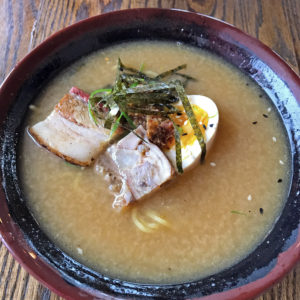 Ramen, frankly, has some room to grow here. It's certainly palatable, but it takes time and effort to master this high Japanese art. The broth should show the result of hours' work, clear and vividly flavored, bathing chewy noodles and carefully prepared ingredients.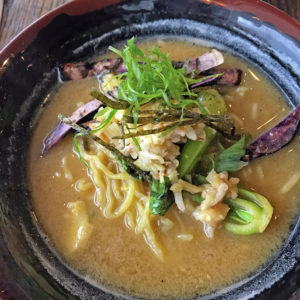 Our veggie ramen and garlic miso ramen with pork belly (both $14) weren't failures, but they had to struggle for a C grade. The veggie ramen noodles were tragically overcooked, melded into a doughy ball. The pork-belly ramen noodles went the other way, edible but undercooked. The broths were cloudy, and their flavors failed to pop; and so it went. Keep working on it, folks. Ramen is an art.
Both meals rang up to around $45, with $10 tips.
Chik'n & Mi
2319 Brownsboro Road
890-5731
facebook.com/chiknandmi
instagram.com/chikn_and_mi
Robin Garr's Rating 84 points