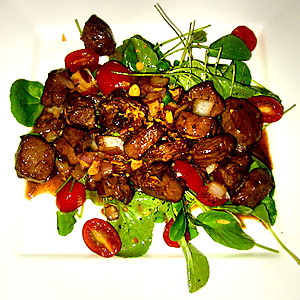 The Shaking Beef at Basa Modern Vietnamese
(By Michael Tierney. Republished with permission from G3 Illustrated)
I recently had one of those perfect summer days – blue sky, bright sun, no humidity. And to top things off, I spent it at the pool as if I were on summer break like the kids that surrounded me. I swam, floated, read my book, played cards and basked in the perfection of the day, knowing that it just couldn't get any better … I was wrong.
My perfect day was made complete by a perfect night – dinner for two at Basa on Frankfort Avenue.
Billed as Modern Vietnamese, Basa serves up elegant, accessible fare that punctuates the historical and culinary influence of France on traditional Vietnamese fare.

The space is quite handsome, with rich, colorful walls that serve as the backdrop for a series of large black-and-white photos of Vietnam.
I have a confession to make. This job has its perks. One of which is experiencing a tasting menu personally selected by the owner/executive chef, as ours was by Basa's Michael Ton.
Our first course is considered a favorite of many regulars at the restaurant, pan-seared diver scallops. The scallops were succulent and tender, served on top of a celery root puree, splashed with 50-year-old balsamic, and topped with American sturgeon caviar.
Our second appetizer was the tuna tartare – tender meaty sushi-grade fish with onion and soy. This fresh, clean appetizer was fantastic.
A beautiful salad of heirloom tomatoes, cucumber and watercress stood out primarily because of the perfectly ripe Early Girl tomatoes.
The entrée course brought two standout dishes – the Shaking Beef and the Atlantic salmon.
Shaking Beef has become the talk of the town, and for good reason. This rustic dish takes cubed tenderloin beef "shaken" in a super-heated wok tossed with watercress, organic cherry tomatoes and red onions. Served with a side of jasmine rice, you'll want to savor every bite of this amazing dish.
The Atlantic salmon was equally impressive in its flavorful simplicity. Served on a taro root puree with yu choy and garlic, the salmon was perfectly cooked and elegantly presented.
The dessert course was equally amazing. A Coconut Crème Brulee arrived in all its delicious glory alongside my personal favorite the Pot de Crème – a chocolate mocha dish seasoned with Vietnamese coffee. Creamy, chocolaty, sweet and slightly bitter, the pot de crème is one of those desserts that makes you want to eat your dessert first.
Clean, fresh, flavorful and stylish – put Basa on your short list of restaurants that can add the exclamation mark to the end of your next perfect day.
By Michael Tierney
G3 Illustrated
August 2007